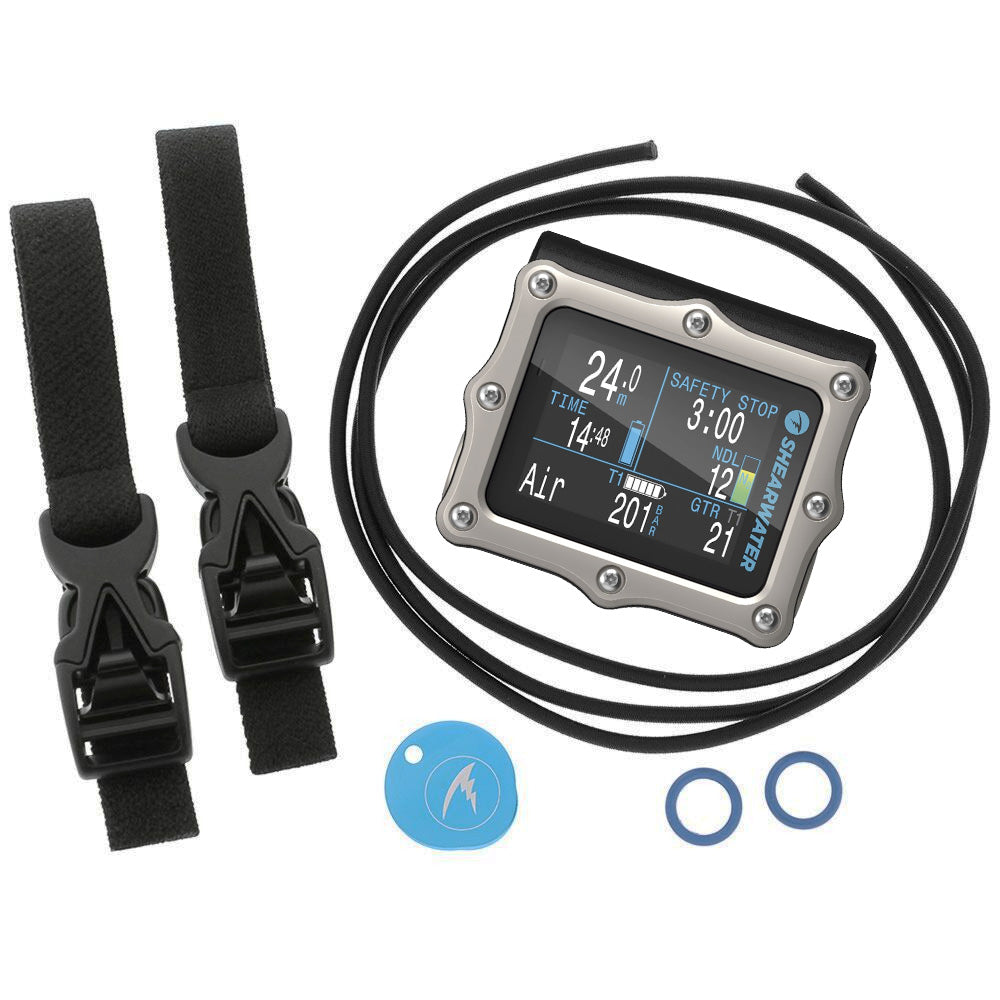 Shearwater Perdix 2 Ti Dive Computer
The Perdix 2 Ti is Shearwater's toughest and most reliable full-size computer yet. The armoured casing with precision titanium surround bezel and dependable titanium piezo touch buttons protect performance-enhanced electronics. This air integrated multi gas dive computer is capable of connecting up to 4 transmitters.
The Shearwater Perdix 2 Ti Dive Computer is Shearwater's toughest and most reliable full-size computer supporting multiple gases, Open Circuit and CCR mode and is the best dive computer in 2023 in our view.
It supersedes the original and very popular (discontinued) Shearwater Perdix computer and comes in two colour finishes: The Shearwater Perdix 2 Ti Black and the Shearwater Perdix 2 Ti Silver dive computers.
Shearwater Perdix 2 Ti Dive Computer 
Shearwater research has brought a number of enhanced features to the discontinued Perdix computer with the Perdix 2: tough, titanium, strong vibration and ability to monitor up to 4 transmitters being the highlights of this new unit.
These improvements make it our best dive computer for 2023 as was the popular previous version Shearwater Perdix in recent years.
The armoured casing with precision titanium surround bezel and dependable titanium piezo touch buttons protect performance-enhanced electronics while an aluminosilicate glass lens guards a fantastic 2.2" bright screen and offers improved clarity, impact, and damage resistance.
A strong vibration customisable alert system (you'll not miss it!) draws attention at critical moments of the dive.
Integration with up to 4 optional Shearwater Swift transmitters allows room to grow from a first computer to a powerful, proven advanced technical diving solution with multiple cylinders.
All of this is delivered using the trusted and easy to find user-changeable single AA battery and familiar ergonomic compact form factor.
Multiple Diving Modes
Air / Nitrox / 3 Gas Nitrox: 3 gas nitrox computer for the serious recreational diver
Open Circuit Technical: Trimix enabled
Closed Circuit/Bailout: Trimix enabled. Constant PO2 for closed circuit
Gauge: Depth, time, resettable stopwatch function. Full dive logging
More about Perdix 2 Ti

High Resolution, easy-to-read display
2.2" display with vivid, enhanced colour range and saturation. Impact-resistant toughened aluminosilicate glass screen with superior clarity.
Thin, Low-profile Design
30% smaller in volume than the Petrel 2.
Two Button Interface
Simple to navigate, state-aware menu structure.
User Replaceable Batteries for both Perdix 2 and Transmitter
The Perdix 2 works with any standard AA battery and the transmitter uses a 3V CR2 Lithium.
Bluetooth® Wireless Technology
This enables communication with PC, Mac, iPod, and iPad with lower power consumption.
User Customizable Display
Customize your display with information important to you.
Multiple Languages
English, French, Simplified Chinese, Traditional Chinese, German, Portuguese, Korean, Japanese, Italian, and Spanish.
Cloud Control
Download and display dive logs quickly with Bluetooth® wireless technology. You can display as much or as little information as you need. The Shearwater cloud is available in 13 languages.
Optional Shearwater Swift transmitter
The Perdix 2 is capable of displaying tank pressure in all modes.

With smart AI technology, the Swift creates a highly reliable connection, listens for other transmitters, and only communicates when the channel is clear by avoiding collision with other signals.
Now, divers can use multiple transmitters near each other without worrying about potential interference.
This advanced technology is leveraged by Shearwater's new firmware, which includes support for up to 4 transmitters on compatible Shearwater models.
The no-tools design makes it easy to remove and replace the Swift from the 1st stage (gone is the need to find a particular size tool to tighten or loosen the transmitter, making it perfect for travel!)
A double o-ring seal protects a user-replaceable 3v CR2 lithium battery, offering up to 300 hours of time. The LED status indicator lets the diver know things are functioning as they should at a glance during setup.
Optional VPM-upgrade

The Perdix 2 Ti comes with Bühlmann ZHL-16C algorithm with Gradient Factors installed but you can upgrade it to VPM-B with a special PIN, giving you the option of using the standard GF deco or switching to VPM-B. Once you select this option we will organise the unlock code for your specific model and serial number. You will then need to update your firmware to the latest firmware before using the PIN code.
VPM or the Varying Permeability Model is a decompression algorithm that attempts to model the behaviour of bubbles within the human body during decompression. The algorithm was initially developed by David Yount in laboratory testing and coded into Fortran by Erik Baker.
Shearwater Research has implemented VPM-B according to the original Erik Baker Fortran specification. In addition to implementing the Baker model, Shearwater Research has added a new option. VPM-B dive profiles often have deep stops to control bubble formation with reduced time at shallow depths.
The reduced shallow depth time can be quite aggressive with VPM-B so Shearwater Research has included a VPM-B Gradient Factor Surfacing (GFS) option. VPM-B/GFS allows VPM-B dives to be executed while ensuring that a gradient factor of 90% is never violated.
How to install VPM-B and VPM-B/GFS
Once you purchase a VPM-B upgrade pin for your Shearwater Perdix, you will receive an email with the unlock code for your unit's serial number within 72 hours.
Firmware

First and foremost please ensure you have downloaded and installed the latest firmware before doing anything else. The easiest way to update your firmware is to download the new Shearwater Cloud and select Dive Computer-> Update Dive computer. Follow the instructions on the screen and Shearwater Cloud will handle the rest.

System Settings

Once the unit is running the latest firmware, using the left-hand button scroll to System Setup. Using the same button skip Mode, Deco, AI, Row, Gases, Alerts, Display and Compass screens and reach the System Setup screen that will have Date, Clock and Unlock rows underneath. Press Edit (right button) then Next > Next and Edit the Unlock row which will have zeros (0's throughout). Using the Change option and Next as you complete each entry, enter the unlock code you have received and when completed, press Save.

If you have entered the correct unlock code the unit will reset itself and restart. If there is a mistake, you will receive an "Invalid" notification to repeat the above.

Mode Setup

From the main screen now return to System Setup and using the Next (left-hand button) go to Mode Setup. Edit the Mode to show OC Tec or CC/BO - if not already selected. VPM-B and the safer VPM-B/GFS will only show as an option if open circuit technical or rebreather mode is selected. Otherwise the unit will default to Bhulmann with GF options. Once in OC Tec or CC/BO mode the VPM options can be selected.
Find out more about the Shearwater Perdix 2
Want to find out more? You can read or download the (PDF) Shearwater Perdix 2 Recreational Manual or the Shearwater Perdix 2 Technical Manual today and see how many features this excellent unit has.
Shearwater Perdix 2 Ti Dive Computer Warranty
Shearwater offers a worldwide 2-year warranty on all computers. The warranty lives with the unit, not with the original purchaser. This means that whether you buy your unit from us or second-hand, the warranty will still be effective. As the warranty is linked to the computer's unique serial number you do not need to register your computer.
Shearwater will, at its sole discretion, repair or replace defective products covered under warranty but do note the warranty does not cover unauthorised repairs, modifications, accidental damage or negligence.
To benefit from this manufacturer warranty, you need to contact the Shearwater support team directly at info@shearwater.com or fill out the RMA form at https://www.shearwater.com/rma-request-form/ . Should you suspect a warranty issue, do not return the unit without first obtaining an RMA - which authorises the return. You can find a list of authorised service centres at https://www.shearwater.com/support/ to process local warranty issues.
PERDIX 2 SPECIFICATIONS
Screen resolution
320x240
Display type
LCD with LED backlight
Display size
5.59cm / 2.2"
Battery type
Single AA (any type)
Battery life
AA alkaline
up to 40 Hours
SAFT LS14500
up to 100 Hours
Number of gases
5 OC / 5 CC
Dive log
Approximately 1,000 Hours
Depth rating
260m / 850ft
Available in DLC Black or Titanium version

DIMENSIONS
MODES (ALL AI OPTIONAL)
Air / Nitrox / 3 Gas Nitrox
3 gas nitrox recreational computer
OC Tec
Multi gas, trimix decompression
CC / BO
Closed circuit fixed PPO2
Gauge
Bottom timer with stop watch and dive
Dive Computer
(WxHxD)
81 x 71 x 38 mm
(3.2" x 2.8"x 1.5")
Weight (Dive computer only)
190g (4.32 oz)
Ballistic nylon case
(WxHxD)
130 x 105 x 70 mm
(5.1"x 4.1" x 2.8")
Weight
115g (4.06 oz)
FEATURES
User replaceable AA battery
Air, nitrox, trimix capable
Quick OC bailout from CC
3 axis, tilt compensated, digital compass
Decompression
Dive planning
Bühlmann GF algorithm
Strong vibration warning alerts
Aluminosilicate toughened glass
Optional VPM-B, Optional DCIEM
Dive logging
Upgradeable firmware
Bluetooth® wireless technology
Optional air integration
Up to 4 transmitters (optional)
What type of batteries can I use and what maintenance does it need?
This and other questions are answered directly by Shearwater Research in the online FAQ. Please click on Shearwater Online FAQ and select the Perdix from the top menu. You can also download the current Perdix Manual. Feel free to contact us any day, we are open every day.
While almost any kind of AA sized battery works with your Shearwater Perdix AI, the standard 1.5V alkaline battery (the type found in stores around the world) works best.
There are numerous types of AA sized batteries that will work in your Shearwater Perdix, read below for more details:
Alkaline
Shearwater recommends the AA 1.5V alkaline battery (e.g. the Duracell Coppertop) because it is:
Inexpensive
Available anywhere
Reliable
DGives about 45 hours of diving
As an added bonus your Perdix provides a useful "Fuel Gauge" display for these batteries.
LEAKAGE WARNING: Alkaline batteries are prone to leaking, especially when completely discharged. Do not store with a discharged alkaline battery installed.
Saft
The Saft 3.6V LS14500 battery (used by the Shearwater Predator) is also a good choice, primarily because it has the longest usable life (130 hours on medium brightness). However they are:
Expensive
Hard to find
Sensitive to temperature and storage conditions
In addition they are incompatible with the new "Fuel Gauge" feature so only three levels are given: Full, Low (Yellow) and Critical (Red).
Li-Ion - Rechargeable
The 3.7V Li-Ion 14500 battery is a good choice that can be purchased online. The AW brand is recommended and typically high quality. The brands Trustfire and Ultrafire can be good, but seem to come from a wider variety of sources and many users report getting duds. The Li-Ion batteries give about 40 hours per charge and are compatible with the new "Fuel Gauge" feature. Note that these batteries are actually about 4.2V when fully charged.
NiMH - Rechargeable
The 1.2V NiMH battery can also be used. These are commonly used in photo flashes and digital cameras, and can be purchased in most electronics stores. About 35 hours per charge can be expected. We recommend using the low self-discharge models typically labeled as "pre-charged", "ready charged", "stay charged" etc. and have capacities around 2000mAh. The older style high self-discharge batteries have higher capacities (around 2800mAh) but are not recommended. They will work, but will go dead in a few weeks just sitting on the shelf. Also, all NiMH batteries are incompatible with the new "Fuel Gauge" feature so only three levels are given: Full, Low (Yellow) and Critical (Red). If you have these batteries already from your photo flash, feel free to use them. However we do not recommend buying them for the Perdix as better choices are available.
Photo Lithium 1.5V
These are the best choice for cold water divers. Sold as the Energizer brand Advanced Lithium and Ultimate Lithium batteries. The 1.5V Photo Lithium batteries offer almost double the run time in a Perdix when compared to an alkaline battery. However they can cost about 4X as much as an Alkaline. They are a good choice if you want longer run time than alkaline batteries provide or if diving in waters colder than 8 degrees Celsius (46 degrees Fahrenheit) . They can be found in most department stores or electronics stores and also in many drug stores.
Zinc-Carbon 1.5V
1.5V Zinc-Carbon batteries are el-cheapo batteries commonly found in dollar stores. Although they work, they only provide about 10 to 15 hours and so are not recommended. However if they are all you can get on a tropical island somewhere, feel free to use them. Set the Perdix battery type to "1.5V Alkaline" when using zinc-carbon batteries.
[The above explanation has been taken from Shearwater's FQ https://www.shearwater.com/shearwater-product-faq/what-type-of-batteries-can-i-use-in-the-perdix/]
SHIPPING:
We aim to dispatch all in-stock items within 2 working days but will inform you of approximate delivery times should any item on your order be out of stock or on supplier backorder due to current manufacturing or transport delays caused by global shortages and/or impeded production.
Please refer to our Shipping Policy and Returns & Refunds Policy for detailed information on delivery terms and returns.
Our 2022 shipping rates are as follows:
• UK mainland orders £45 and over: FREE - DPD Delivery
• UK mainland orders under £45: £4.90 Fixed Rate - DPD Delivery
• Channel Islands, Isle of Man, Highlands & Northern Ireland: £14.9 Fixed Rate
• European Union: £13.90 + 5% of order value (maximum £30)
• Rest of the World: £19.50 + 8% of order value (maximum £55)
• BFPO Post Codes: £20
INTERNATIONAL EXCEPTIONS:
For international orders containing weights, cylinders (excluding suit inflation bottles) and Suex scooters please contact us in advance before placing your order.
These products are not included in our global max-capped shipping rates and are only shipped outside of UK mainland after freight cost is calculated based on total weight, dimensions of parcel, location of delivery and the courier service used. We will let you know what this cost will be before processing any order.
All cylinders we ship within and outside of UK mainland are filled and tested on site before being emptied for dispatch. Cylinders shipped outside of the UK will be empty and will also have their valves removed, requiring reassembly after you receive delivery. Twinset manifolds and bands will also be removed and dispatched together with the cylinders for safe global shipping.
RETURNS & REFUNDS
Please contact us before any return with your order number and date details. Receive our Returns Authorisation Form and instructions and enclose them with your return to expedite a refund. Detailed information is available in our Returns & Refunds Policy.
Email us at sales@dirdirect.com or call us on +44(0)1305 824 555
Note that all returned items are shipped at the customer's own risk and remain the customer's property until received by Underwater Explorers, so please ensure they are packaged well and use reliable postal services with tracking facilities. The
goods will be inspected on arrival. 
Return postages are at your own cost and our outbound shipping costs (if items are sold with integrated basic shipping charges) may be deducted from any UK mainland refund unless linked to a fault/defect claim. 

Please contact us with your order number and name before sending any returns to:
Underwater Explorers – Returns
Unit 1, Maritime Business Centre
Mereside, Portland
Dorset, DT5 1FD 
United Kingdom
Please refer to our Shipping Policy and Returns & Refunds Policy for detailed information.