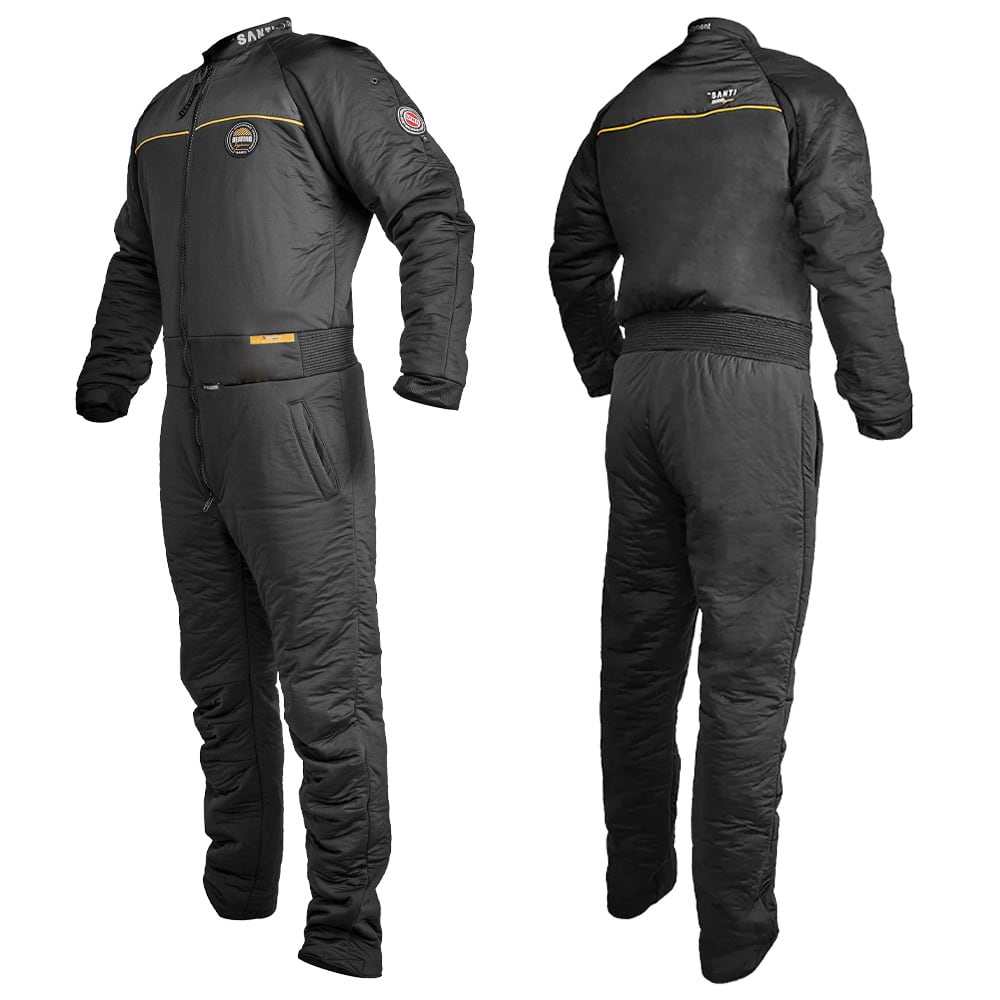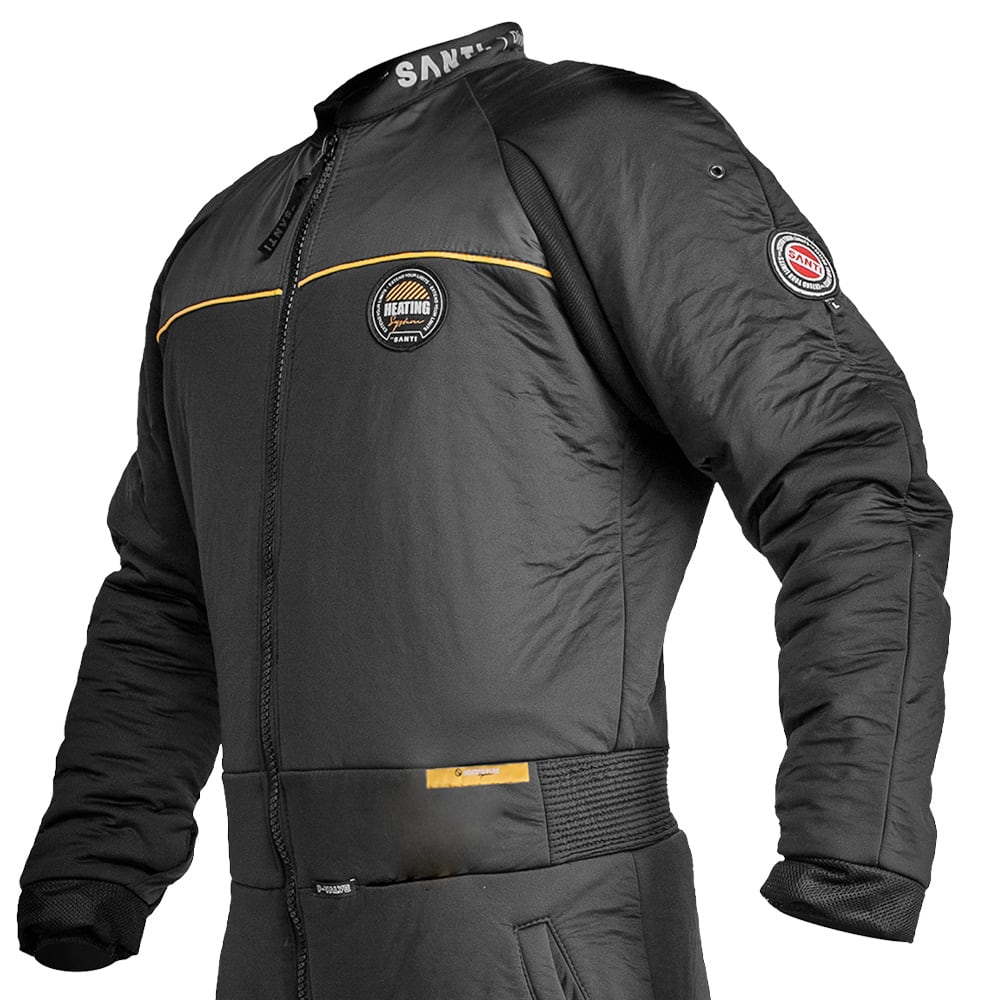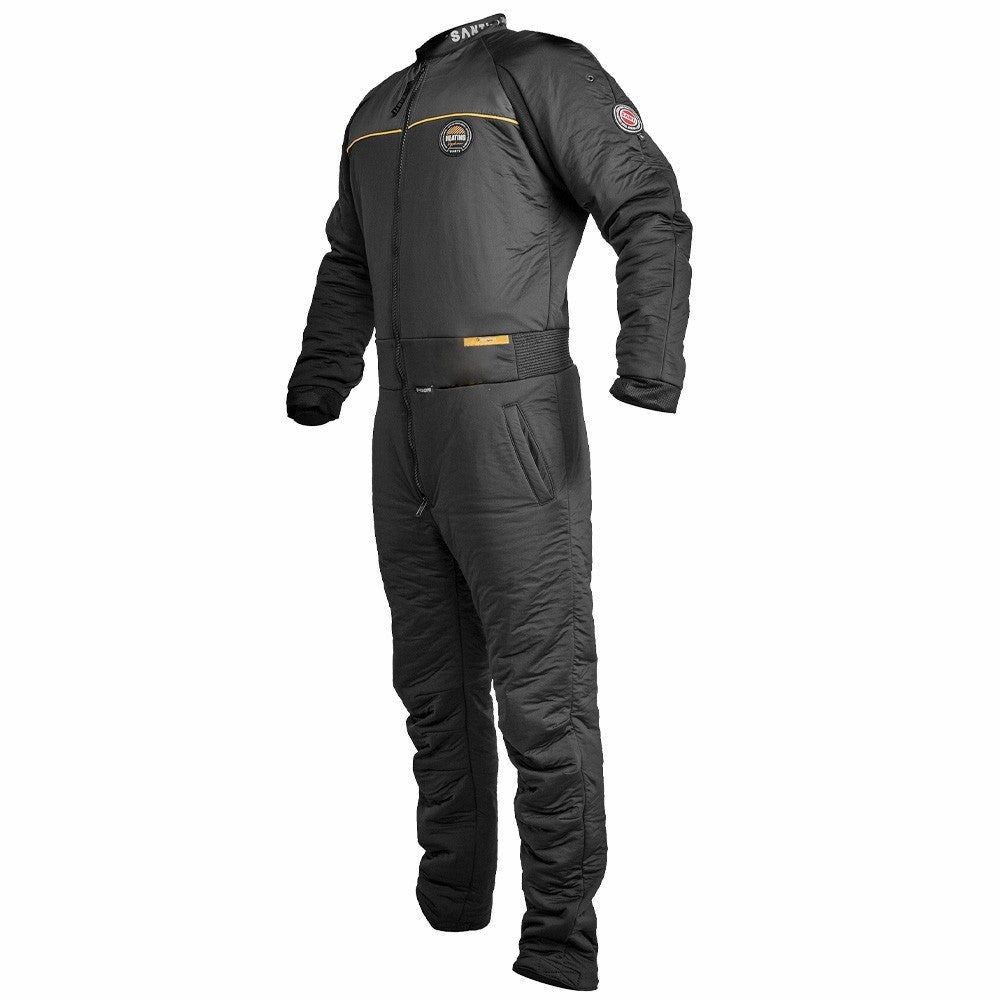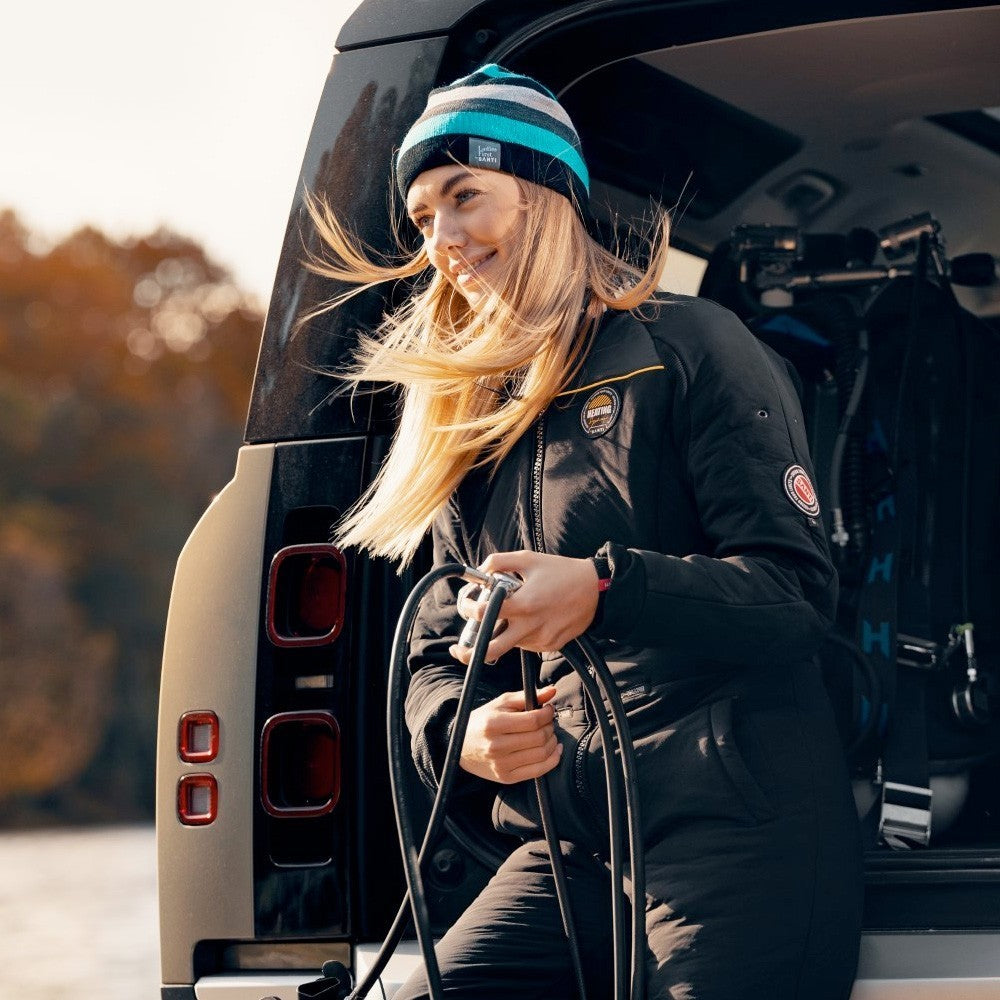 Santi Heated Flex 2.0 Undersuit - Made to Measure
Dispatched in 6 to 8 weeks
The Santi Heated Flex 2.0 Undersuit - Made to Measure is light and flexible. The Climashield Contour fabric allows for full flexibility in every direction, leading to unique mobility and less bulk when compared with BZ400 Heated Undersuit.
Santi recommends Flex 2.0 Undersuits to those looking for a thinner alternative for a heating undersuit, plan shorter dives in cold waters or long demanding dives in warmer waters.
The Heated Flex 2.0 Undersuit is designed as part of a complex Santi heating system consisting of items such as BZ400 Heated Undersuit or Heated Vest, Heated Gloves, and Santi 6Ah and 24Ah batteries as well as the new Blue Power 14Ah and 28Ah batteries.
The Heated Flex 2.0 contains very efficient heating wires that provide optimal thermal comfort during long and cold dives. Most of the generated heat is passed on directly to the diver's body in this configuration.
Thanks to new, non-quilted fabric quality, the Flex 2.0 provides more warmth towards the body. This generates better thermal properties and keeps the heat trapped closer to the body for longer.

It is advised to wear the Santi Heated Flex 2.0 Undersuit on top of thin thermal underwear. This configuration directs the temperature straight to a diver's body. The Heated Undersuits should not be worn directly on skin due to safety and hygienic reasons.
To operate the Santi Heating system a Santi Drysuit Connector or Thermovalve 303 is required.
Santi Heated Flex 2.0 Undersuit specifications
Operating time on 24Ah battery: approx. 2h 30min - 3h
Built-in heating glove wires
Handy pocket on the waist for a power cord
P-valve hose opening
Net cuffs with rubber loops for thumbs
Elastic gussets under the armpits
Two side pockets
Elastic waistband
Two-way entry zipper
Foot straps
Maximum heating temperature: 45ºC
Maximum heating power: 110W
Climashield Contour 180g/m2 thermal insulation
Safety switch prevents overheating
Wires covered with ultra-soft silicone resistant to breaking
Power cable is resistant to high temperatures and cuts
Ergonomic nesting and wire layout
HOW TO MEASURE YOURSELF FOR SANTI SUITS
Carefully watch SANTI's "Instructions for Self-measuring" video below. The video shows all measurements for Made-to-Measure suits.
STEP-BY-STEP
Download the Santi MADE TO MEASURE FORM. Use only a taylor's tape measure that has a centimeter scale (only use metric with cm).
Never take your own measurements yourself! Measurements should be taken by another person to make sure all measurements are taken tight up to the body and at correct placement for a specific measurement.
It is important that you stand straight, look forward and do not bend over while you are being measured. It is equally important to take the measurements only while wearing thin clothing, close to the body. Don't leave any additional measurement allowance.
HEAD - approximately 1cm above the eyebrows to choose the correct hood size.
NECK - above the t-shirt line, under the Adam's apple and the end of the neck.
BODY TRUNK - hold one end of the tape on the central point of the neck end and lead the tape across the crotch to the back. Mark the place where tape ends and measure the rest of the line to the spine neck bone. Make sure the tape is close to the body including all the curves.
SHOULDER TO SHOULDER - back shoulders length from one top arm bone to another.
OUTER ARM LENGHT - from the back neck spine bone to the wrist while the arm is fully stretched.
INSIDE ARM LENGHT - from armpit to wrist.
LADIES ONLY / SIDE TRUNK LENGHT - from the armpit to the waist line.
BICEPS - widest point on the loose arm. If you have a visibly athletic figure it is advised to measure the biceps also with bent elbow.
FOREARM - in the widest point.
WRIST - between the palm and the wrist bone.
CHEST - first measure the chest in rest and then after breathing in air. Normally the difference should be around 3-5cm. For ladies measure in the fullest point of the bust, preferably while wearing a bra.
WAIST - measure on the belly button level. Remember to measure the waist line in the widest point on the belly button line. To measure a female waistline correctly, use any kind of "marker belt" and fasten it around the waist line.
LADIES ONLY / BACK HEIGHT - centrally from the neck spine bone to the waist line marked with the belt.
LADIES ONLY / CHEST HEIGHT - from the soft neck area (where the neck ends) to the bust line in the fullest point.
HIPS - in the fullest point of the buttocks.
THIGH - widest point approximately 5cm from the crotch area.
CROTCH TO KNEE - from crotch to knee.
CROTCH TO FLOOR - hold one end of the measurement tape in a convenient place in the crotch and measure to the heel end.
CALF 1 - measure the calf in the widest point.
CALF 2 - height from the widest point of the calf to the floor.
CALF 3 - measure the calf 20cm from the floor.
ANKLE - measure the ankle on the ankle bone.
FOOT - place the tape on the floor and step on it to measure from end of heal to end of toes.
UNDERWATER EXPLORERS LTD/DIRDIRECT DISCLAIMER:
It is the customers responsibility to choose a correct size. Made to measure undersuit returns are not accepted under any circumstance unless Underwater Explorers Ltd/DirDirect has made a mistake. We do not take any responsibility for a fit of a made to measure suits unless measured by us.
SHIPPING:
We aim to dispatch all in-stock items within 2 working days but will inform you of approximate delivery times should any item on your order be out of stock or on supplier backorder due to current manufacturing or transport delays caused by global shortages and/or impeded production.
Please refer to our Shipping Policy and Returns & Refunds Policy for detailed information on delivery terms and returns.
Our 2023 shipping rates are as follows:
• UK mainland orders £45 and over: FREE - DPD Delivery
• UK mainland orders under £45: £4.90 Fixed Rate - DPD Delivery
• Channel Islands, Isle of Man, Highlands & Northern Ireland: £14.9 Fixed Rate
• European Union: £13.90 + 5% of order value (maximum £30)
• Rest of the World: £19.50 + 8% of order value (maximum £55)
• BFPO Post Codes: £20
INTERNATIONAL EXCEPTIONS:
For international orders containing weights, cylinders (excluding suit inflation bottles) and Suex scooters please contact us in advance before placing your order.
These products are not included in our global max-capped shipping rates and are only shipped outside of UK mainland after freight cost is calculated based on total weight, dimensions of parcel, location of delivery and the courier service used. We will let you know what this cost will be before processing any order.
All cylinders we ship within and outside of UK mainland are filled and tested on site before being emptied for dispatch. Cylinders shipped outside of the UK will be empty and will also have their valves removed, requiring reassembly after you receive delivery. Twinset manifolds and bands will also be removed and dispatched together with the cylinders for safe global shipping.
RETURNS & REFUNDS
Please contact us before any return with your order number and date details. Receive our Returns Authorisation Form and instructions and enclose them with your return to expedite a refund. Detailed information is available in our Returns & Refunds Policy.
Email us at sales@dirdirect.com or call us on +44(0)1305 824 555
Note that all returned items are shipped at the customer's own risk and remain the customer's property until received by Underwater Explorers, so please ensure they are packaged well and use reliable postal services with tracking facilities. The
goods will be inspected on arrival. 
Return postages are at your own cost and our outbound shipping costs (if items are sold with integrated basic shipping charges) may be deducted from any UK mainland refund unless linked to a fault/defect claim. 

Please contact us with your order number and name before sending any returns to:
Underwater Explorers – Returns
Unit 1, Maritime Business Centre
Mereside, Portland
Dorset, DT5 1FD 
United Kingdom
Please refer to our Shipping Policy and Returns & Refunds Policy for detailed information.