Fourth Element Wetsuits are high-performance wetsuits for various water-based activities in all temperatures, from scuba diving to freediving, snorkelling, paddle boarding or kayaking.  
In this review, we'll take a quick look at Fourth Element Wetsuits:
Proteus II wetsuit
Xenos wetsuit
Thermocline oceanwear
Surface wetsuit
RF1 freediving wetsuit
RF2 freediving wetsuit
Fourth Element PROTEUS II Wetsuit
Recommended for: Diving
The neoprene Fourth Element Proteus II Wetsuit in 5 or 3mm is likened to a semi-dry suit and is listed by the manufacturer as the professional's choice for diving in colder waters.
Fourth Element recommends water temperatures of 23C and warmer for the 3mm Proteus II and the Proteus II 5mm wetsuit for prolonged dives in temperatures of 19C and warmer. Still, many divers take them into much colder waters.
Proteus II boasts to be the highest-performing and warmest wetsuit on the market.
What's so special about the Proteus II Wetsuit is how protective it is against water ingress with its now-famous Hydrolock inner neck seal and Glideskin wrist seals, double glued, blind stitched and taped seams, as well as internal PU ankle seals.
Add to that the additional Hexcore lining on the body core and Thermoflex lining throughout the rest of the suit, and you get enhanced thermal performance for your prolonged dives in cooler or warmer waters. 
The Fourth Element Proteus II wetsuit offers excellent flexibility and less buoyancy, functioning similarly to a semi-dry suit.   
Here's a couple of quotes directly from Fourth Element's site:
 I wore the Proteus 3mm in 13°C water and I lasted 45 minutes! This suit is INCREDIBLE! 10/10!

Alannah Vellacott – Marine Scientist, Coral Restoration, Diver and Freediver

Hands down the warmest wetsuit on the market. Super stretchy, super comfy and very handsome. I love it!

Maria Bollerup – Technical Dive Instructor and Cave Diver
▸ Checkout Fourth Element PROTEUS II Wetsuits 
Fourth Element XENOS Wetsuit
Recommended for: Diving and Snorkelling
The Xenos wetsuit line has been developed for the discerning diver who needs an easy-to-don wetsuit that performs well and looks great.
The neoprene Fourth Element XENOS wetsuit in 3, 5 and 7mm is popular for divers and snorkelers alike and is designed for cooler and warmer waters, depending on your chosen thickness.
The 3mm wetsuits come both as shortie and single-piece full-body style wheras the 5 and 7mm do not have shortie models. Whichever you choose, the comfortable stretch neoprene used will fit well and hug your body to minimise water flushing through the suit.
The design criteria for the Xenos wetsuit was to make it as easy as possible to get the suit on and off without compromising thermal protection.
Watertight glued and blind stitched seams, thermal lining, wrist seals to minimise water ingress and internal PU seals at the ankle enhance warmth and comfort.
▸ Checkout Fourth Element XENOS Wetsuits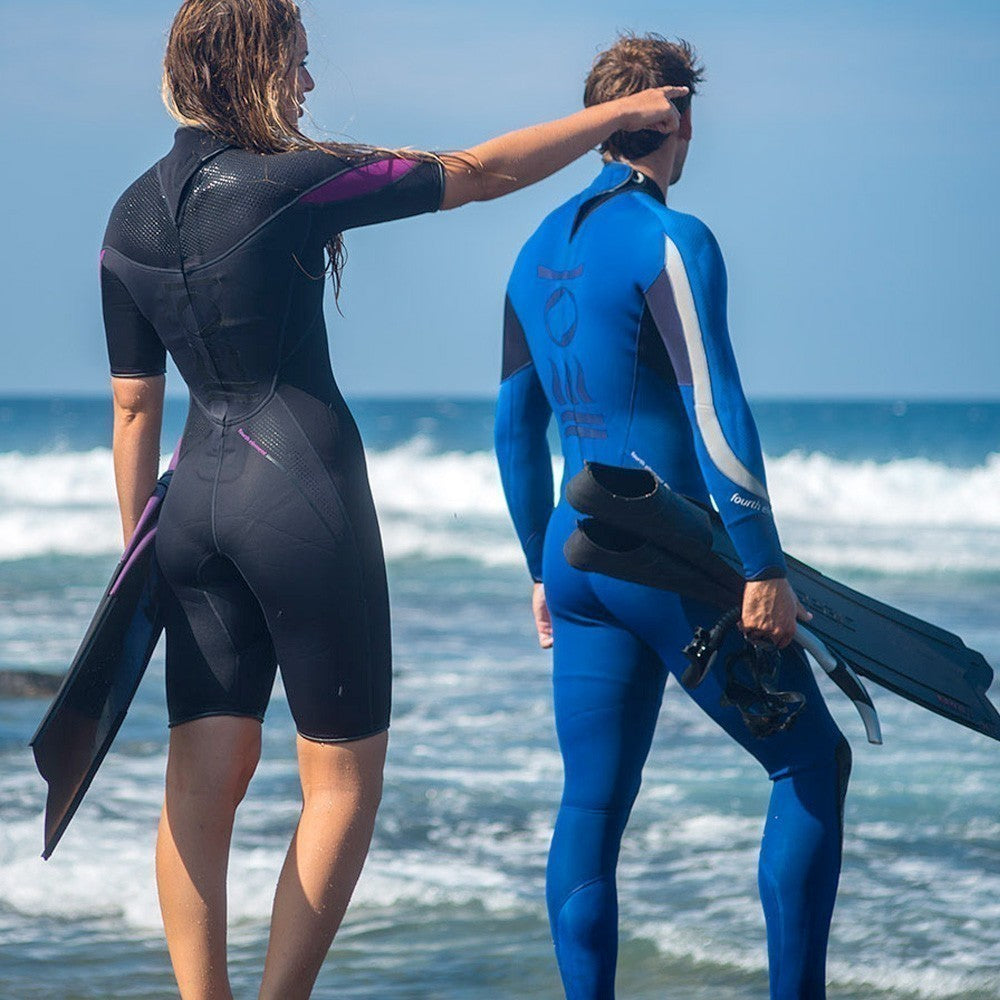 Fourth Element Thermocline
Recommended for: Diving, Snorkelling, Freediving, Above-Water Activities
While Fourth Element lists the Thermocline in its wetsuits category, the
Fourth Element Thermocline
is truly a Next Generation Oceanwear - a neutrally buoyant, lightweight wetsuit alternative with a fleece lining.
It is made of recycled nylon, providing the equivalent warmth of 2mm neoprene which makes it an ideal alternative for those who are allergic to neoprene.
Fourth Element states that the
Thermocline
is perfect for travel and tropical diving (and freediving), listing it as "light and tropical." Still, this exceptional oceanwear has many other uses in colder climates too.
It can be used independently and as a layer for extra warmth, whether you're under or above the water for activities such as kayaking and paddle boarding.
The Thermocline range has various products, from one-piece suits to vests, jackets, short and long-sleeve tops, shorts, leggings, swimsuits, hoods and socks.
▸
Checkout Fourth Element THERMOCLINE Oceanwear

Fourth Element Surface Wetsuit
Recommended for: Diving, Snorkelling, Freediving, Above-Water Activities
Certified sustainable natural rubber and recycled polyester make the 4/3mm Fourth Element Surface wetsuit an ideal choice for multiple sports in warmer waters for diving, snorkelling and freediving but also a flexible, warm option for surfers, paddle boarders and kayakers in colder conditions.
The Surface wetsuit is part of Fourth Element's OceanPositive line, which means it uses a 100% plant-based alternative to neoprene called Yulex Pure™. 
The reference to 4/3mm for this wetsuit means it has thicker neoprene in areas that need the most warmth and thinner neoprene in other areas to maintain flexibility for a diver.

With its minimal design, the material of the Surface is very stretchy and elastic, complemented by a non-slip grip near the wrists and ankles, minimising water flow.
▸ Checkout Fourth Element SURFACE Wetsuits
Fourth Element RF1 and RF2 Freediving Wetsuits
While we're at it, although they are not made for diving but specifically for freediving, we'll briefly touch on the Fourth Element RF1 and RF2 wetsuits for you breath-hold enthusiasts out there. 
The Fourth Element freediving wetsuit uses an optimum combination of Glideskin, Smoothskin and lined neoprene, designed to maximise your freedom in the water, allowing you to focus on your breath, visualise and reach your limit.
Thickness of neoprene has been carefully considered in these freediving wetsuits to provide high levels of thermal protection whilst you dive, without compromising on comfort or freedom of movement. Glideskin panels on the outer surfaces have a hydrophilic coating which create low friction, enabling you to glide without difficulty through the water.
The Fourth Element RF1 is a 3mm recreational freediving wetsuit, designed for warmer waters but can be combined with the RF vest to enhance thermal protection. This creates 6mm on the critical torso area and 3mm protection for the head, keeping suit flush to a minimum without adding restrictive bulk.
RF1:
Streamlined and high-performance, the Fourth Element RF2 two-piece freediving wetsuit has been developed for freedivers who want to enjoy maximum freedom and ultimate warmth, with many professionals referring to the RF2 as the 'best off-the-peg' freediving wetsuit' on the market.
RF2:
Which Wetsuit to Buy?
Which wetsuit to buy depends on where you intend to use it most, how long you will be using it underwater on average, what you will be using it for and as a result, how warm and flexible during that activity you want to be.
The Fourth Element Proteus II wetsuit and the Xenos wetsuit are equally popular among UK-based divers, with the former mainly for UK diving and the latter for UK seasonal diving and travel to warmer waters. 
Suppose you're diving regularly in "UK Conditions" and are not considering using a drysuit. In that case, we'd recommend the Proteus II, which works like a semi-dry with minimal water ingress and enhanced thermal properties. 
The minimal price difference between a 5mm Proteus II and 7mm Xenos wetsuit may make it hard to decide between the two, given each is a top-notch wetsuit by an expert manufacturer. But if you travel regularly on diving holidays and only occasionally dive the UK, the 3, 5 and even 7mm Xenos suits may suit you better.
If you only dive abroad in warm water conditions or the height of summer in shallow UK shores, and want a wetsuit for a range of activities, you might also consider the Fourth Element Surface.
We do like the Thermocline for its warmth versus lightweight and it does work great as a layer too, but have noticed longer drying times when wet compared to neoprene alternatives - which is worth considering when making a purchase.
Whichever wetsuit you go for, you won't go wrong with Fourth Element!...  
Related Articles:
▸ Apeks ThermiQ Graphite Explained - The ThermiQ Range
▸ Best Base Layers for Diving
▸ Looking for a drysuit? - SANTI Drysuits Compared