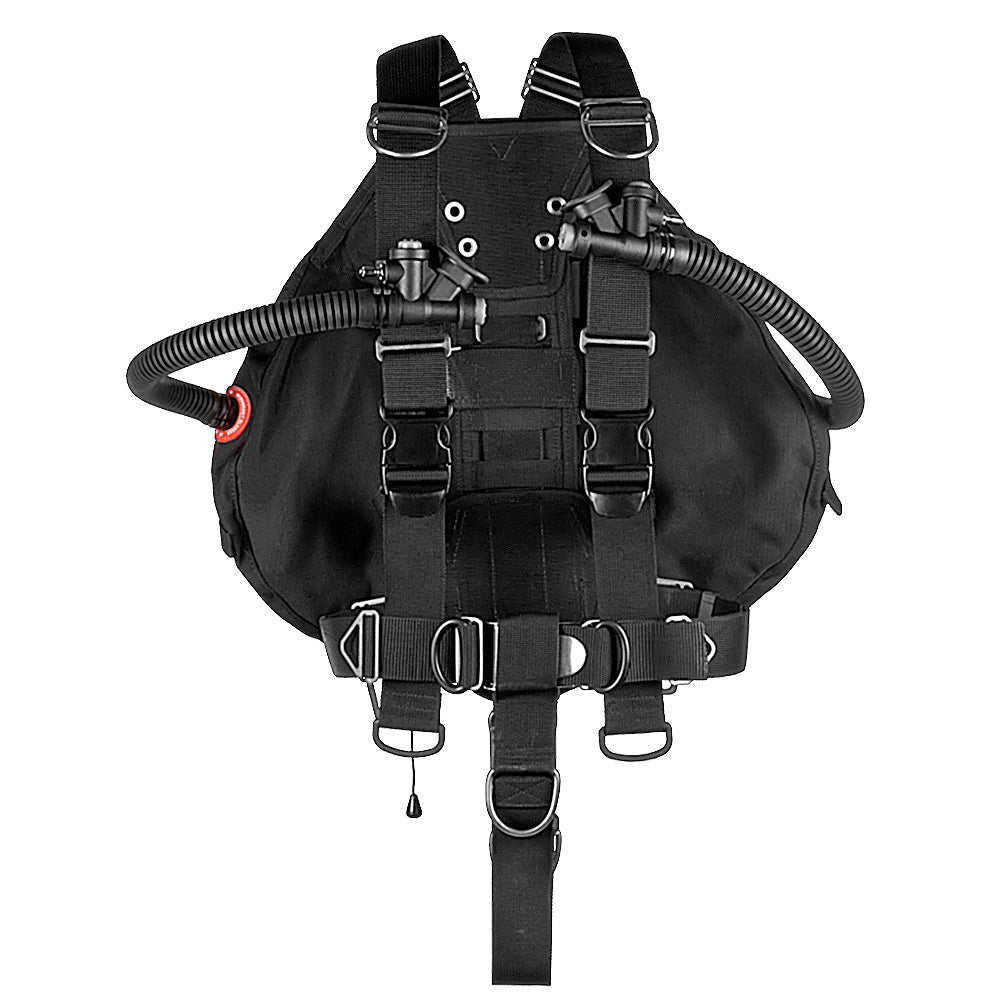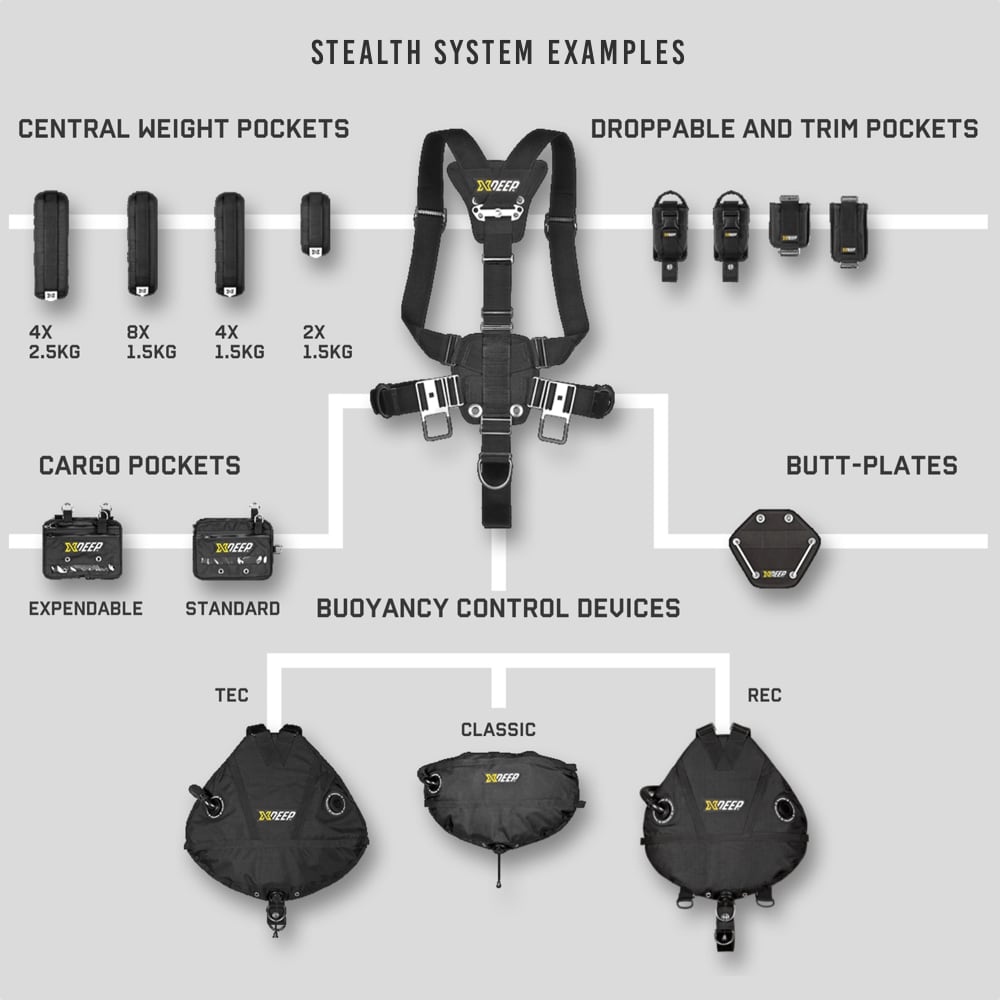 XDeep Stealth 2.0 REC RB Sidemount System in Colour
A fully integrated, functional redundant bladder is neatly inside the XDeep Stealth 2.0 REC RB Sidemount System in Colour, ideal for wetsuit diving.
Central Weight Pocket Size
Central Weight Pocket Size
NON-BLACK options: Special Order 6-8 Weeks
A fully integrated, functional redundant bladder is neatly inside the XDeep Stealth 2.0 REC RB Sidemount System in Colour. This provides a safe and secure option for diving free of the drysuit and still having backup buoyancy.
The flexibility and safety that sidemount diving gives to sport and recreational divers are why it's grown in popularity. Building on the proven advanced design and materials technology used in the XDeep 2.0 TEC and Classic family, the XDeep Stealth 2.0 REC RB Sidemount System is XDeep's expert solution for demanding recreational and sports divers.
The Stealth 2.0 harness was a ground-breaking approach that revolutionised sidemount systems. Built on the core technology of the Stealth 2.0 TEC and Classic systems XDeep Stealth REC harness provides sports and recreational divers with the same strong foundation of performance, comfort and safety. The Stealth REC wing, explicitly designed for sports diving, is fixed to the harness for simplicity and security.
The XDeep Stealth 2.0 REC RB Sidemount System in Colour features harness webbing of differing thickness and stiffness for comfort and enhanced performance. Security and adjustability are designed into the harness to deliver ease of use and an enjoyable in-water experience. You have full control over your tank position, balance, and trim throughout the dive.
The XDeep Stealth 2.0 REC RB Sidemount System in Colour is also available without a redundant bladder.
Freedom for Wrecks and Reefs
Being free of a rigid tank or BCD allows excellent freedom of movement in the water. The XDeep Stealth 2.0 REC RB Sidemount Systems streamlined recreational wing and harness combination provides the key to enjoying a balanced and relaxed approach to your sports dives.
Extend your fun time
Carrying twin cylinders is the safest and, in sidemount, the most balanced and streamlined way of diving. The XDeep Stealth 2.0 REC ensures that cylinders are kept tight and secure to the body, eliminating movement. The perfect balance provided ensures minimal drag in the water, reducing effort, improving gas consumption and enhancing underwater time and enjoyment.
Easy access to buoyancy control
The XDeep Stealth 2.0 was the first system with a central dump valve for buoyancy control. Proven in cave and technical diving, the advantages are just as crucial for sports diving. The valve is easy to reach with either hand, making it simple to dump excess gas without changing your position in the water. Having great control over buoyancy means safer and more relaxing dives.
Stealth REC Wing is tough and hardwearing
Unlike cave divers, you may not be squeezing through small passages, but your system will still get worn on the back from boat dives, shore entries, and even being transported. Risk areas are protected with tough and long-lasting materials that preserve the integrity of the XDeep Stealth 2.0 REC RB Sidemount System.
XDeep Stealth REC is easy to put on and take off
Tough buckles make getting in and out of the Stealth 2.0 REC system as easy as any other BCD. Safe and secure in use, but easy to operate even in thick gloves. All the adjustability of the original Stealth 2.0 in an easy-to-use form.
Smart Materials Technology
Intelligently utilising different types of material throughout the XDeep Stealth 2.0 REC RB Sidemount System for webbing, weight systems, and the wing means excellent comfort and performance.
The waist has rigid webbing that ensures the D-rings for clipping off your cylinders stay exactly where you want them through the dive. Shoulder straps use softer material to mould to your body, providing the perfect fit, comfort and ease of movement. The crotch strap is super soft, reducing wear on your suit but still supportive.
XDeep Stealth Weight System
The XDeep Stealth 2.0 REC RB Sidemount System easily deals with the ideal weight placement from a 1kg block to over 20kg without fuss. Whatever you dive into, you can relax and know your system can cope beautifully.
The XDeep weight management system allows you to place the weight in an ideal position relative to your centre of gravity. The central weight pocket is simple to move within a considerable range. As if you were moving a V or tail weight on a twinset, you can apply the same principle for optimum position. Getting perfect balance and trim, even with 5 or 6 cylinders, is simple.
The weight system is designed to keep weights secure and immovable whilst remaining easy to use and flexible; the Stealth 2.0 weight management system is truly world-class.
Technical diving is equipment focussed and requires multiple backups. Add in multiple gas blends in various cylinders, throw in a drysuit with thick undersuits, and proper weighting is vital.
How long does it take to receive my XDeep system?

The standard BLACK version is normally available in 1-4 days.
Not all the COLOUR versions are always in stock, so it could take 6-8 weeks until they are produced and available to be sent to you.
XDeep Sidemount System configuration options
Classic - TEC - REC
Xdeep Stealth 2.0 Sidemount Wing
SHIPPING:
We aim to dispatch all in-stock items within 2 working days but will inform you of approximate delivery times should any item on your order be out of stock or on supplier backorder due to current manufacturing or transport delays caused by global shortages and/or impeded production.
Please refer to our Shipping Policy and Returns & Refunds Policy for detailed information on delivery terms and returns.
Our 2023 shipping rates are as follows:
• UK mainland orders £45 and over: FREE - DPD Delivery
• UK mainland orders under £45: £4.90 Fixed Rate - DPD Delivery
• Channel Islands, Isle of Man, Highlands & Northern Ireland: £14.9 Fixed Rate
• European Union: £13.90 + 5% of order value (maximum £30)
• Rest of the World: £19.50 + 8% of order value (maximum £55)
• BFPO Post Codes: £20
INTERNATIONAL EXCEPTIONS:
For international orders containing weights, cylinders (excluding suit inflation bottles) and Suex scooters please contact us in advance before placing your order.
These products are not included in our global max-capped shipping rates and are only shipped outside of UK mainland after freight cost is calculated based on total weight, dimensions of parcel, location of delivery and the courier service used. We will let you know what this cost will be before processing any order.
All cylinders we ship within and outside of UK mainland are filled and tested on site before being emptied for dispatch. Cylinders shipped outside of the UK will be empty and will also have their valves removed, requiring reassembly after you receive delivery. Twinset manifolds and bands will also be removed and dispatched together with the cylinders for safe global shipping.
RETURNS & REFUNDS
Please contact us before any return with your order number and date details. Receive our Returns Authorisation Form and instructions and enclose them with your return to expedite a refund. Detailed information is available in our Returns & Refunds Policy.
Email us at sales@dirdirect.com or call us on +44(0)1305 824 555
Note that all returned items are shipped at the customer's own risk and remain the customer's property until received by Underwater Explorers, so please ensure they are packaged well and use reliable postal services with tracking facilities. The
goods will be inspected on arrival. 
Return postages are at your own cost and our outbound shipping costs (if items are sold with integrated basic shipping charges) may be deducted from any UK mainland refund unless linked to a fault/defect claim. 

Please contact us with your order number and name before sending any returns to:
Underwater Explorers – Returns
Unit 1, Maritime Business Centre
Mereside, Portland
Dorset, DT5 1FD 
United Kingdom
Please refer to our Shipping Policy and Returns & Refunds Policy for detailed information.