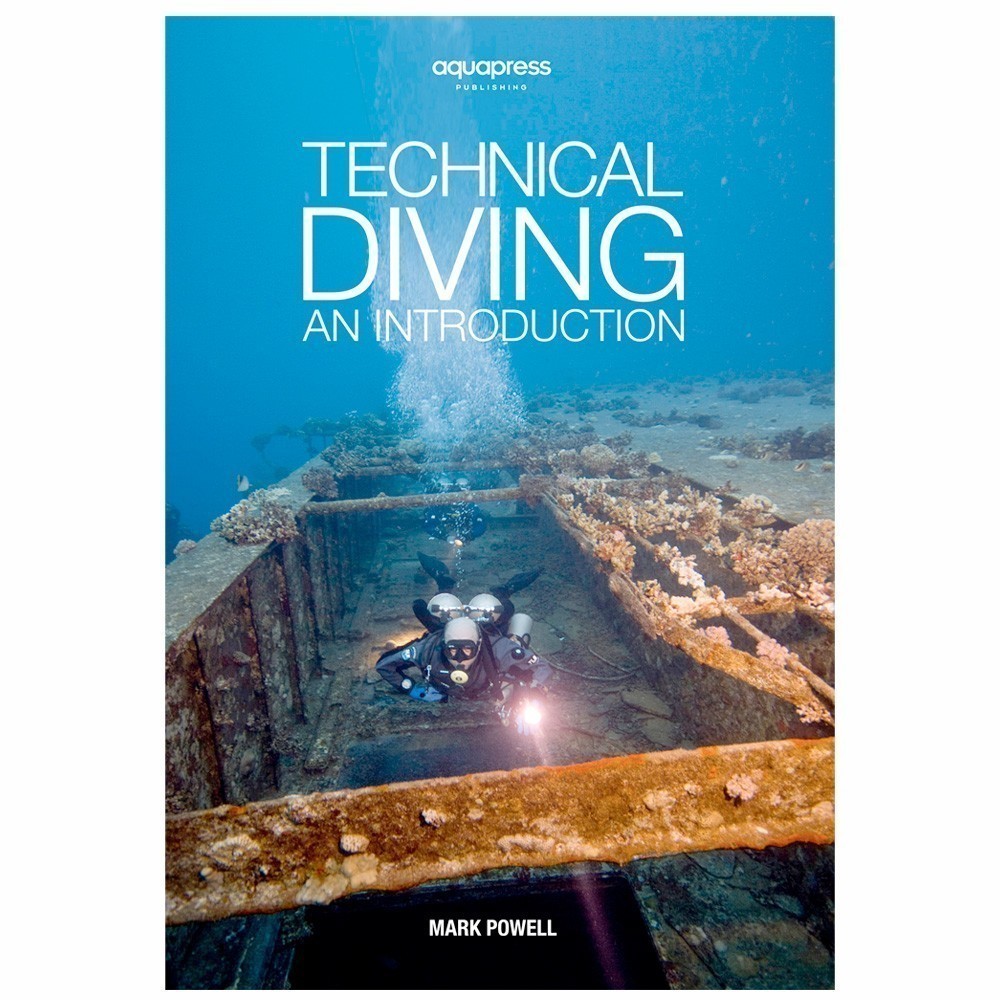 Technical Diving - An Introduction by Mark Powell
Technical Diving - An Introduction by Mark Powell provides recreational divers wanting to know more with a working understanding of technical diving and what is required in terms of equipment, attitude, knowledge and skills to make the transition.
Dispatched in 1 to 2 days
Technical Diving - An Introduction by Mark Powell provides recreational divers wanting to know more with a working understanding of technical diving and what is required in terms of equipment, attitude, knowledge and skills to make the transition.
The aspiring technical diver will be able to make clear decisions regarding their training and the type of diving they wish to pursue. Existing technical divers will find guidance on techniques, training and the multiple options to expand their skills.
The modern technical diver is faced with a myriad of options with regard to training, equipment, procedures and choices.
For new and even experienced technical divers, deciding which options are best for your diving style can take time and effort.
Mark Powell analyses the options available in a clear, unbiased manner. Each topic is discussed in plain English, and the pros and cons of each side of the topic are discussed and presented. Readers will benefit from Mark's considerable experience as a technical diver as he provides counsel and advice where necessary to guide.
Today, nitrox is nearly ubiquitous among sport divers and helium mixes are the gas of choice for deep diving—deep air diving is no longer considered acceptable. In fact, several training agencies are even beginning to introduce helium mixes for recreational divers conducting exposures in the 30-40m range to improve diving safety.
Recreational diving equipment has also felt the influence of tech. Backplate and wings that enable divers to maintain their trim & buoyancy better are gradually replacing old-style vest BCDs; recreational divers are beginning to opt for a long hose versus an "octopus" for their secondary regulator to aid gas sharing, and nitrox and mixed gas dive computers are commonplace.
What's more, "tekkies" now represent the largest user group of rebreathers on the planet, surpassing the combined militaries of the world.
It's no wonder then that there is considerable interest in technical diving among avid recreational divers, making technical diving educator and shipwreck diver Mark Powell's latest book so timely and important.
Mark Powell, the author of "Deco for Divers," provides interested divers with a thoughtful overview of the field, including its historical and philosophical underpinnings, equipment configurations, fundamentals of mixed gas technology, the required attitude and skills, practical considerations and the issues that tekkies care about most, especially staying alive.
Mark Powell begins by examining the origins of tech diving, what it is and is not. Back in the early 1990s, the difference between technical and recreational diving was stark. That's not the case anymore and Powell does a great job of describing the continuum of the activity that is now sport diving: from the holiday snorkeler lazily finning across a reef to a dedicated team of tekkies making a 150-meter jump on a newly discovered shipwreck.
Along the way he explores why tech diving has become so popular, what it takes to become a tech diver, and offers practical advice on how to make the transition.
From the beginning, technical diving has been about improving diving safety and performance, enabling divers to conduct exposures beyond the limitations of early recreational diving. Accordingly, Powell discusses the increased risks of technical diving and the mindset and requisite skills, such as value shutdowns and bail-out strategies that tech divers employ to mitigate these risks, including expecting the unexpected and what to do when things go wrong.
Powell offers a detailed discussion of the diving systems or platforms used by technical divers, specifically back-mounted twinsets or doubles, sidemount systems, and rebreathers, along with the advantages and disadvantages of each.
He delves into the fundamentals of mixed gas technology, which is at the heart of tech diving, and practical considerations such as sizing cylinders and stage bottles. He also discusses decompression diving, including the use of mixed gas dive computers, trending topics such as the efficacy of "deep stops," and what to do for missed decompression.
An important consideration in tech diving is whether to dive as a team or solo diver. Powell provides an in-depth examination of the various approaches to team diving, including diving as a team of one, and their pros and cons.
He also discusses the special considerations involved in diving in cave and shipwreck environments and in expedition diving.
Format: Softback
Pages: 248
Edition: Edition 1
Publication Date: December 2018
CONTENTS
Part 1 - Introduction
1. Introduction to Technical Diving
Part 2 - Approach
2. What is Technical Diving?
3. Why has it become so popular?
4. Moving into Technical Diving
5. What makes a Technical Diver?
6. Fitness for Technical Diving
7. Technical Diving and the Internet
8. Comfort Zone
9. Expect the Unexpected
10. What went wrong?
11. Complacency
Part 3 - Equipment
12. Equipment Configuration
13. Twinset configuration questions
14. Side mount
15. Backplate, Wing and Harness
16. Hogarthian Equipment Configuration
17. Reely important equipment
18. Staying Comfortable
19. How many cylinders do you need?
20. Dive Computers
21. What's in your Argon bottle?
Part 4 - Skills
22. Buoyancy Control
23. Trim
24. Finning Techniques
25. Reaching Your Valves
26. Shutdown Drills
27. Individual or Team Diving
28. Team Sizing
29. Problem Solving
30. Technical Skills
Part 5 - Rebreathers
31. Rebreathers
32. Rebreather configurations
Part 6 - Aspects
33. Extending your diving – Longer rather than deeper
34. Decompression Diving
35. Nitrogen Narcosis
36. Trimix
37. Oxygen Toxicity
38. Dive Planning
39. Wreck Penetration
40. Cave Diving
41. Expeditions
42. Missed Decompression
SHIPPING:
We aim to dispatch all in-stock items within 2 working days but will inform you of approximate delivery times should any item on your order be out of stock or on supplier backorder due to current manufacturing or transport delays caused by global shortages and/or impeded production.
Please refer to our Shipping Policy and Returns & Refunds Policy for detailed information on delivery terms and returns.
Our 2023 shipping rates are as follows:
• UK mainland orders £45 and over: FREE - DPD Delivery
• UK mainland orders under £45: £4.90 Fixed Rate - DPD Delivery
• Channel Islands, Isle of Man, Highlands & Northern Ireland: £14.9 Fixed Rate
• European Union: £13.90 + 5% of order value (maximum £30)
• Rest of the World: £19.50 + 8% of order value (maximum £55)
• BFPO Post Codes: £20
INTERNATIONAL EXCEPTIONS:
For international orders containing weights, cylinders (excluding suit inflation bottles) and Suex scooters please contact us in advance before placing your order.
These products are not included in our global max-capped shipping rates and are only shipped outside of UK mainland after freight cost is calculated based on total weight, dimensions of parcel, location of delivery and the courier service used. We will let you know what this cost will be before processing any order.
All cylinders we ship within and outside of UK mainland are filled and tested on site before being emptied for dispatch. Cylinders shipped outside of the UK will be empty and will also have their valves removed, requiring reassembly after you receive delivery. Twinset manifolds and bands will also be removed and dispatched together with the cylinders for safe global shipping.
RETURNS & REFUNDS
Please contact us before any return with your order number and date details. Receive our Returns Authorisation Form and instructions and enclose them with your return to expedite a refund. Detailed information is available in our Returns & Refunds Policy.
Email us at sales@dirdirect.com or call us on +44(0)1305 824 555
Note that all returned items are shipped at the customer's own risk and remain the customer's property until received by Underwater Explorers, so please ensure they are packaged well and use reliable postal services with tracking facilities. The
goods will be inspected on arrival. 
Return postages are at your own cost and our outbound shipping costs (if items are sold with integrated basic shipping charges) may be deducted from any UK mainland refund unless linked to a fault/defect claim. 

Please contact us with your order number and name before sending any returns to:
Underwater Explorers – Returns
Unit 1, Maritime Business Centre
Mereside, Portland
Dorset, DT5 1FD 
United Kingdom
Please refer to our Shipping Policy and Returns & Refunds Policy for detailed information.