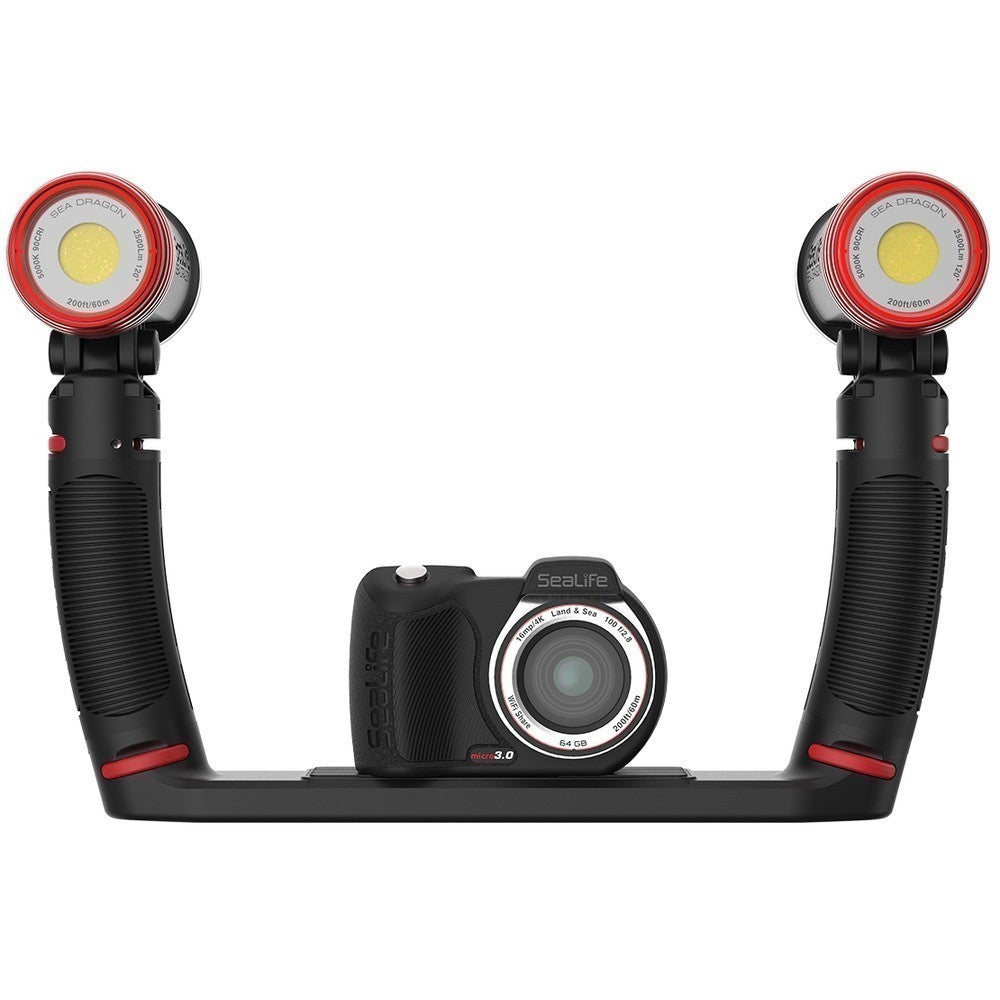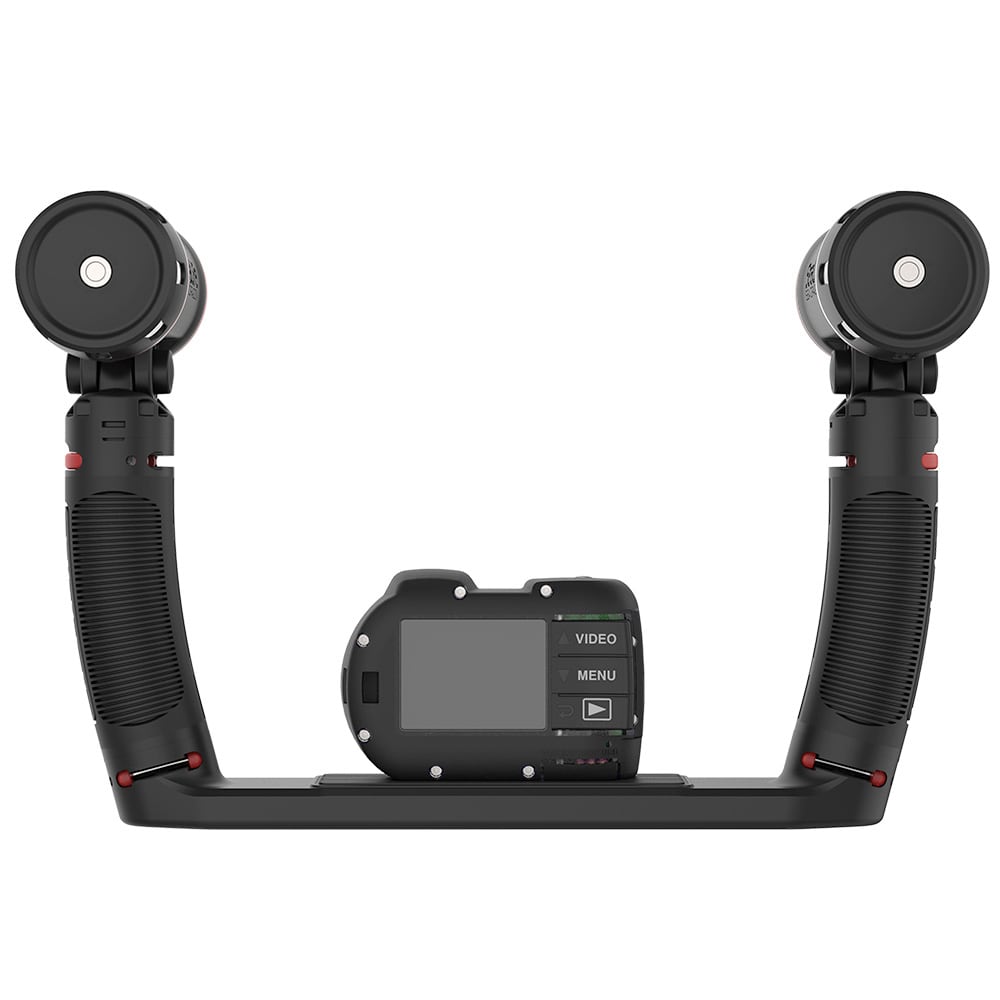 SeaLife Micro 3.0 Pro Duo 5000 Camera Light Set
The SeaLife Micro 3.0 Pro Duo 5000 Set is the most capable compact imaging system SeaLife ever created. The set includes two Sea Dragon 2500F Photo/Video lights for a total of 5000 lumens combined.
Dispatched in 5 to 7 days
The SeaLife Micro 3.0 Pro Duo 5000 Set is the most capable compact imaging system SeaLife ever created. The set includes two Sea Dragon 2500F Photo/Video lights for a total of 5000 lumens combined.
The Sea Dragon 2500F's warm light colour and colour temperature work superbly with the Micro 3.0 camera, and adding a second light will bring brilliant stills and amazing video.
The SeaLife Micro 3.0 Pro Duo 5000 Set comes with two Flex-Connect grips on the ergonomically balanced Flex-Connect dual tray. The entire system is assembled for you and includes a pro duo protective travel case.
SeaLife Micro 3.0 Pro Duo 5000 Camera Light Set includes
Micro 3.0 camera 64GB WiFi
Wrist strap
USB Micro-B adapter
USB cable type USB-A to Micro-B; 2ft/60cm
Neoprene camera pouch
2x Sea Dragon 2500 Underwater Photo/Video Light head
Flex-Connect Dual Tray w/ standard ¼-20 mounting screw
2x Flex-Connect grips
25Wh Lithium Ion rechargeable battery
2x AC Power Adapters, charging trays, and international plug adapters
Spare O-rings, O-ring lubricant, O-ring removal tool
SeaLife Pro Duo Case
SeaLife Micro 3.0 Camera
The SeaLife Micro 3.0 Camera is the latest and third generation of the popular permanently-sealed Micro camera series.
The camera is leak-proof with no O-rings to lube or maintain, so there is never a worry about flooding the camera. Like its forerunners, the Micro 3.0 features an ergonomic, compact design with easy-to-use controls and menus.
The Micro 3.0 camera offers impressive still images with its large SONY® 16MP CMOS sensor and vibrant 4K Ultra HD video. You can even shoot 8MP stills while you're recording video.
Since it's permanently sealed, the Micro 3.0 has a large 3-plus hour battery good for a full day of diving and built-in 64gb of memory to store thousands of photos and hours of video.
The camera's ease of use starts with the three wide "Piano key" buttons that are easy to locate and control, even with dive gloves. The intuitive Micro 3.0's Easy Setup feature quickly guides you through the correct settings based on the shooting environment, depth and lighting accessories being used.
Micro 3.0 users can fine-tune their underwater images with a new manual white balance adjustment and capture images in RAW format for those who want to edit them later.
The built-in wide-angle 100° lens lets the diver get close to the subjects while keeping everything in the picture.
Lighting is easy. Use the Micro 3.0 with Sea Dragon underwater LED photo/video lights (or other constant LED light sources). There's no flash or cable to sync to an external strobe. Simply turn your light on and adjust the intensity based on the subject, conditions and distance.
The Micro 3.0 offers WiFi sharing ability, so you can wirelessly preview, download and share pictures & videos to a smartphone or tablet with the free SeaLife Micro 3+ app available at Google Play or Apple App stores.
The large 260K high-resolution 2.4" TFT colour LCD display makes capturing and reviewing photos and video easy on the small camera.
Sea Dragon Duo 5000F Set
Wide coverage and best colours for underwater photos and video. The Sea Dragon Duo 5000 underwater lighting set packs an astounding 5000 lumens of combined brightness using the latest COB LED technology that offers very warm underwater colours.
With the included Flex-Connect Dual Tray, ergonomic grips and dual Sea Dragon 2500 light heads, you'll increase camera stability and consistently illuminate the entire shooting angle of your camera, including cameras with wide-angle lenses.
Twice the brightness and coverage. Each Sea Dragon 2500 light features an ultra-wide, 120-degree beam angle. Two lights mean almost twice the coverage, providing enough light even for cameras with an ultra-wide field of view. Each light operates with only a single button, quickly adjusts between 3 power levels, and is depth rated to 200 feet/60 meters. Adapter for GoPro® cameras with acorn nut included.
Micro 3.0 Features
16 megapixel Sony IMX083 CMOS 1/2.3" image sensor
iCatch V50 DSP processor
4K Ultra HD Video @ 30fps and 1080p HD video @ 120 fps (Super Slo-Mo)
260K hi-res 2.4" TFT colour LCD
Permanently sealed – No waterproof door or O-rings to maintain
Ultra-fast 0.1-second shutter response – Virtually no shutter lag
Easy Setup with five Land & Sea™ scene modes:

Land Auto – Above water pictures and videos
Land Sports/Action – Above water action scene with continuous burst shooting (10 JPEG pictures in 1 sec)
Dive – Adds colour correction while diving in deeper water
Snorkel – Adds colour correction while snorkelling or diving in shallow water
Underwater Light – Underwater pictures and videos with Photo-Video light

Three built-in digital underwater colour correction filters (white balance modes):

Underwater Deep for deeper tropical, blue/cyan water
Underwater Green for colder, green/emerald water
Underwater Shallow for shallow tropical, blue/cyan water

Manual White Balance Adjustment to customise underwater colour correction to your specific depth and water conditions
Continuous Burst Shooting – shoots 10 high-resolution 16MP JPEG pictures in 1 second
RAW image format – Hi-res, uncompressed.DNG image files for virtually unlimited photo editing options
100° Wide angle lens – 7 element, fully multi-coated, aspheric optical lens
Stabilisation – Electronic stabilisation reduces vibration and shakes for smooth video recording
"Piano Key" button controls for easy operation, even with dive gloves on
Wireless –  Preview, download and share pictures/videos to smartphone or tablet with the free Micro 3+ app
64GB internal memory holds 10,000 16mp pictures, 140 minutes 4K-30fps video, 205 minutes 1080p-60fps, or 560 minutes 1080p-30fps HD video
Waterproof to 200ft / 60m
Picture in Video – capture 8mp still images while recording 4K video
Compact design for easy handling and lightweight travel
Fully rubber-armoured and impact resistant
Focus distance from 15" (38cm) to infinity
Time-lapse shooting at set time intervals – Saves as a video file or series of still images
Upside-down shooting mode – When mounting the camera upside down, pictures and videos are saved upright
Shortcut mode – Push and hold the menu button to quickly access a specified menu setting
2000 mAh / 3.7V / 7.4Wh internal lithium ion rechargeable battery for 3+ hours video or 1000+ images
External power mode – Connect and operate the camera with an external power supply (land only)
LED status light – Confirms charging and transfer status
Soft textured rubber grip design for a sure grip
Sea Dragon 2500F Features
Powerful 2500-lumen LED light. Latest COB LED array technology
One button control for easy operation. One button to power the light on/off and select the brightness
Three brightness levels 100%, 50% and 25%
Hidden emergency signal mode. 1-sec blink interval and SOS Morse code. Push and hold the power button for 4 seconds to activate.
60-minute run time at full power
Constant brightness – Regulated circuitry so light won't dim with battery power.
80 Color Rendering Index (CRI) that mimics natural daylight.
Easy to expand with Flex-Connect™ trays, grips, arms, cold-shoe, ball joint and Y-S adapters.
Quick-release button to detach light and aim in crevices and hard-to-reach areas
120° wide beam angle evenly illuminates the subject with no hot spots.
Depth tested to 60m – Guaranteed
Corrosion-proof metal light head for heat dispersion and durability
Removable 25W Li-Ion battery w/ charger and international plug adapters included
Waterproof battery compartment – even if the O-ring seal fails, the battery compartment is isolated so water cannot reach the internal electronics.
Pro Duo Case
Micro 3.0 Specifications
Free App Name: SeaLife Micro 3+ in App store; SeaLife Micro 3+ Android App in Play store
Image Sensor
16 mega pixel SONY IMX083 1/2.3" CMOS sensor
Image Resolution/Sizes
16mp (4608×3456 4:3), 14mp (4608×3072 3:2), 12mp (4608×2592 16:9), 9mp (3456×2592 4:3), 7mp (3456×1944 16:9), 4mp (2304×1728 4:3), 3mp (2304×1296 16:9), 2mp (1920×1080 16:9)
Picture File Format
JPEG (.jpg) and RAW (.dng)
Video Resolution/Sizes
4K at 30fps (frames per second), 1080p at 120 fps, 1080p at 60 fps, 1080p at 30 fps, 720p at 120fps, 720p at 60fps, 720p at 30fps, 480p at 120fps, 480p at 60fps, 480p at 30fps
Video File Format
MPEG4 h.264 (.mp4)
Audio
Microphone: Yes (mono)
Speaker: Yes (mono)
Audio Format
ACC (video/ audio compressed together)
Lens Aperture
F2.8
Lens Optics
7 element, fully multi-coated, aspheric optical lens
Focal Length
3.37mm (35mm film equivalent = 19mm)
Focus Type
Fixed-focus lens
Focus Range
15" to Infinity (38cm to infinity)
Field of View
100° diagonal shooting angle
Shutter Speed
1/25 to 1/2000 second
Scene Modes
Land Auto, Land Sports/Action, Dive, Snorkel and Ext Light mode (when using photo video light accessory)
Capture Modes
Single, Continuous (shoots 10 16MP pictures in the 1st second and 2 pictures thereafter), Time Lapse (Saves as .mp4 file or as series of individual still images depending on setting), Burst (shoots ten 16MP JPEG or three JPEG+RAW pictures in 1 second) and AEB (Auto Exposure Bracketing)
White Balance Modes
Auto, Manual, Underwater Deep, Underwater Shallow, Underwater Green, Daylight, Cloudy
ISO
Auto, 100, 200, 400, 800, 1600, 3200
Exposure Value (EV)
EV adjustable from -2.0 to +2.0 in 0.3 increments
Quality
Super Fine, Fine and Standard
Sharpness
Standard, Hard and Soft
Metering
Center, Average and Spot
Color
Standard, Vivid, Black/White, Sepia and Negative
Self Timer
10 sec, 3 sec and 10+3 sec
LCD
2.4" 260K TFT LCD color display
Status LED
Blinking red = charging, Solid red = fully charged
Solid green = Data connection made
Blinking green = Data connection not successful (Display will read: Clean USB pins & adapter. Use only original USB cable.)
Memory (internal)
64GB internal memory
NAND Flash
1GB
USB Format
2.0
USB Cable
Type USB-A to Micro-B, 2ft (60cm)
PC Connection
PC: Windows XP / 7 and up, MAC: OS 10.8 and up
Language Support
On-Screen Display; English, German, French, Spanish, Italian, Dutch, Turkish, Russian, simplified Chinese, traditional Chinese. Printed manual; English. Online manual; German, French, Spanish, Italian, Dutch
Battery
2000 mAh, 3.7v, 7.4Wh Internal Li-ion battery
Battery Life
3+ hours when shooting pictures or recording 1080p-30fps video
2+ hours when RAW+JPEG images or recording 4K-30fps video
External Power
Camera may be connected to 5v external power supply for full functionality
Note: External Power is only available on land above water
Charging
Use any 5V USB wall charger (not included)
Includes USB cable (Type A to Micro-b) and 5-pin USB adapter
4 hour charging time with 1.5A+ wall charger
App
SeaLife Micro 3+ app available for Android at Google Play store and iOS phone/tablet at Apple App Store, app supports phone/tablets running current or previous version operating system
WiFi
Wi-Fi 802.11b/g/n (Approximate range = 100ft / 30m)
System Settings
WiFi on/off, System Reset, Format, Date/Time, Memory Available, Mic off/low/med/high, Sound off/low/high, Quick View on/off, Language, System NTSC/PAL, Light Frequency 50Hz/60Hz, Date Stamp on/off, Auto Off/3min/5min, Upside-down shooting, Shortcut, SSID and FW version
Waterproof
Individually depth tested to 200' (60 m)
Altitude
Operational to 25,000ft (7600m) above sea level
Shockproof
3ft / 1m drop test
Buoyancy
Negative; -50 grams underwater
Operating Temperature
Land: 23°F to 122°F (-5°C to 50°C); Underwater: +33°F to +110°F (0.5 °C to 44°C)
Storage Temperature
-20°F to +140°F (-29°C to +60°C)
Tripod/Tray Mount
Standard ¼-20 UNC tripod threads
Certification
CE, ROHS, FCC, IC
Weight
11.6 oz. (329g)
Dimensions
2.1" x 2.9" x 4.2" (5.4cm x 7.4cm x 10.7cm)
Packaged Weight
2lbs (0.9kg)
Packaged Dimensions
3.7" x 5.1" x 5.5" (9.5cm x 13.0cm x 14.0cm)
Warranty Period
1 year limited warranty for manufacturing defects
Country of Origin
Designed/Engineered in USA, Made in China
Sea Dragon 2500F Specifications
| | |
| --- | --- |
| Body Material | Anodized aluminum light head with fiber-reinforced polycarbonate body |
| Light Source/Bulb Type | 1 x COB LED array (COB – Chip On Board) |
| Brightness | 2500 lumens (maintains 2500 lumens throughout burn time at full power) |
| Brightness Levels | Full power (100%), half power (50%), and quarter power (25%) |
| Buoyancy | Negative; -94 grams underwater |
| Button Control | Long push (1 sec) to power light on/off; Short push cycles through 100% → 50% → 25% → 100% [repeat cycle] |
| Light Modes | Constant light or emergency signal light (activated by long push of power button); one second flash or SOS at full power |
| Color Temperature | 5000K |
| Color Rendering Index* | 90 |
| Beam Angle | 120 degrees (90-degrees underwater) |
| Battery | Lithium Ion 7.4V, 3400 mAh, 25Wh (included) |
| Battery Charge Time | 170 minutes |
| Run Time | 60 minutes at full power/120 minutes at half power/240 minutes at quarter power |
| Depth | Tested to 200 feet/60 meters |
| Dimensions | 4.8″ x 2.2″ x 3.8″ (12.2cm x 5.6cm x 9.7cm), head only |
| Weight | 9oz (255g) head only without battery ; 12.9oz (365g) head with battery |
| Bulb Life | 35,000 hours |
| O-ring | Dual NBR o-rings (lube included) |
| Country of Origin | Designed/Engineered in USA, Made in China |
*CRI is a measure of a light source's ability to show object colors "realistically" or "naturally" compared to daylight, which has a CRI of 100 and represents the maximum value.
The beam angles for the Sea Dragon lights are shown as the true, tested "in-air" (above water) beam angle. Underwater, due to light refraction, the angle tightens to approximately 33% less.
Avoid using this Sea Dragon light above water for prolonged periods of time
The light is designed for underwater use and water is needed to displace heat. The metal light head at full power will reach temperature of about 140F (60C) degrees within a few minutes, which may cause burning if touched. A thermal sensor will automatically dim the light if internal temperatures reaches 150F (65C) degrees. Immediately turn off light if any parts of the light become hot to the touch.
SHIPPING:
We aim to dispatch all in-stock items within 2 working days but will inform you of approximate delivery times should any item on your order be out of stock or on supplier backorder due to current manufacturing or transport delays caused by global shortages and/or impeded production.
Please refer to our Shipping Policy and Returns & Refunds Policy for detailed information on delivery terms and returns.
Our 2023 shipping rates are as follows:
• UK mainland orders £45 and over: FREE - DPD Delivery
• UK mainland orders under £45: £4.90 Fixed Rate - DPD Delivery
• Channel Islands, Isle of Man, Highlands & Northern Ireland: £14.9 Fixed Rate
• European Union: £13.90 + 5% of order value (maximum £30)
• Rest of the World: £19.50 + 8% of order value (maximum £55)
• BFPO Post Codes: £20
INTERNATIONAL EXCEPTIONS:
For international orders containing weights, cylinders (excluding suit inflation bottles) and Suex scooters please contact us in advance before placing your order.
These products are not included in our global max-capped shipping rates and are only shipped outside of UK mainland after freight cost is calculated based on total weight, dimensions of parcel, location of delivery and the courier service used. We will let you know what this cost will be before processing any order.
All cylinders we ship within and outside of UK mainland are filled and tested on site before being emptied for dispatch. Cylinders shipped outside of the UK will be empty and will also have their valves removed, requiring reassembly after you receive delivery. Twinset manifolds and bands will also be removed and dispatched together with the cylinders for safe global shipping.
RETURNS & REFUNDS
Please contact us before any return with your order number and date details. Receive our Returns Authorisation Form and instructions and enclose them with your return to expedite a refund. Detailed information is available in our Returns & Refunds Policy.
Email us at sales@dirdirect.com or call us on +44(0)1305 824 555
Note that all returned items are shipped at the customer's own risk and remain the customer's property until received by Underwater Explorers, so please ensure they are packaged well and use reliable postal services with tracking facilities. The
goods will be inspected on arrival. 
Return postages are at your own cost and our outbound shipping costs (if items are sold with integrated basic shipping charges) may be deducted from any UK mainland refund unless linked to a fault/defect claim. 

Please contact us with your order number and name before sending any returns to:
Underwater Explorers – Returns
Unit 1, Maritime Business Centre
Mereside, Portland
Dorset, DT5 1FD 
United Kingdom
Please refer to our Shipping Policy and Returns & Refunds Policy for detailed information.