Scubapro Hydros Pro BC
Scubapro Hydros Pro BCD is fully adjustable, light and comfortabke with a Fluid-Form 3D Gel System and BC-4-Life modular design. it has Near- Zero inherent buoyancy, is easy to customise and even easier to repair. It packs into a compact bundle so you can travel with ease.
Dispatched in 3 to 5 days
Scubapro Hydros Pro BCD is fully adjustable, comfortable, light…
In another industry first, Scubapro has broken through long-standing barriers in BC design and manufacturing with an innovative process for building BC harnesses and produced the award-winning 2-in-1 Hydros Pro. Built to last, the Scubapro Hydros Pro is the ultimate back inflation BC for all seasons and all reasons, from the warm waters of the tropics to temperate and cold waters the world over.
Built with the Fluid-Form 3D Gel System, the Scubapro Hydros Pro is unlike any BC currently on the dive market. Its BC-4-Life modular design makes it easy to customise and even easier to repair while its body-molding back plate and harness system deliver maximum comfort and stability at depth. Because it has Near- Zero inherent buoyancy, Hydros Pro divers can shave ballast from their weight pouches, and because the material dries fast and packs into a compact bundle, Hydros Pro divers can travel with ease.
THE ABILITY TO CHANGE ANYTHING, CHANGES EVERYTHING.


The HYDROS PRO is a true breakthrough in dive comfort and convenience. The moldable Monprene®, adjustable fit and multi-attachment points combine to make this the most customizable and comfortable BC ever. Winner of the 2016 Red Dot award for product design, the HYDROS PRO is an incredible feat of SCUBAPRO engineering, built for anyone who loves to dive. Interchangeable straps, a packable design and an included backpack with room for your entire dive kit make the HYDROS PRO perfect for any destination and any dive.
This is a 2-in-1 BC for daily use wherever you are which quickly converts to a light and compact travel wing for your trips. Built to last, the Hydros Pro is the ultimate back inflation/wing BC for all seasons and all reasons, from the warm waters of the tropics to temperate and cold waters the world over.
Product Highlights:
Durable Monprene® construction means ultra durability. The HYDROS PRO also stands up to UV, chemicals, and abrasion - without showing typical signs of wear. And a modular construction makes repairs - even from remote locations - a snap. It's a BC for life.
The Perfect Fit
When you are wearing the HYDROS PRO, you won't even know it's there. The HYDROS PRO molds to your specific body shape, and has been designed with body grip gel, providing extreme comfort and stability. Near-Zero inherent buoyancy means less lead. And, thanks to a back inflation, smart air system you can dive in any position. 2-in-1 BC The HYDROS PRO includes both the Trav-Tek straps and a fully integrated weight system. So, with a quick switch of clips, you can transform the HYDROS PRO from a harness travel BC to an integrated weight BC. Now you only need one BC for both local diving and travel.
Customize and Accessorize Easily
Add, remove, or replace weight systems, bungees, D-rings, accessories and pockets to make the HYDROS PRO truly your own. With a wide range of mountable accessories and kits, your options are endless - and can quickly be changed based upon the dive and conditions.
Travel Friendly
The HYDROS PRO goes everywhere with you. Instant dry, lightweight and compact, with a unique smart-pack design, the HYDROS PRO also comes with a customized backpack designed to fit your entire dive kit on your back.
Correct Fit
Men's sizing is available in four men's sizes (S, M, L, XL) and three women's sizes (XS/S, M, L), with 35 lbs/15.9 kg or 40 lbs/18.1 kg of buoyant lift, depending on size.
Specialized Fit for Women: Smaller air bladder. Shorter inflator hose. Curved shoulder straps that fit perfectly. Experience the difference of diving with a more thoughtfully designed BC for women.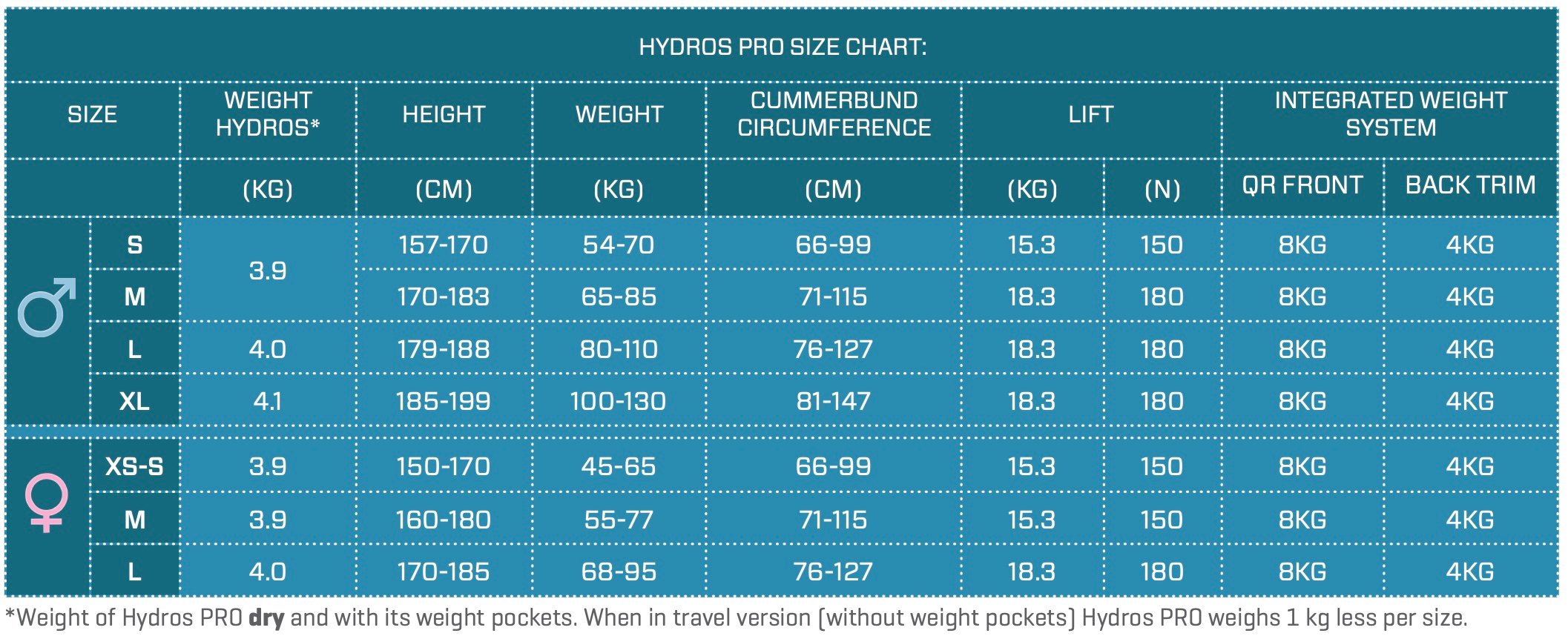 Ultra Durable: Patented Injection Molded Monprene® Gel Harness is extremely resistant to UV, chemicals and abrasion. The fabric-free harness uses no velcro or zippers
Instant Dry: Ideal for travel due to less water retention and lower post-dive weight
"BCD-4-Life" Modular Design: Customisable to add/remove weight systems, straps and pouches. Extended lifespan due to simplified repairs. Virtually every component, including buckles, can be replaced without stitching
3D Ergonomic Design: Conforms to your body shape for maximum comfort
Lightweight: Advanced materials keep weight low
Neutrally Buoyant: Near-Zero inherent buoyancy requires less lead, resulting in better buoyancy control and much more enjoyable diving
Body Grip Gel: Prevents BCD from shifting and riding up
Dual-Compound Backplate: Provides the ultimate in stability and comfort.
Single tank band system allows for easier assembly
Torso Flex Zone: Auto-adjusts to your torso length for excellent comfort and freedom of movement
Articulated Shoulder Straps: Allow straps to adjust to your body shape to achieve a snug fit
Kit-Up Assist: Holds shoulder straps open for easy donning
Cross-Flow Channel: Unrestricted internal airflow reduces air trapping for enhanced maneuverability and easy deflation at any angle
2-Stage Inflation: Tri-bungee system controls air distribution to maintain a compact shape under water and high lift capacity at the surface
Dorsal Weight-Wing: Anti-abrasion and instant dry. Optimal "Outboard" trim pockets
Buckle Weight System: Simple, safe and reliable quick-release buckles offer a fixed location for easy one-hand operation
Multi-Mount Accessory Matrix: Multiple D-Rings and mounting points for a knife + light + SMB + hoses + crotch strap and much more
Smart-Pack Design: Folding shoulder and waist straps pack into the wing, creating an unbelievably compact package for easy transport and storage
We aim to dispatch items within the Dispatched Time indicated but will inform you of approximate delivery times should any item on your order be out of stock or on supplier backorder due to manufacturing and/or transport delays caused by global or regional shortages.

Please contact us before any return with your order number and date details. Receive our Returns Authorisation Form and instructions and enclose them with your return to expedite a refund.
        Email us at sales@dirdirect.com or call us on +44(0)1305 824 555
Note that all returned items are shipped at the customer's own risk and remain the customer's property until received by Underwater Explorers, so please ensure they are packaged well and use reliable postal services with tracking facilities. The goods will be inspected on arrival. 
Return postages are at your own cost and our outbound shipping costs (if items are sold with integrated basic shipping charges) may be deducted from any UK mainland refund unless linked to a fault/defect claim. 

Please contact us with your order number and name before sending any returns to:
Underwater Explorers – Returns
Unit 1, Maritime Business Centre
Mereside, Portland
Dorset, DT5 1FD 
United Kingdom