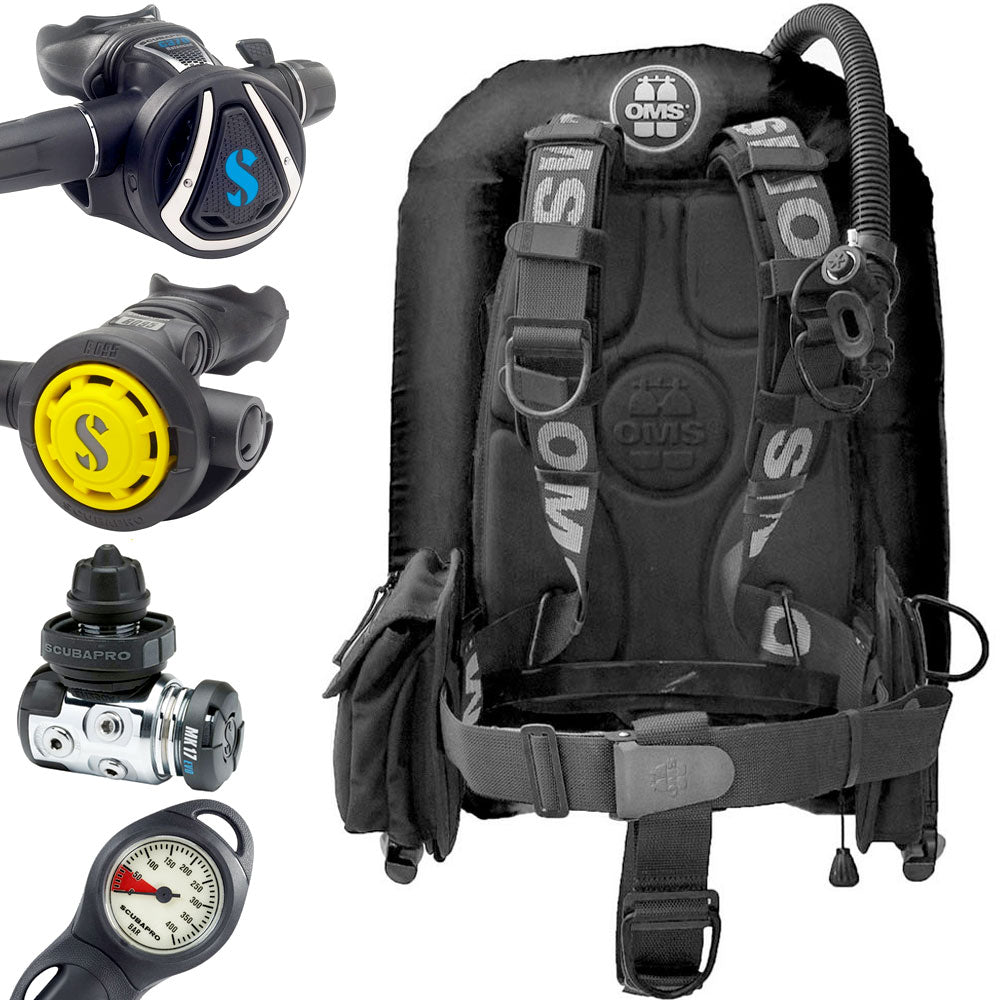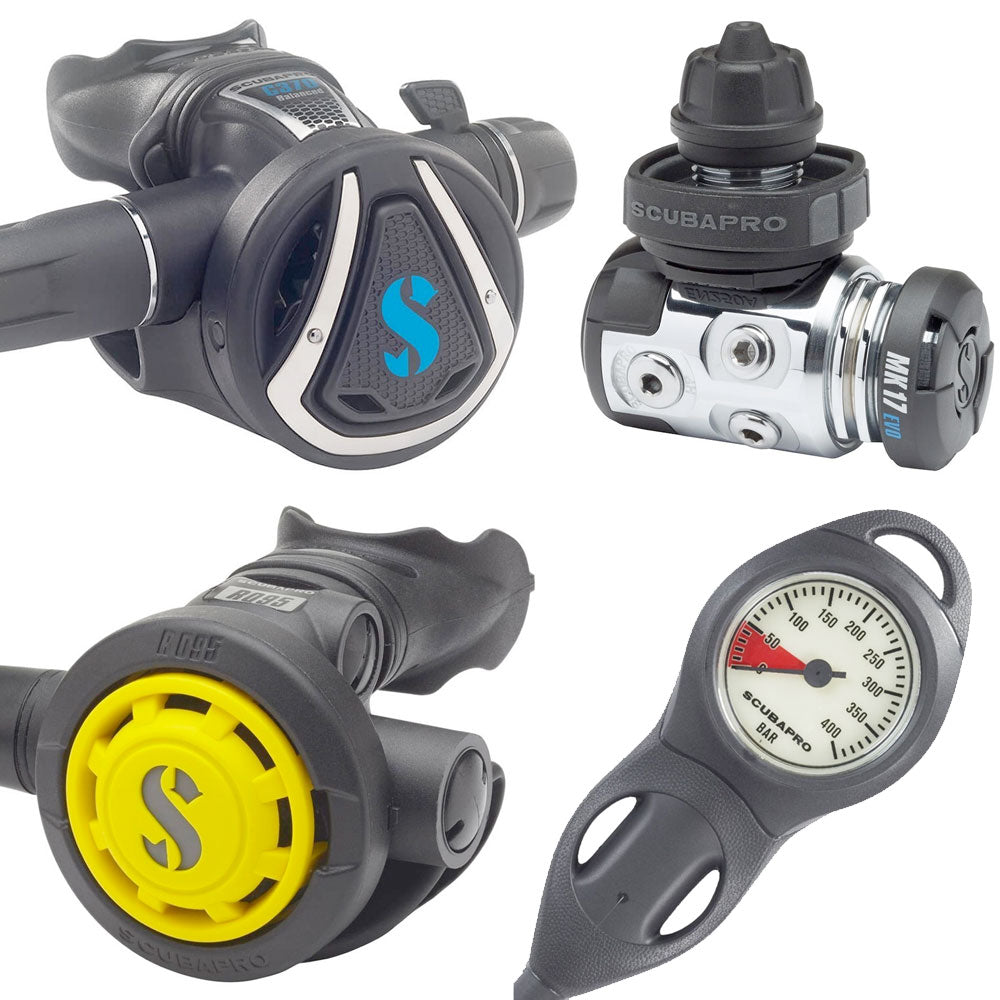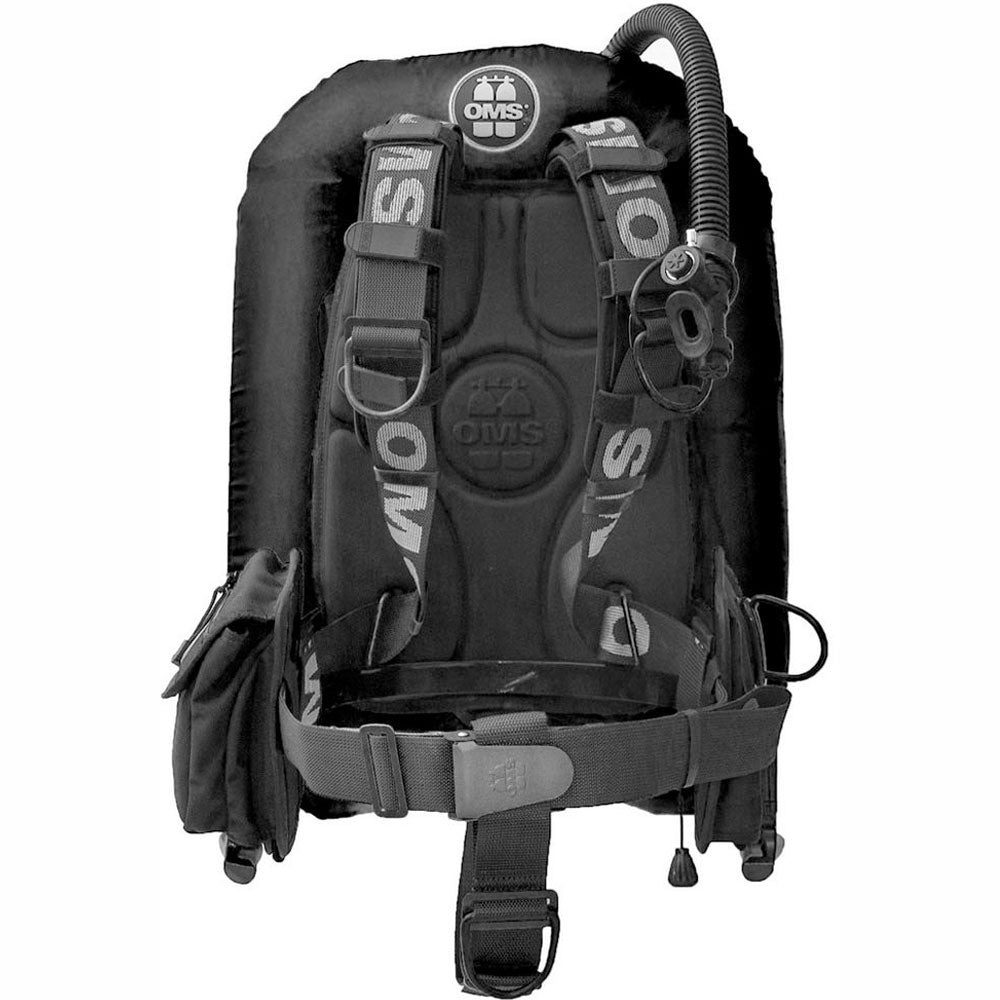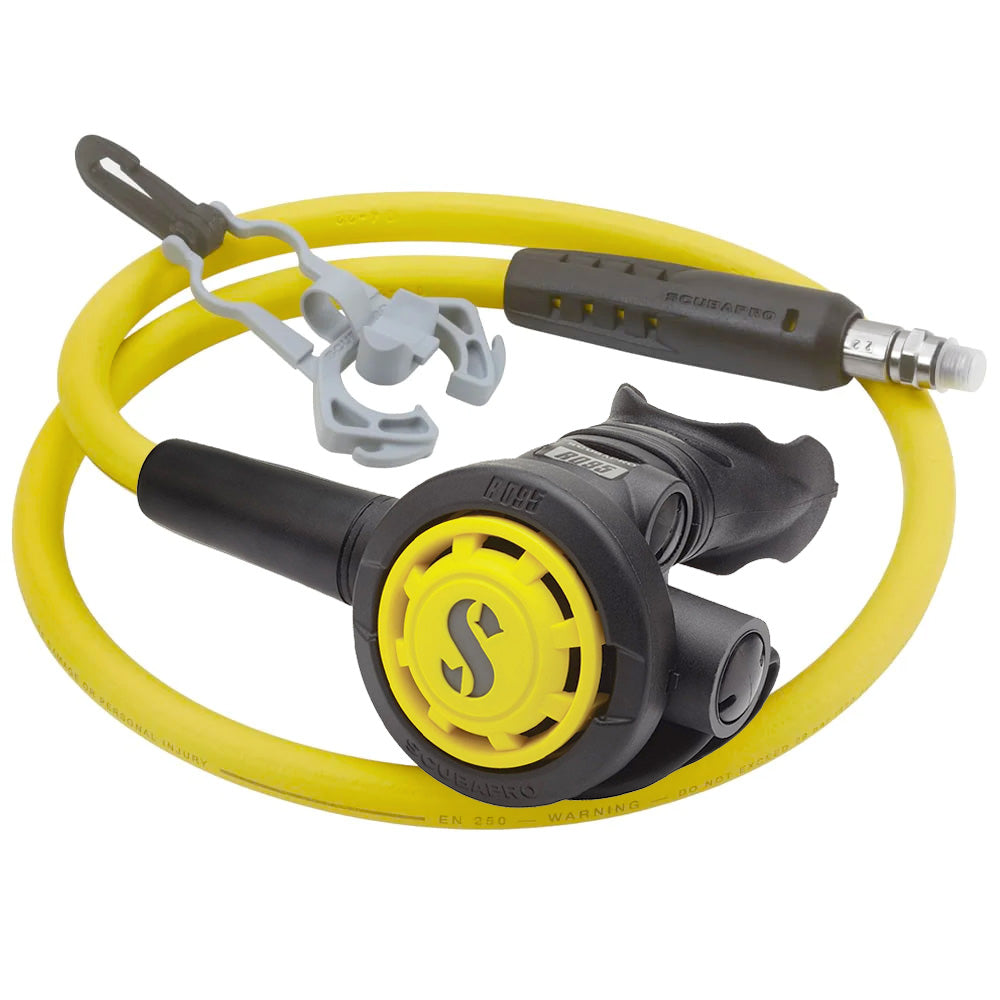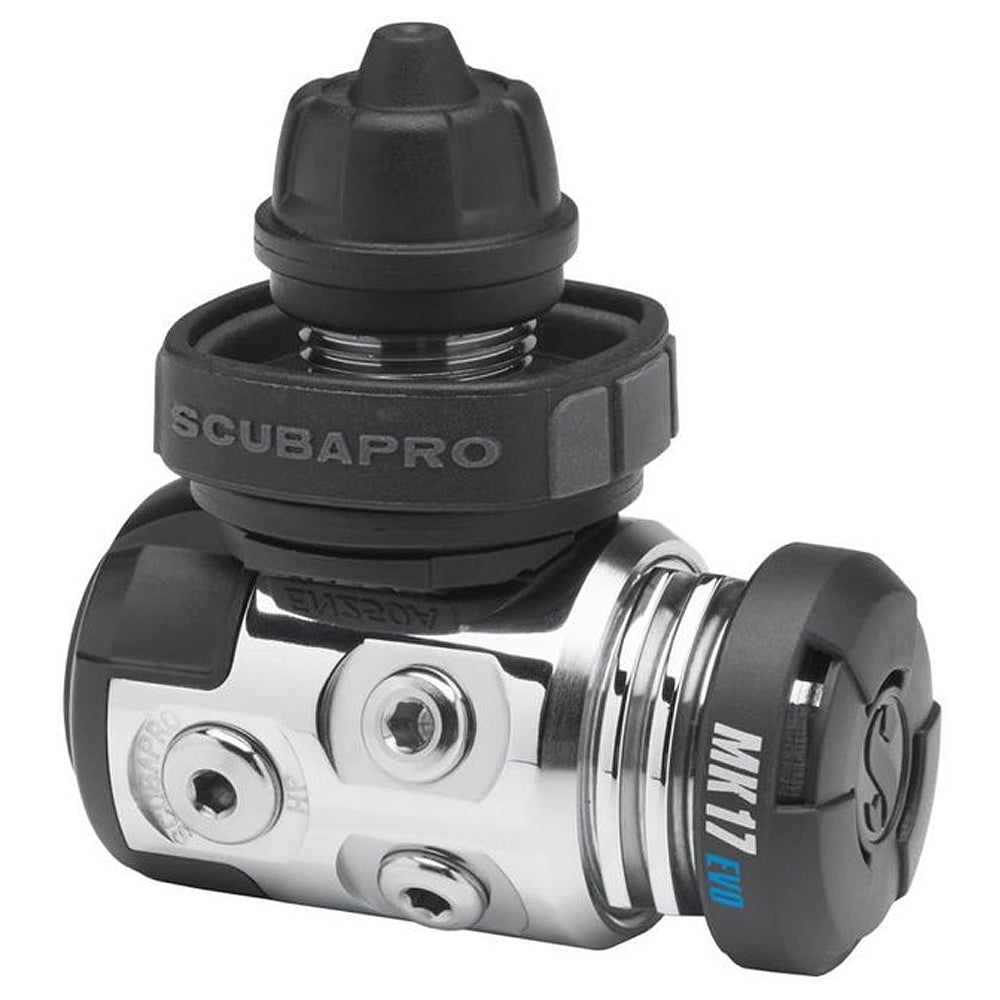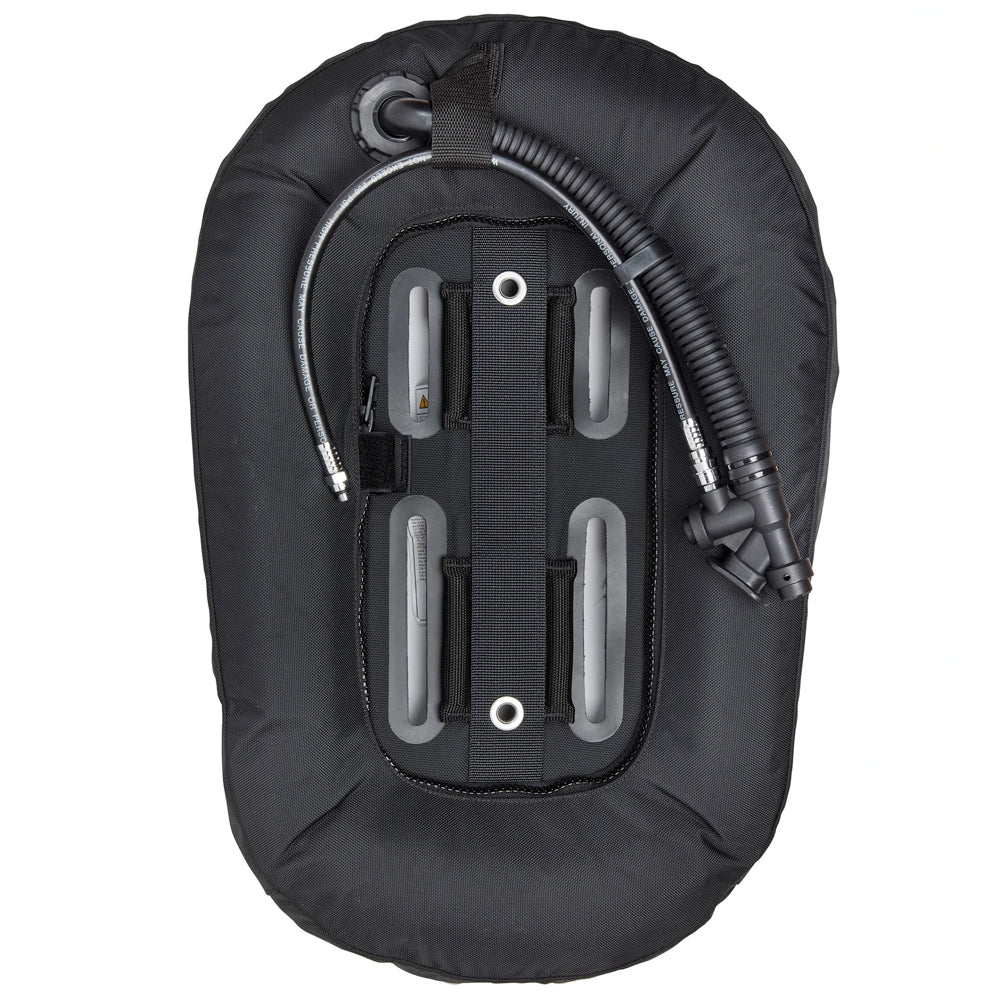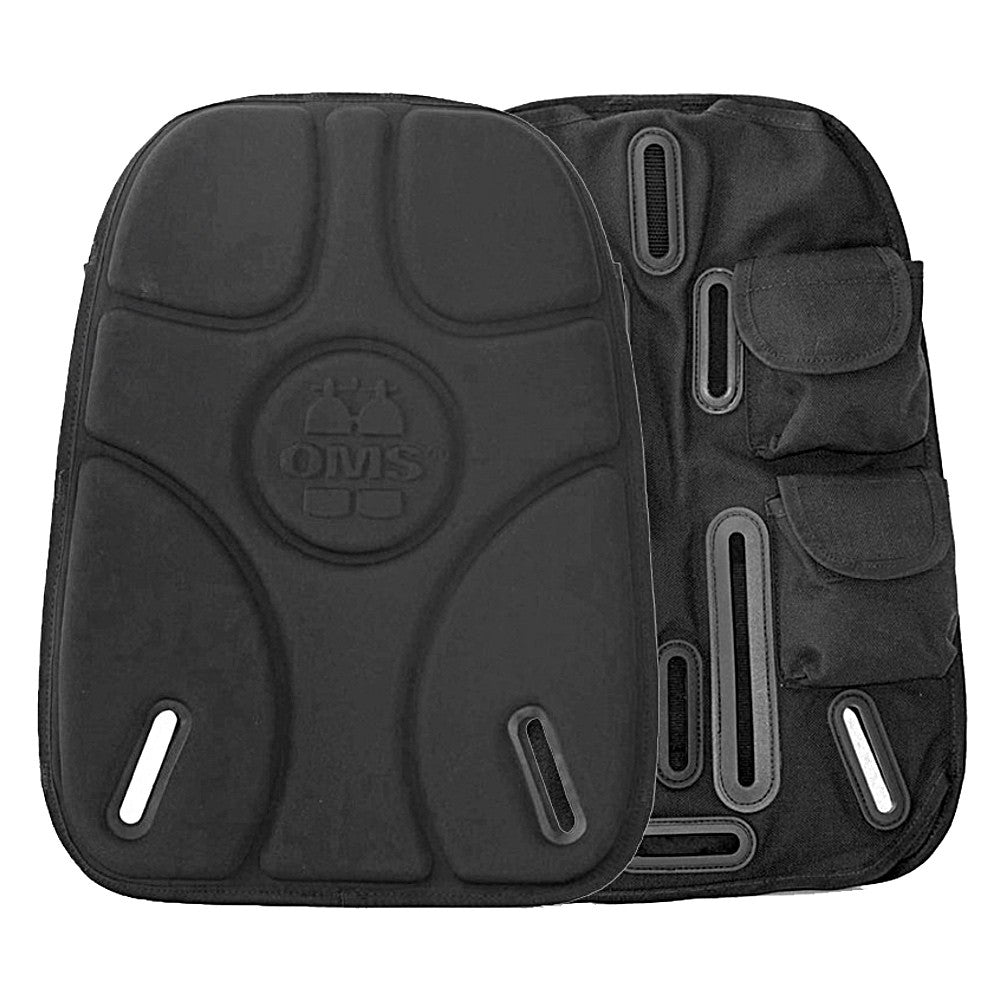 OMS SmartStream Wing + Scubapro MK17 C370 R095 Regulator Package
This excellent diver package includes the OMS quick-adjust SmartStream wing system and Scubapro's MK17 Evo C370 regulator set with an R095 octopus and SPG.
Dispatched in 5 to 7 days
This excellent diver package includes the OMS quick-adjust SmartStream wing system and Scubapro's MK17 Evo C370 regulator set with an R095 octopus and SPG.
OMS SmartStream Wing System & Scubapro Regulator Package includes

Aluminium or stainless steel backplate with a SmartStream harness
OMS Performance 32lbs Mono Wing
OMS Deluxe Back Pad
Two OMS Cam bands with friction pads and plastic buckles
Wing inflator hose
MK17 EVO DIN fitting first stage
C370 second stage with standard black regulator hose
R095 octopus with yellow octopus hose
Scubapro SPG with 32" hose
OMS Single Tank Wing System
The OMS Smartstream Signature Single Tank Wing System features a quick-adjust harness developed to alleviate adjustment challenges that may arise while donning a heavy rig.
The system is fully assembled with Performace Mono 32lbs Wing in different colours, backplate, harness, storage pac with integrated trim weight pockets, weight pockets and required hardware.
This modular system allows you to use the harness in its adjustable configuration with or without weight pockets (pull the waist straps forward to don and push them off to doff) or simply as a standard DIR fixed harness.
OMS Performance Mono Wing
The OMS Performance Mono Wing for single-cylinder diving is a donut-style wing that allows quick and easy air movement from one side of the air cell to the other.
The OMS Single Cylinder Wing also has stabilising bars built into the wing to reduce tank shifting during the dive when not used with a single tank adapter.
Donut style configuration
Interior zipper backing
Dump valve on the left side
1000 denier nylon outer bag
Interior urethane backing protects against abrasions and punctures
Inner Bladder Polyurethane material, ultrasonically welded fittings and seams
Lift capacity 32lbs
Backplate with OMS SmartStream Harness
The OMS Backplate with SmartStream Harness was developed to alleviate adjustment challenges while donning a heavy rig with webbing without compromising from the continuous loop.
Whether donning the wing/harness or underwater, divers can make necessary adjustments by pulling the waist straps forward through specially designed loops, tightening the shoulder straps and securing the wing/tanks to the diver's shoulders and back.
Proper adjustments can be instantly achieved by using OMS SmartStream Harness, while it is also possible to thread the webbing in the classic DIR way with pre-adjustments.
The uniquely adjustable OMS SmartStream system allows the use of OMS weight pockets or, if the pockets are not required, a loop to hold a canister light.
The aluminium backplate comes with lightweight aluminium hardware, buckles, tri glides and D-rings, whereas the stainless backplate will come with steel hardware.
On-the-fly adjustable easy on-and-off with OMS vertical weight pockets (not included)
On-the-fly adjustable easy on-and-off without weight pockets / with canister holder loop & extra buckle
Standard "DIR" configuration with pre-adjusted harness settings
One size fits all
Comes fully assembled with aluminium or steel backplate
 OMS BC Owners Manual (pdf)
Scubapro MK17 EVO C370 Regulator with R095 Octopus
The Scubapro MK17 EVO C370 Regulator with R095 Octopus combines Scubapro's premium diaphragm first stage with its lightest air-balanced second stage.
The Scubapro MK17 EVO first stage is completely sealed off from the elements, ensuring trouble-free operation no matter how cold or murky the water gets. It is more compact yet delivers better breathing performance than its predecessor. Its improved internal design allows more airflow from the LP ports reconfigured for better hose routing.
The Scubapro C370 second stage brings forth the best features of its predecessor while adding a balanced valve to its design. Its exhaust tee, based on the S620 Ti's design, contributes to an improvement in work of breathing. It's a smart reg system for all kinds of diving applications.
The Scubapro R105 Octopus offers dependable breathing performance in a classic downstream design with a dive/pre-dive VIVA switch and reversible hose attachment.
C370 Second Stage
Air-balanced valve smoothes out the inhalation effort at varying depths and supply pressures.
Compact, rugged fiberglass reinforced nylon casing and new exhaust tee take up little space in a dive bag. The stainless steel frame on the front cover adds the Scubapro C-Series signature.
A new poppet and lever allow the design to maintain the same overall size as the C350. A new exhaust tee based on the S620 Ti's design contributes to better work of breathing (a 10% improvement over the C350)
User controls of Scubapro C370 Second Stage include a diver-adjustable inhalation effort knob and Venturi-Initiated Vacuum Assist (VIVA). The large purge button is easy to activate, even wearing thick gloves.
Compact Hi-Flow mouthpiece improves airflow as well as mouth comfort, fitting all mouth sizes, from smaller to largest
Weight: 171g
Airflow at 200bar: 1600 l/min
Nitrox compatible up to 40%
MK17 EVO First Stage
The Scubapro MK17 EVO First Stage Regulator is engineered specifically for cold water and harsh environments, its internal components are completely sealed off from the elements, so neither water nor pollution can get inside the chrome-plated marine-grade brass body to foul the mechanism.
This total sealing system also allows for a dry ambient pressure chamber which works to prevent freezing, provides better protection and improves performance, ensuring trouble-free operation no matter how cold or murky the water gets.
Air-balanced diaphragm delivers constant and effortless airflow unaffected by depth, tank pressure, or breathing rate.
An environmentally sealed system prevents water and pollutants from fouling the inner mechanism.
A more compact design of Scubapto MK17 EVO features a smaller dry ambient pressure chamber and spring, although the bulletproof inner parts remain the same.
A dry ambient pressure chamber increases freezing resistance, ensuring consistent airflow in the coldest conditions.
Substantial increase in airflow - 6900 l/min versus 6500 l/min - includes improved balance of air supply pressure.
Scubapto MK17 EVO has two high-pressure and four high-flow ports maximise air delivery and hose routing options.
High-flow performance is available from all four LP ports, which are configured for optimum hose routing.
Weight: INT 232 - 850g
Airflow at 200bar: 6900 l/ min - 230 SCFM
Intermediate pressure (bar): 9.0-9.8
Nitrox compatible up to 40%
R095 Octopus
The R095 is a economical second stage featuring classic downstream valve technology with a well-earned reputation for safety and reliability. Designed to be extremely easy to use in an emergency, the R095 is pre-tuned to the optimum inhalation volume for safe and uncomplicated use -- you never have to hassle with control knobs or switches; simply put it in your mouth and breathe.
The Scubapro R095 Octopus combines all the features of the R095 with a high-visibility yellow purge cover and a 39-inch yellow hose that makes it much easier to share with a buddy in need. For new divers and veterans looking for an economical backup breather that's simple, dependable and offers excellent visibility, the R095 Octo is a great choice.
Classic downstream valve for optimal breathing performance.
Preset inhalation and Venturi-Initiated Vacuum Assist (VIVA) provide hassle-free air delivery.
Metal valve housing is built rugged and increases overall reliability.
Ultra-comfortable orthodontic mouthpiece is easy to grip yet doesn't inhibit airflow.
Yellow Scubapro High-flow Octopus hose included
Weight: 165g
Airflow at 2900psi (l/m/SCFM): 1400/50
Maximum low pressure: 203psi/14bar
Scubapro Analog SPG
A pressure gauge that is compact and reliable makes for easy diving. This new economical plastic-case gauge comes complete with a U-Line rubber boot and HP hose.
Submersible pressure gauge 0-400 bar
Exclusive engineering with copper beryllium spiral
Strong flurescent backgroun
Loops for easy attachment
High Pressure hose included
SHIPPING:
We aim to dispatch all in-stock items within 2 working days but will inform you of approximate delivery times should any item on your order be out of stock or on supplier backorder due to current manufacturing or transport delays caused by global shortages and/or impeded production.
Please refer to our Shipping Policy and Returns & Refunds Policy for detailed information on delivery terms and returns.
Our 2022 shipping rates are as follows:
• UK mainland orders £45 and over: FREE - DPD Delivery
• UK mainland orders under £45: £4.90 Fixed Rate - DPD Delivery
• Channel Islands, Isle of Man, Highlands & Northern Ireland: £14.9 Fixed Rate
• European Union: £13.90 + 5% of order value (maximum £30)
• Rest of the World: £19.50 + 8% of order value (maximum £55)
• BFPO Post Codes: £20
INTERNATIONAL EXCEPTIONS:
For international orders containing weights, cylinders (excluding suit inflation bottles) and Suex scooters please contact us in advance before placing your order.
These products are not included in our global max-capped shipping rates and are only shipped outside of UK mainland after freight cost is calculated based on total weight, dimensions of parcel, location of delivery and the courier service used. We will let you know what this cost will be before processing any order.
All cylinders we ship within and outside of UK mainland are filled and tested on site before being emptied for dispatch. Cylinders shipped outside of the UK will be empty and will also have their valves removed, requiring reassembly after you receive delivery. Twinset manifolds and bands will also be removed and dispatched together with the cylinders for safe global shipping.
RETURNS & REFUNDS
Please contact us before any return with your order number and date details. Receive our Returns Authorisation Form and instructions and enclose them with your return to expedite a refund. Detailed information is available in our Returns & Refunds Policy.
Email us at sales@dirdirect.com or call us on +44(0)1305 824 555
Note that all returned items are shipped at the customer's own risk and remain the customer's property until received by Underwater Explorers, so please ensure they are packaged well and use reliable postal services with tracking facilities. The
goods will be inspected on arrival. 
Return postages are at your own cost and our outbound shipping costs (if items are sold with integrated basic shipping charges) may be deducted from any UK mainland refund unless linked to a fault/defect claim. 

Please contact us with your order number and name before sending any returns to:
Underwater Explorers – Returns
Unit 1, Maritime Business Centre
Mereside, Portland
Dorset, DT5 1FD 
United Kingdom
Please refer to our Shipping Policy and Returns & Refunds Policy for detailed information.