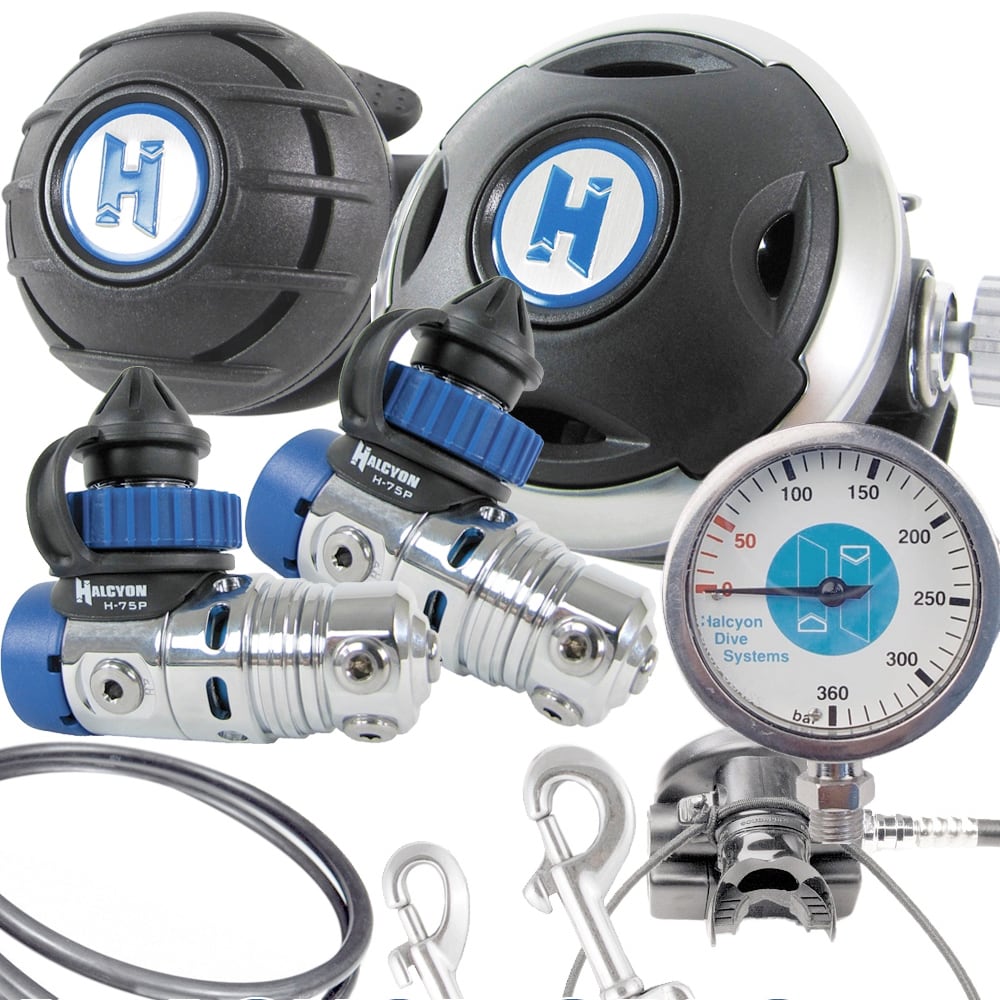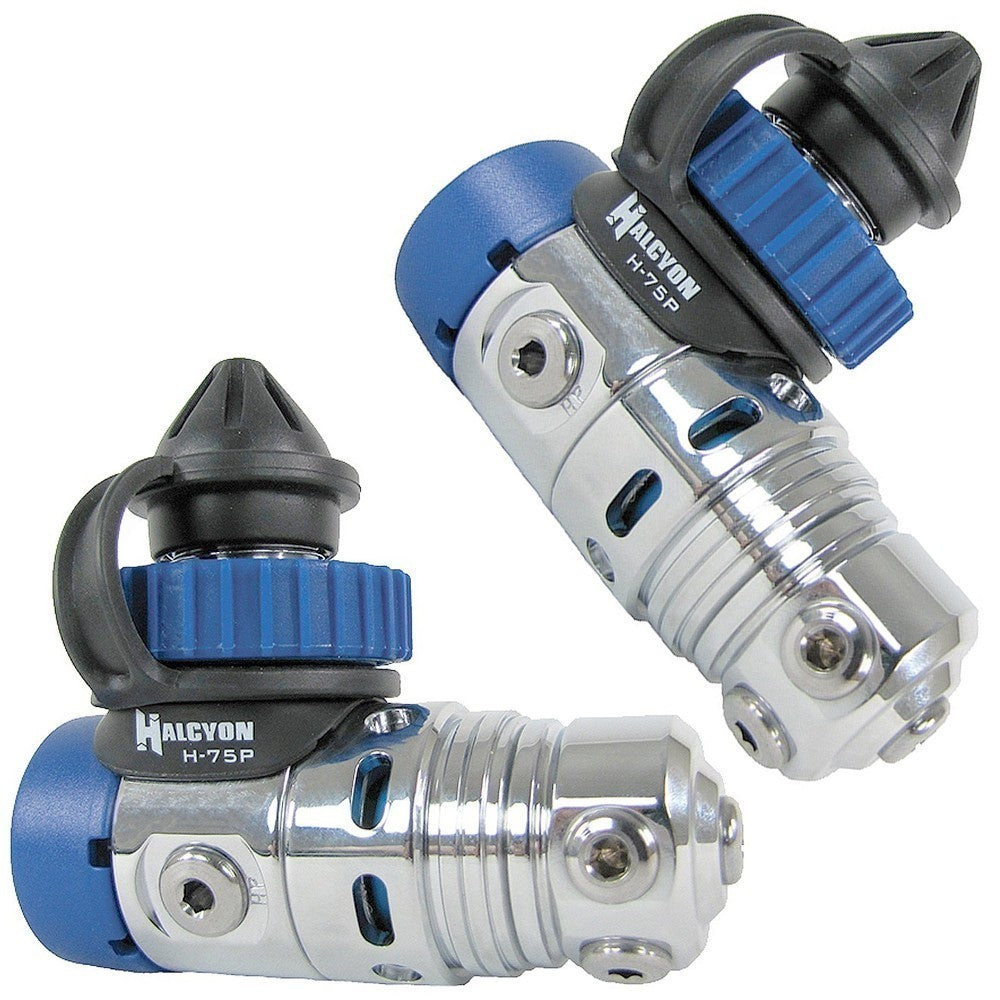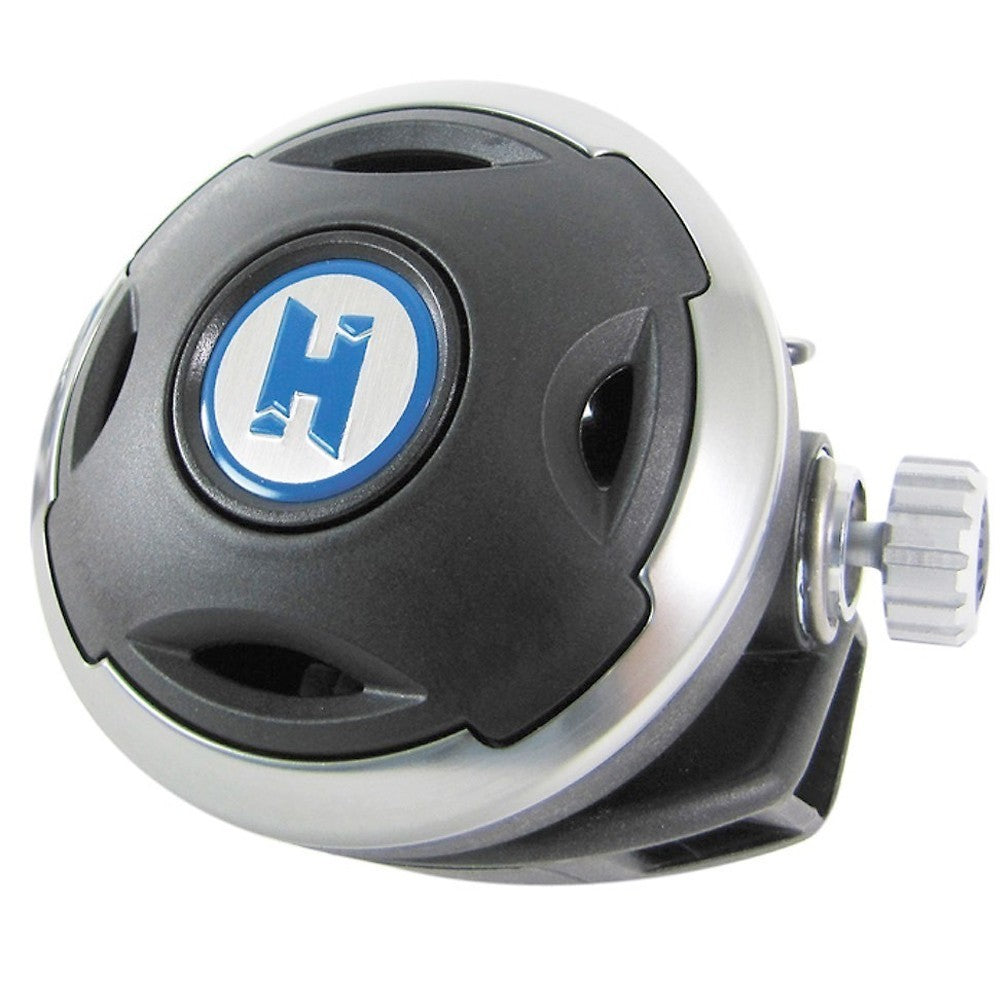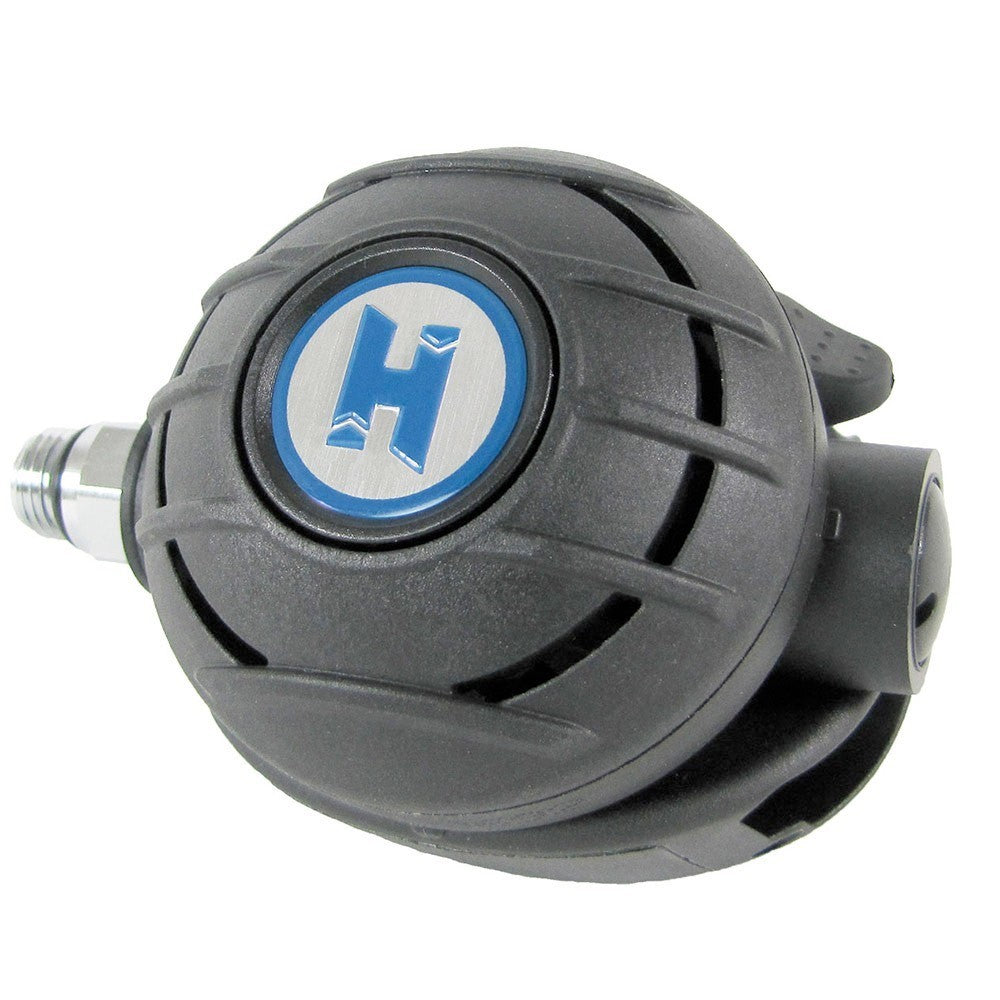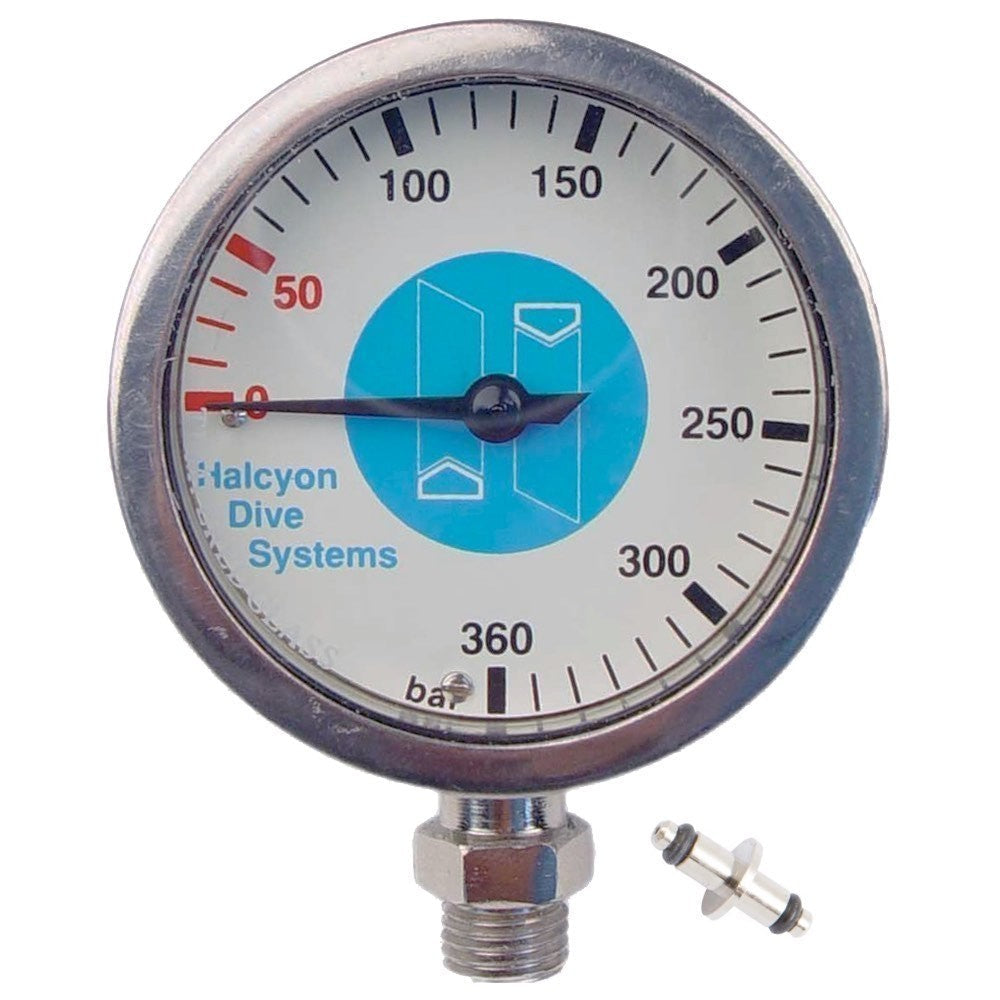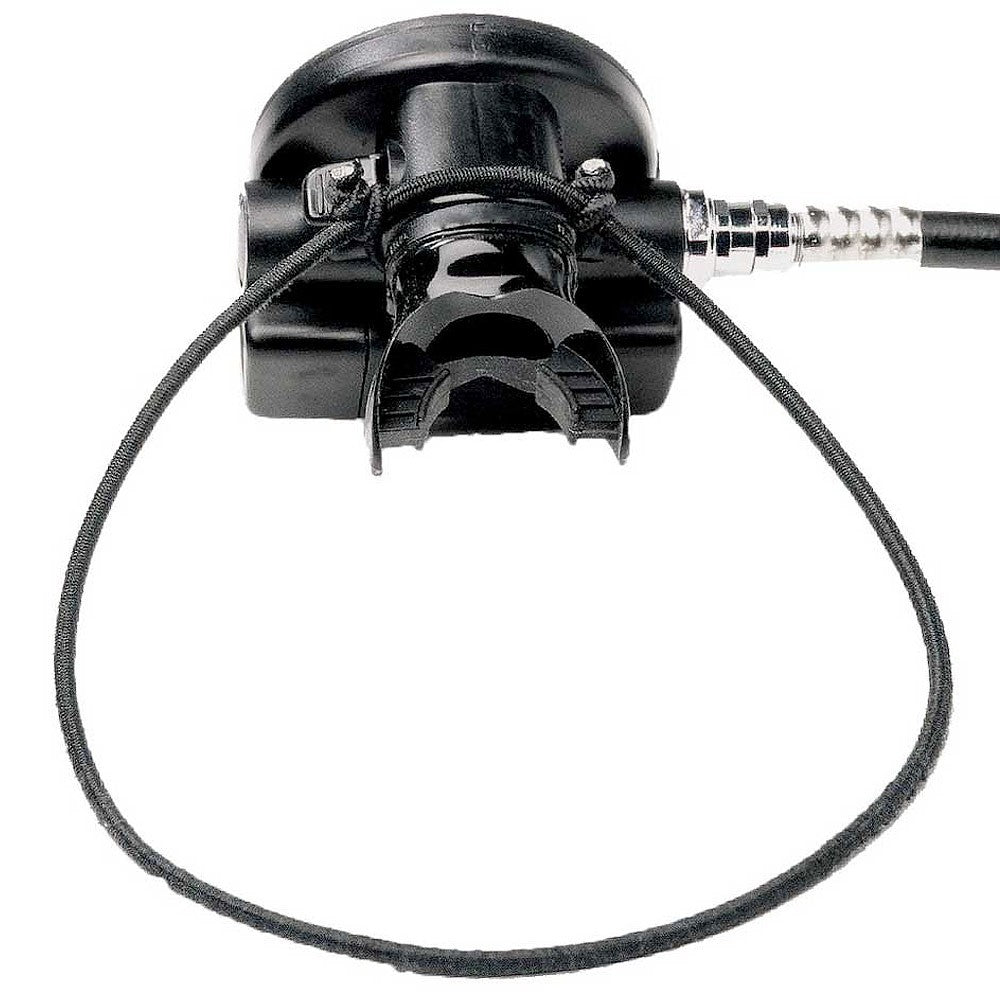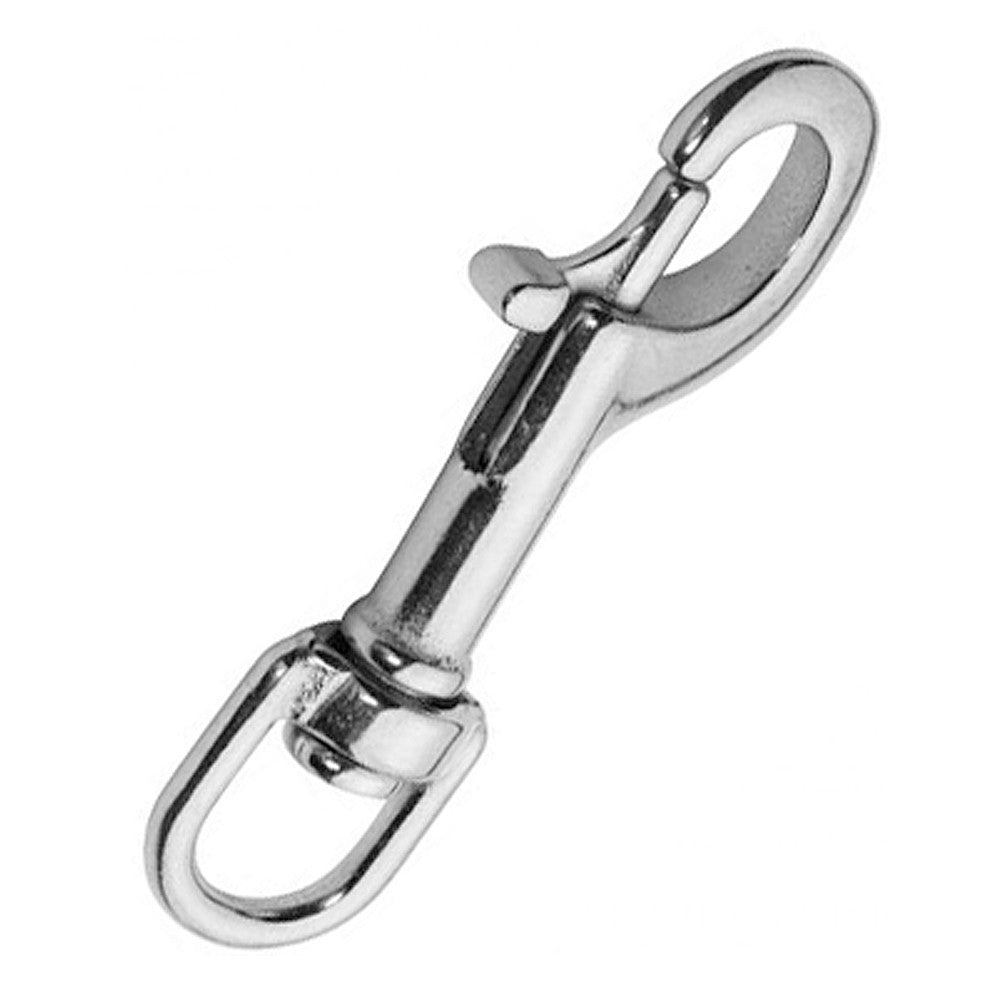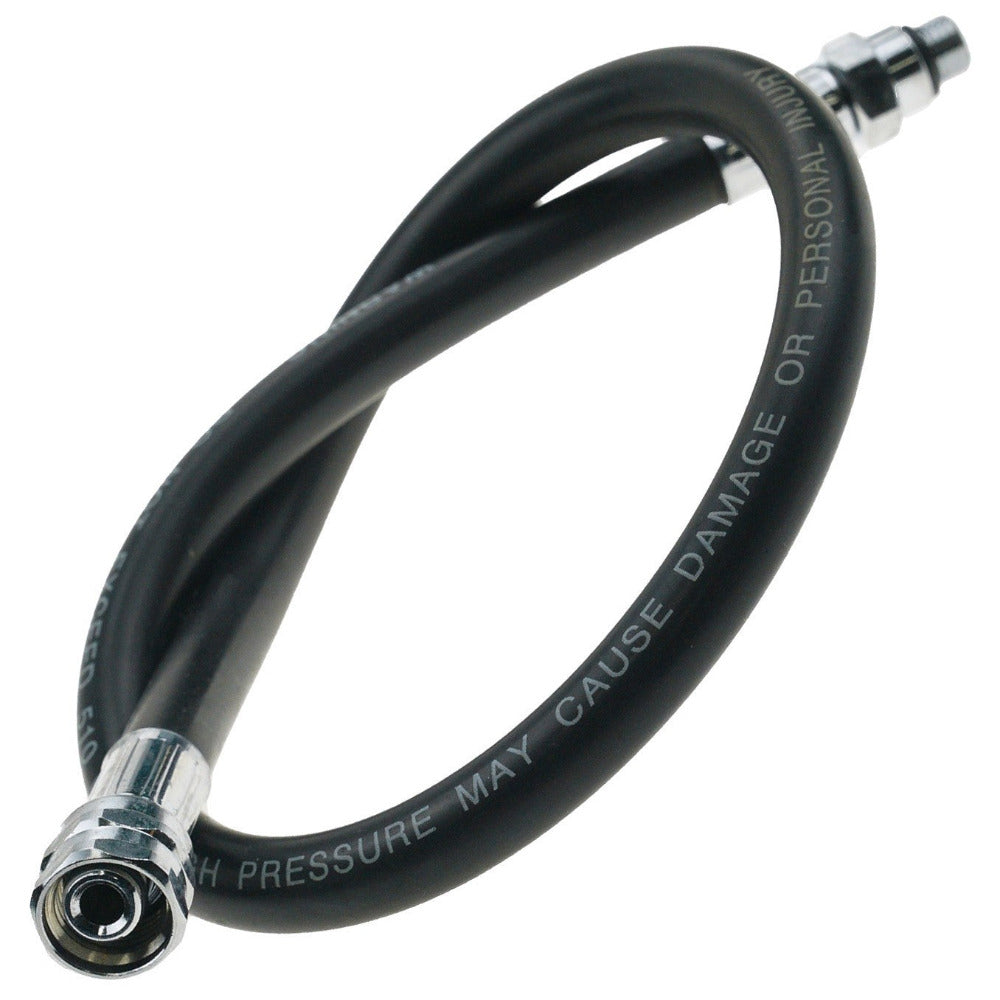 Halcyon DIR Twinset Regulator Package
A ready-to-go Halcyon DIR Twinset Regulator Package consists of two high-performance Halcyon H-75P piston first stages, an adjustable Halo second stage as a primary regulator on a long hose and an Aura second stage as backup on a short hose. The set comes complete with a Halcyon 63mm SPG with a hose plus regulator necklace and two stainless steel bolt snaps.
Dispatched in 1 to 2 days
A ready-to-go Halcyon DIR Twinset Regulator Package for DIR/Hogarthian twinset divers, the package consists of two high-performance Halcyon H-75P piston first stages, an adjustable Halcyon Halo second stage as a primary regulator with a 7' (210cm) hose and an Aura second stage as backup and a 24" backup regulator hose.
This special offer also includes an original Halcyon 63mm SPG with 24" or 26" hose plus regulator necklace and two stainless steel bolt snaps.
Both Halo and Aura second stages feature an Air Control Vane (ACV) that offers the ability to fine-tune breathing. The ACV uses vacuum-assist technology to reduce the work of breathing and increase diver comfort.
This level of refinement is available on all Halcyon second stages. ACV in the "dive" position gives powerful breathing support, while ACV in the "Halcyon" position helps prevent free flows; this can be helpful on the surface, when diving in currents, while scootering, or when the Aura is used as a backup regulator.
Comfort mouthpiece is standard in both second stages to reduce jaw fatigue and mouth irritation. This long-lasting mouthpiece requires only a minimum effort to hold comfortably in place.
Combined with the freedom of head movement provided by Halcyon's primary long hose, you will enjoy dives free from the jaw fatigue common with certain mouthpieces and/or poorly balanced hose routing.
Halcyon DIR Twinset Regulator Package includes
Primary 2nd Stage: Halcyon Halo with 7 foot (210cm) rubber hose
Backup 2nd Stage: Halcyon Aura with 24" rubber hose
2 x First Stages: Halcyon piston H-75P First Stage (DIN fitting)
Halcyon 63mm 360 bar SPG with 24" or 26" rubber hose
Backup Regulator Necklace
3/8" stainless steel Bolt Snap for main regulator
1/2" stainless steel Bolt Snap for SPG
Main Regulator - Halcyon Halo
The Halcyon Halo second stage offers steadfast reliability and impeccable performance; two methods of breathing adjustment make it the top choice for demanding divers.
The Halo provides amazingly smooth performance in all conditions providing unsurpassed performance with enhanced technology.
Breathing underwater should feel natural, and that experience is one of the things that most clearly separates Halcyon's second stages. You will be hooked as soon as you experience the smooth, high volume of air delivered by a Halo.
Balanced, adjustable downstream valve
Balanced, downstream valve offers incredibly smooth breathing in all conditions. The design slightly offsets the force of the downstream air entering from the first stage, allowing reduced spring tension and a decreased inhalation resistance.
Adjustable inhalation control
Adjustable inhalation control refines breathing effort through an easy access control knob; this allows the demanding diver to fine-tune the second stage's air delivery.
Compatible with 40% Nitrox (outside the EU)
Adjustable downstream valve
Air Control Vane
Backup Regulator - Halcyon Aura
Halcyon Aura second stage regulators provide a simple, compact design that makes breathing underwater feel natural. This high-quality second stage delivers air in a smooth, dependable fashion.
Halcyon's Aura second stage comes with a single adjustment control and a pre-set inhalation effort that suits most common diving situations; this feature makes it a common selection as a backup regulator.
Classic downstream
Classic downstream valve style second stages have an impressive safety record and are commonly accepted as an extremely reliable design.
Part of their reliability results because the downstream valve opens in the same direction as the incoming airflow; a spring counteracts the force of the incoming air.
This design requires a small inhalation to overcome the spring tension and open the valve. The spring pressure is adjusted at the factory and allows easy breathing and consistent performance.
Compatible with 40% Nitrox (outside EU)
Non-adjustable downstream valve
Air Control Vane
Halcyon H-75P First Stages
The Halcyon H-75P first stage offers many refined features that ensure consistent delivery with performance that ranks among the very best in the diving industry.
The stable, intermediate pressure provides precise air delivery to the second stage. This means you will experience a remarkable ease of breathing while diving in all environments; this is true at nearly any tank pressure and within almost any water temperature. This sophisticated technology is among the best in the industry, freeing you to get the most out of your diving.
Air-balanced flow-through piston delivers an optimal amount of air to the second stage, remaining unaffected by changes in tank pressure. Lightweight & responsive components create prompt adjustments to breathing demands in all conditions, temperatures or tank pressures.
Enjoy the smoothest breathing regulator, whether on the final hours of an extreme cave exploration or on a blue water ascent after a magnificent Grand Cayman wall dive.
Rotating Swivel
Rotating swivel provides flexibility and super clean hose routing. The Halcyon 360-degree swivel turret cap with high flow port ensures the best air delivery possible with up to 15% more air than other LP ports.
Combined with Halcyon's "long" primary hose and backup necklace, your hoses can be configured where you need them.
Whether diving a sophisticated rebreather or a simple, open water system, you can create a configuration that supports easy movement, reduces jaw fatigue from ill-routed hose position and streamlines your diving profile.
Five High-flow Low-pressure Ports allow you to customise your hose routing for comfort and convenience.
Two opposing high-pressure ports allow you to choose where to route your SPG and allow the use of accessories. Most Halcyon divers route their pressure gauge to the left, but the Halcyon H-75P allows flexibility with any configuration you choose; these options provide freedom to support personalised and advanced hose routing configurations.
Balanced, freeze-resistant piston design
Rotating swivel
2 x High-pressure Ports
5 x Low-pressure Ports (3/8)
300-bar DIN, compatible with 40% Nitrox
SHIPPING:
We aim to dispatch all in-stock items within 2 working days but will inform you of approximate delivery times should any item on your order be out of stock or on supplier backorder due to current manufacturing or transport delays caused by global shortages and/or impeded production.
Please refer to our Shipping Policy and Returns & Refunds Policy for detailed information on delivery terms and returns.
Our 2023 shipping rates are as follows:
• UK mainland orders £45 and over: FREE - DPD Delivery
• UK mainland orders under £45: £4.90 Fixed Rate - DPD Delivery
• Channel Islands, Isle of Man, Highlands & Northern Ireland: £14.9 Fixed Rate
• European Union: £13.90 + 5% of order value (maximum £30)
• Rest of the World: £19.50 + 8% of order value (maximum £55)
• BFPO Post Codes: £20
INTERNATIONAL EXCEPTIONS:
For international orders containing weights, cylinders (excluding suit inflation bottles) and Suex scooters please contact us in advance before placing your order.
These products are not included in our global max-capped shipping rates and are only shipped outside of UK mainland after freight cost is calculated based on total weight, dimensions of parcel, location of delivery and the courier service used. We will let you know what this cost will be before processing any order.
All cylinders we ship within and outside of UK mainland are filled and tested on site before being emptied for dispatch. Cylinders shipped outside of the UK will be empty and will also have their valves removed, requiring reassembly after you receive delivery. Twinset manifolds and bands will also be removed and dispatched together with the cylinders for safe global shipping.
RETURNS & REFUNDS
Please contact us before any return with your order number and date details. Receive our Returns Authorisation Form and instructions and enclose them with your return to expedite a refund. Detailed information is available in our Returns & Refunds Policy.
Email us at sales@dirdirect.com or call us on +44(0)1305 824 555
Note that all returned items are shipped at the customer's own risk and remain the customer's property until received by Underwater Explorers, so please ensure they are packaged well and use reliable postal services with tracking facilities. The
goods will be inspected on arrival. 
Return postages are at your own cost and our outbound shipping costs (if items are sold with integrated basic shipping charges) may be deducted from any UK mainland refund unless linked to a fault/defect claim. 

Please contact us with your order number and name before sending any returns to:
Underwater Explorers – Returns
Unit 1, Maritime Business Centre
Mereside, Portland
Dorset, DT5 1FD 
United Kingdom
Please refer to our Shipping Policy and Returns & Refunds Policy for detailed information.