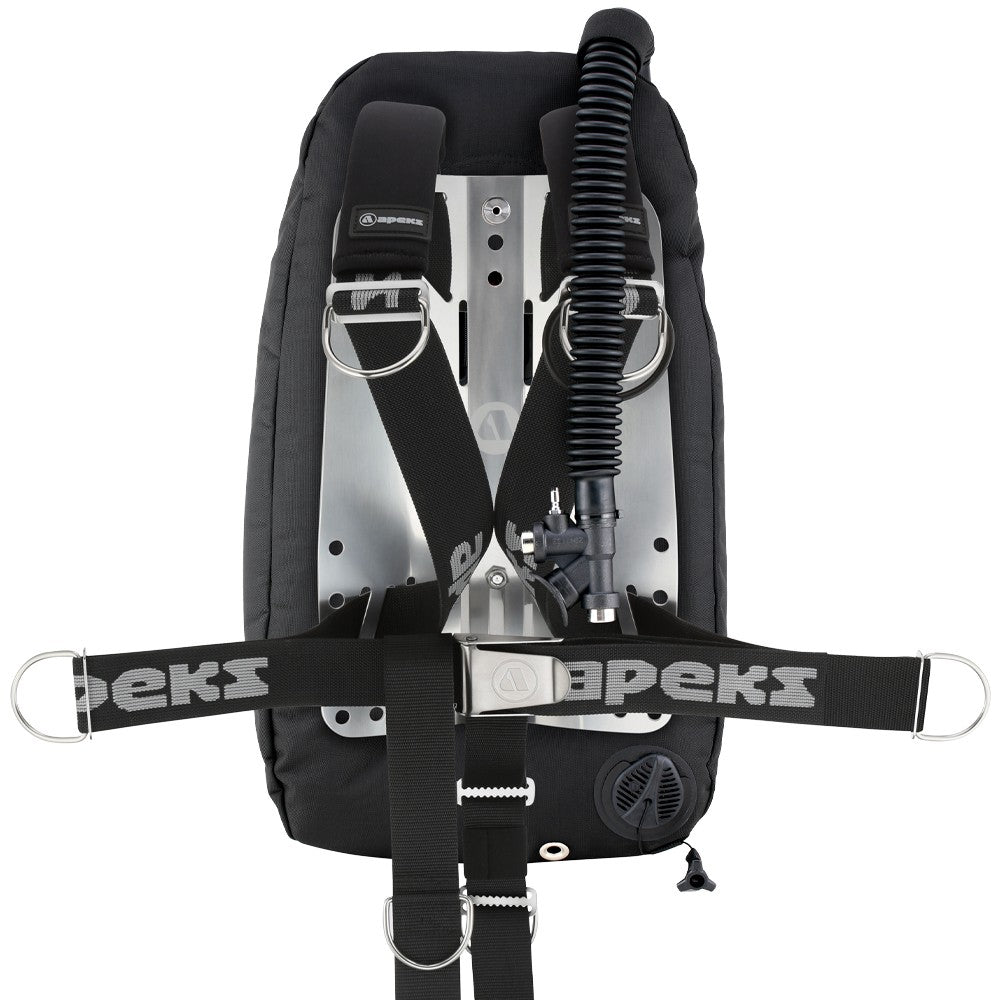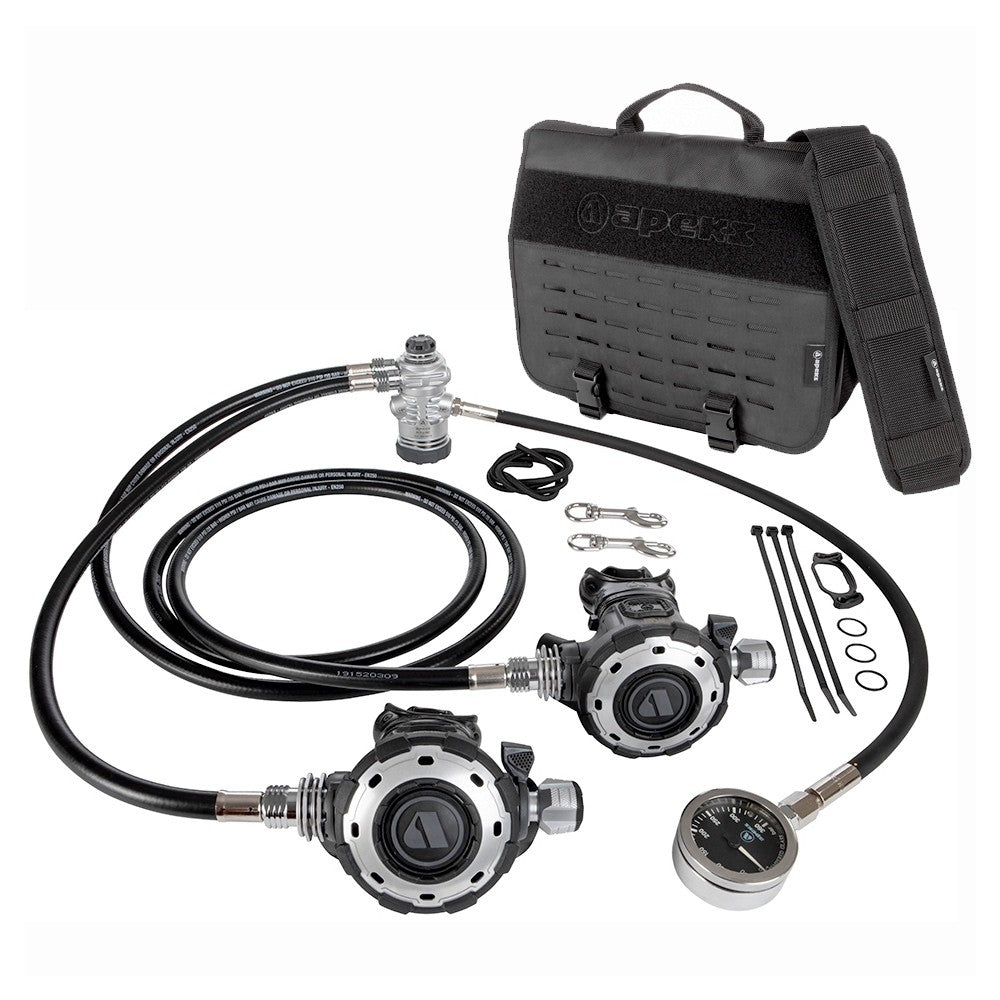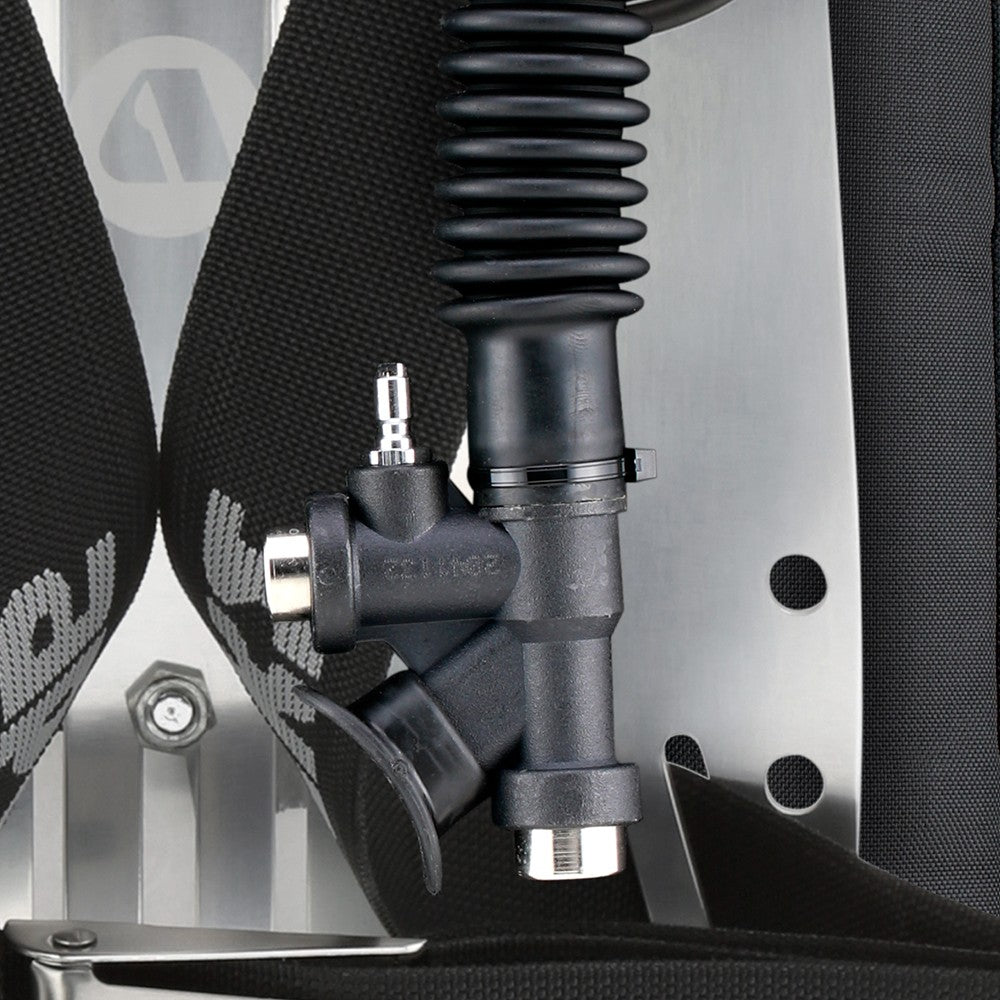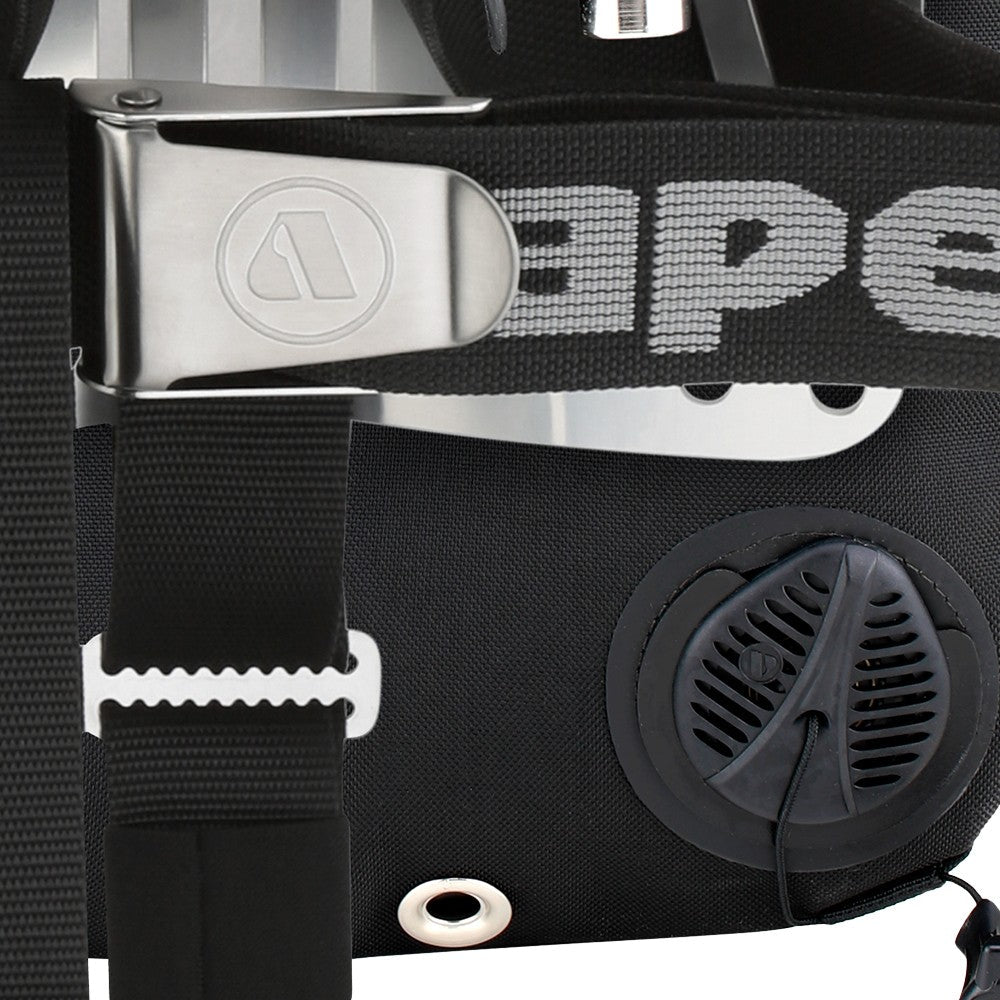 DIR Apeks Starter Package - WTX Wing + MTX-RC Long Hose Regulator
This all-inclusive DIR Apeks Starter Package includes a fully assembled Apeks WTX-D Single Tank Wing System, and Apeks MTX-RC Long Hose Regulator set. Great value, a future-proof high-quality package for beginner to advanced divers.
Dispatched in 1 to 2 days
This all-inclusive DIR Apeks Starter Package includes a fully assembled Apeks WTX-D Single Tank Wing System and Apeks MTX-RC Long Hose Regulator* set. Great value, a future-proof, high-quality package for beginner to advanced divers.
All of our DIR Starter Packages are for divers seeking the balanced trim of a hard backplate, single-piece no-clip harness and wing combination paired with the outstanding performance of a long hose regulator set.
The system can easily be adapted to twinset diving by adding a first stage and double wing.
DIR Apeks Starter Package includes
WTX-D30 or WTX-D40 Wing with inflator hose
Steel or Ali Backplate fitted with Apeks Deluxe One Piece Harness
Apeks Griplock Cambands
2 x MTX-RC primary second stages
MTX-RC first stage (DIN)
Apeks TEK SPG with HP hose
Apeks Messenger bag
2 x 75mm Bolt Snaps
Second Stage Bungee Connector Kit
2.1m main Regulator Hose
49cm backup Regulator Hose
Apeks WTX Single Tank Wing System
The Apeks WTX-D Single Cylinder Wings are narrow in design, allowing a cylinder to nest deep inside them.
Single-cylinder wings, often referred to as donuts, are oval-shaped air cells or bladders that are not permanently attached to a harness. While single-cylinder wings have their origins in the realm of technical diving, they are becoming very popular in the recreational community. Not only are these single-cylinder wings streamlined, but due to their shape being a continuous loop, they are very stable underwater. There is no dramatic shift of air from left to right.
Apeks single-cylinder wings are a smart design that allows a cylinder to nest deep inside them. These wings fit nicely with the rest of the Apeks WTX collection of high-quality harnesses, plates and accessories. They can be configured in multiple ways to match the type of diving that you do. As with the rest of the WTX collection, these single-cylinder wings are built from the finest quality materials.
K style inflator positioned off-centre so as not to interfere with regulator 1st stage
Low profile 16" oval-shaped corrugated hose
Apeks Flex inflator hose
Safety cable to prevent hyper-extension
Low profile flat dump valve positioned in front, lower-left side
2 large drain grommets
Centre mesh drain panel
Lift capacities: WTX-D30 30lbs / WTX-D40 40lbs
Apeks Deluxe One-Piece Webbed Harness
This simple yet strong Apeks Deluxe One-Piece Webbed Harness can take the load of a fully rigged technical diver. It can be easily customised with the hardware of your choice.
12' of 2-inch stiff webbing with centre grommet
2" wide crotch strap
6 stainless 2" D-rings
2 neoprene shoulder protectors
2 elastic retaining loops on the shoulders and one on the crotch strap
Heavy-duty stainless waist buckle
6 stainless serrated retainers
Steel or Ali Backplate
Four each upper and lower slots accommodate nylon cylinder cam bands so a single cylinder can be strapped directly to the plate. A series of 4 slots provides lateral stability of the cylinder that traditional two-slot plates cannot.
Three holes at the top of the Apeks Backplate offer a range of height adjustments for the wings and the cylinders. In addition, a corresponding lower centre slot allows for misaligned lower band bolts.
Upper and lower perimeter holes along either side and holes along the bottom allow for accessories mounting. 2" wide crotch strap slot.
Aluminium Backplate weighs approx 753g
Stainless Steel Backplate weight approx 2.2 kg
Apeks MTX-RC Long Hose Regulator Set
The Apeks MTX-RC Single Cylinder Long Hose Regulator Set is designed for the diver that prefers a long hose configuration on a single cylinder. It is also the perfect set-up for the recreational diver looking to transition into twinset diving in the future, as the addition of another first stage creates a twinset regulator configuration.
Combining rugged, military grade engineering with the super-smooth breathing experience that Apeks regulators are renowned for, the MTX-RC single cylinder set dives your way.
Featuring the same freeze-resistant technology enjoyed by the whole MTX-R range, the MTX-RC resists freeflows in even the coldest temperatures, while offering the user the additional flexibility to dial it out for a comfortable breathe in less extreme environments.
All this is achieved using an innovative first stage design that protects the regulator from freezing and a full set of user controls on the second stage to adjust the breathing performance based on the diver's individual needs.
Apeks MTX-RC Long Hose Regulator Set includes a tactical style messenger bag to keep your regulators safe on your travels. Perfectly sized for a laptop, it's also your new work bag!
MTX-RC First Stage is cold water rated
The Apeks MTX-RC first stage has a unique over-balanced diaphragm design. As the diver descends, the over-balancing feature allows the medium pressure gas in the hose to increase faster rate than ambient. This results in superior performance at depth.
Satin plated brass body with heat exchanging ribs for maximum thermal performance.
Break through, innovative over-moulded first-stage endcap and environmental diaphragm helps prevent ice build-up that can cause first stage free flow in extreme circumstances. Also protects the first stage from impact damage.
Ribbed diaphragm clamp for improved heat exchange in cold water conditions.
5 x medium pressure ports, 4 mounted on a rotating turret for improved hose orientation
2 x angled high pressure ports for optimal hose routing and fitting of transmitters.
Double swivel hose for greater freedom of movement and comfort.
Easy to grip DIN hand-wheel or over-moulded yoke hand-wheel, only requires one hand to release.
Tested for Octopus use - EN250A to 60 metres cold water.
Nitrox/Oxygen compatible – Up to 40% O2 outside the EU (European Union).
Second stage with Breathing effort adjuster
Oversize breathing effort adjuster of MTX-RC second stage makes adjustment easy in cold water whilst wearing gloves. Protective bumpers protect the second stage from impacts and scratches in the most vulnerable places.
Ergonomic and simple to use venturi lever.
Large purge button.
Reversible second stage for either a left or right hand gas supply configuration.
A heat exchanger (patented) dissipates the cold caused by gas expansion while drawing in the warmth of the ambient water for a more comfortable breathe.
Features an innovative Diver Changeable Exhaust system (DCE). The system gives the diver the ability to change from a small exhaust tee to a large exhaust tee. The regulator is supplied with both sets of exhaust tees.
Comfo-bite mouthpiece
Flexible nylon braided hose, which has better cold water performance than traditional rubber hose.
SHIPPING:
We aim to dispatch all in-stock items within 2 working days but will inform you of approximate delivery times should any item on your order be out of stock or on supplier backorder due to current manufacturing or transport delays caused by global shortages and/or impeded production.
Please refer to our Shipping Policy and Returns & Refunds Policy for detailed information on delivery terms and returns.
Our 2022 shipping rates are as follows:
• UK mainland orders £45 and over: FREE - DPD Delivery
• UK mainland orders under £45: £4.90 Fixed Rate - DPD Delivery
• Channel Islands, Isle of Man, Highlands & Northern Ireland: £14.9 Fixed Rate
• European Union: £13.90 + 5% of order value (maximum £30)
• Rest of the World: £19.50 + 8% of order value (maximum £55)
• BFPO Post Codes: £20
INTERNATIONAL EXCEPTIONS:
For international orders containing weights, cylinders (excluding suit inflation bottles) and Suex scooters please contact us in advance before placing your order.
These products are not included in our global max-capped shipping rates and are only shipped outside of UK mainland after freight cost is calculated based on total weight, dimensions of parcel, location of delivery and the courier service used. We will let you know what this cost will be before processing any order.
All cylinders we ship within and outside of UK mainland are filled and tested on site before being emptied for dispatch. Cylinders shipped outside of the UK will be empty and will also have their valves removed, requiring reassembly after you receive delivery. Twinset manifolds and bands will also be removed and dispatched together with the cylinders for safe global shipping.
RETURNS & REFUNDS
Please contact us before any return with your order number and date details. Receive our Returns Authorisation Form and instructions and enclose them with your return to expedite a refund. Detailed information is available in our Returns & Refunds Policy.
Email us at sales@dirdirect.com or call us on +44(0)1305 824 555
Note that all returned items are shipped at the customer's own risk and remain the customer's property until received by Underwater Explorers, so please ensure they are packaged well and use reliable postal services with tracking facilities. The
goods will be inspected on arrival. 
Return postages are at your own cost and our outbound shipping costs (if items are sold with integrated basic shipping charges) may be deducted from any UK mainland refund unless linked to a fault/defect claim. 

Please contact us with your order number and name before sending any returns to:
Underwater Explorers – Returns
Unit 1, Maritime Business Centre
Mereside, Portland
Dorset, DT5 1FD 
United Kingdom
Please refer to our Shipping Policy and Returns & Refunds Policy for detailed information.