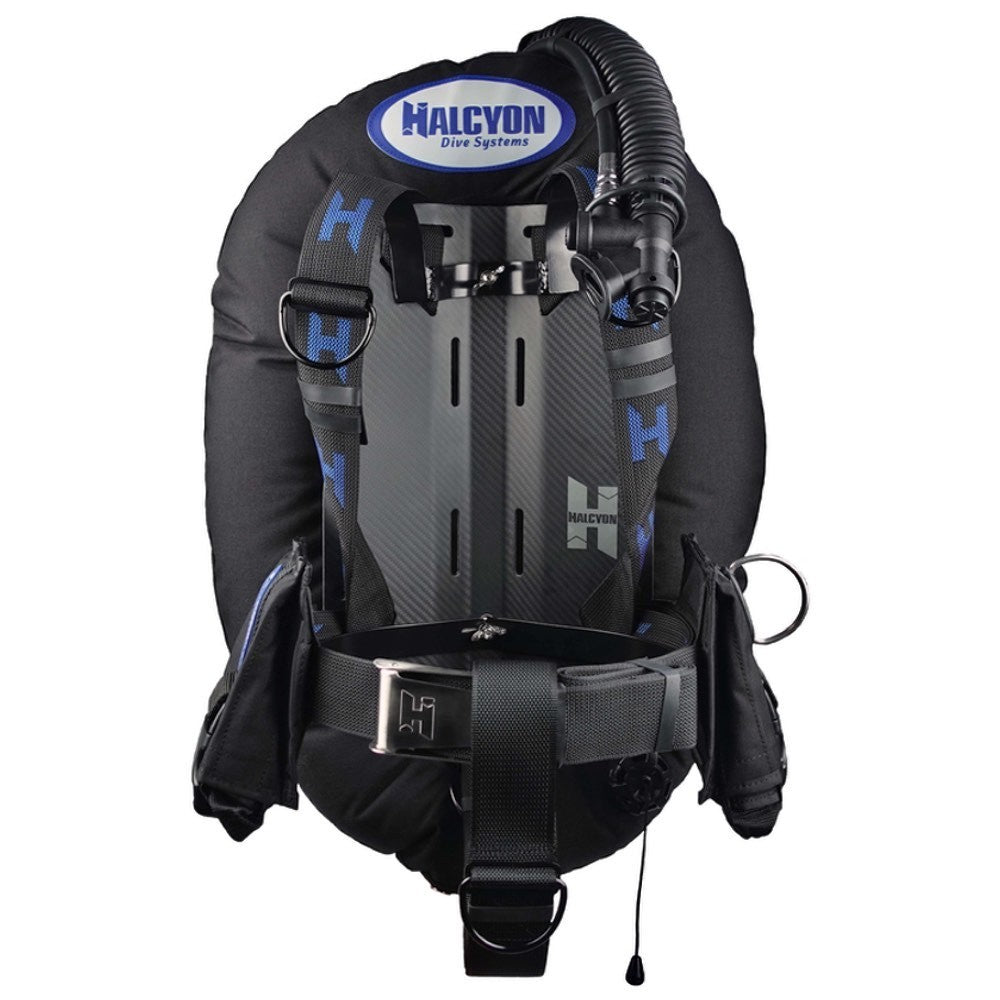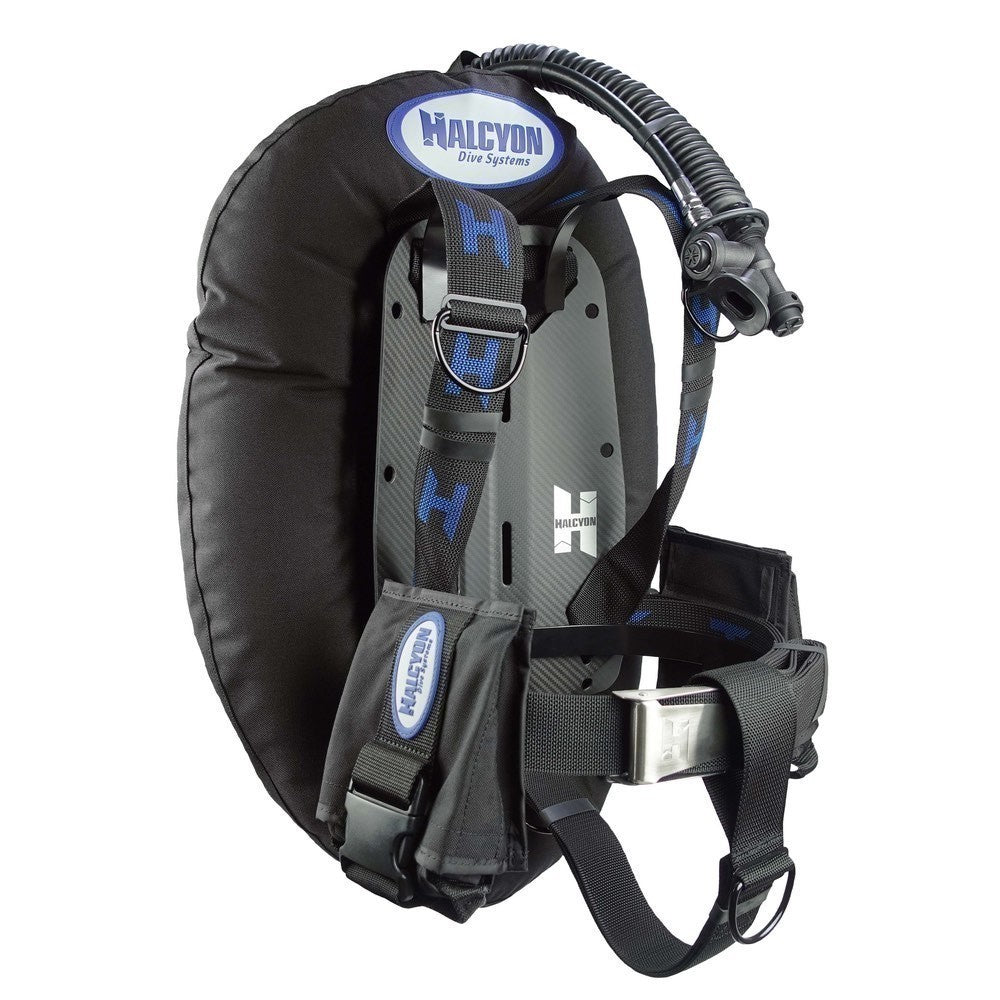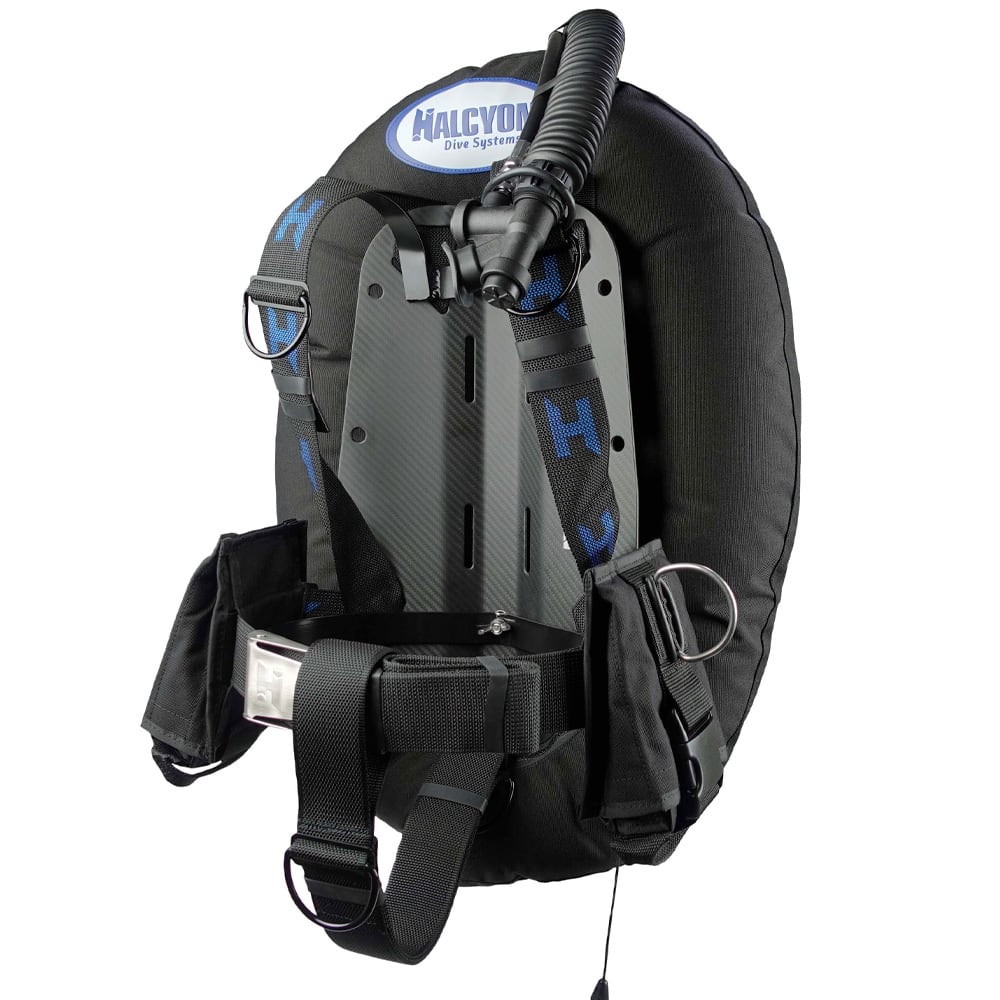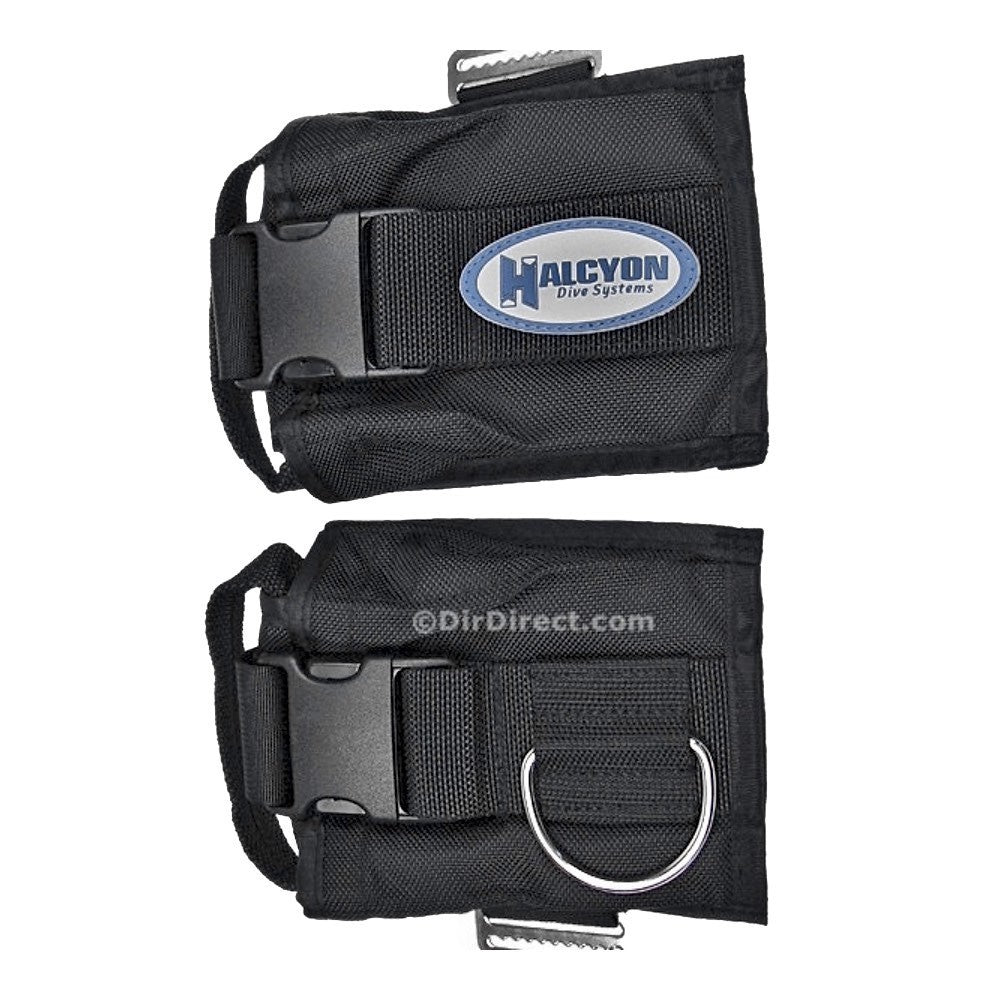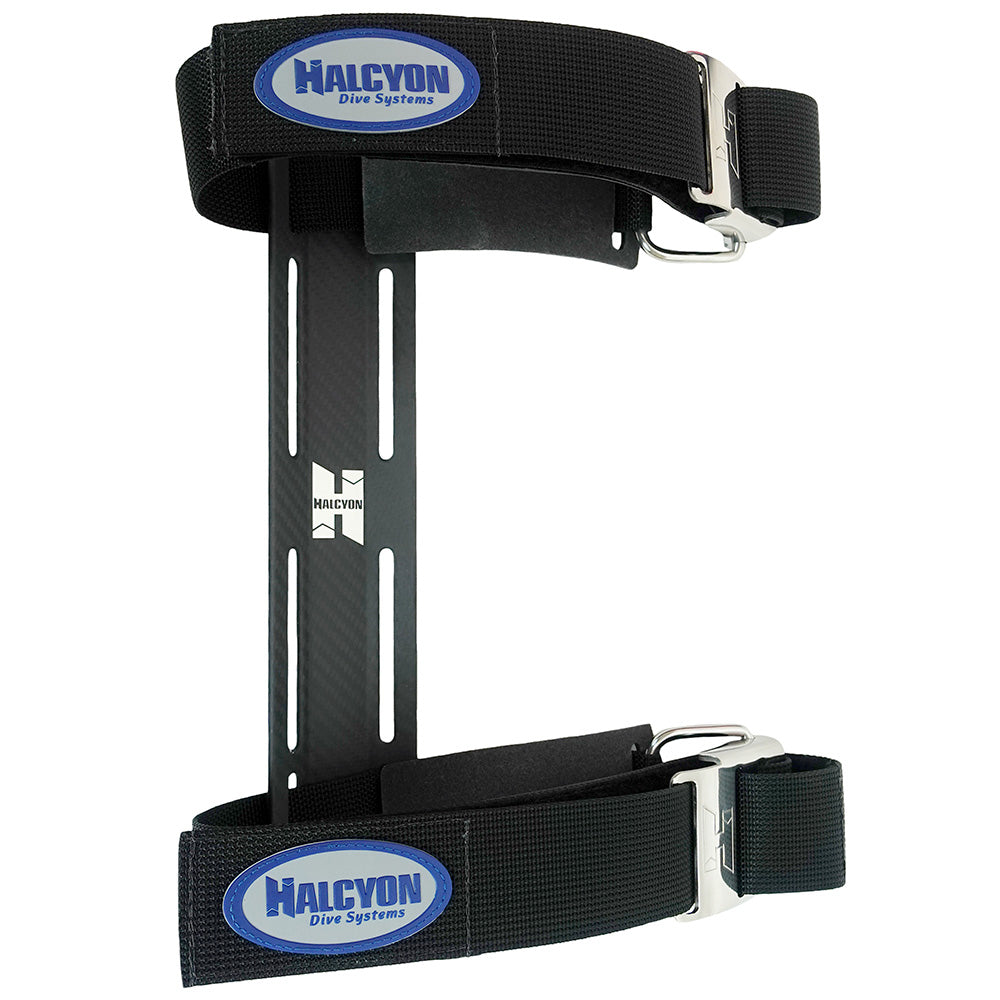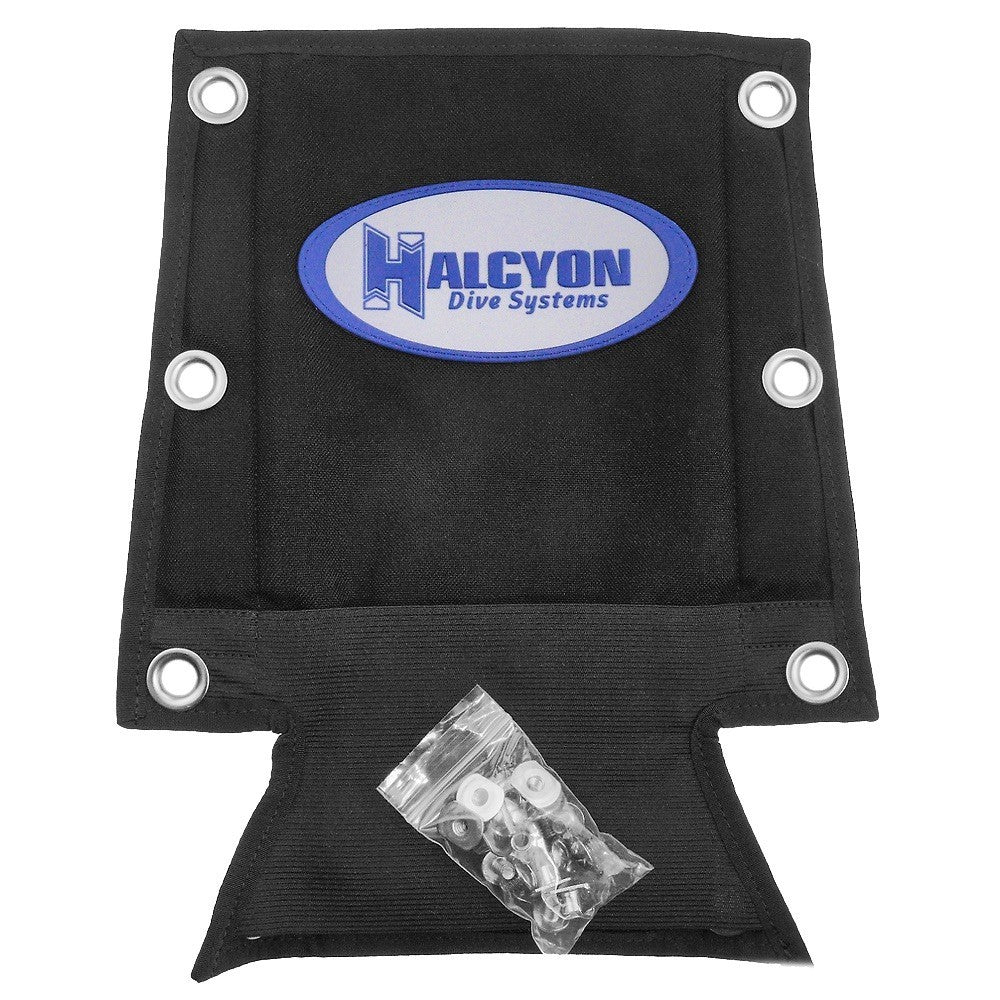 Halcyon Adventurer Carbon Fiber Wing System
The super-lightweight Halcyon Adventurer Carbon Fiber Wing System comes fully set up with integrated weight pockets.
Dispatched in 1 to 2 days
The super-lightweight Halcyon Adventurer Carbon Fiber Wing System is a single-tank recreational one-size-fits-all BC system and comes fully set up with integrated weight pockets. It is made up of the popular Eclipse wing supported by a Carbon Fiber backplate making it the lightest Halcyon wing system available.
This clutter-free system is easily adjustable to suit any size, any type of diving and any thickness of suit a diver may be using.
Please note the brackets and bolts displayed on top and bottom of the backplate in the manufacturer product images are not part of the wing system but a unit used to display the wing in its upright position.
Halcyon Adventurer Carbon Fiber Single Tank Wing System includes
Halcyon Eclipse Wing (20, 30 or 40lbs) with 22" Inflator hose
Halcyon Carbon Fiber Backplate with Standard Harness with Crotch Strap
Halcyon MC Storage Pack with SS Bolts
ACB weight pockets
Halcyon Carbon Fiber Single-Tank Adapter
Halcyon Eclipse Wing
The Halcyon Eclipse Wing is a doughnut-shaped back-mounted Buoyancy Compensator (BC) allowing divers to enjoy perfect horizontal trim underwater and minimising in-water effort.
The Eclipse Wing is available in three lift capacities to maximise comfort and streamlining while accounting for various buoyancy requirements that result from differences in cylinder size, exposure protection, or equipment requirements.
A circular zipper around the inside of the Eclipse wing allows for easy inspection and replacement of the interior bladder if required. A drainage system in the bottom of the wing allows water to drain rapidly from the outer cover to minimise excess weight.
An inflator elbow strain relief constructed from two-inch nylon webbing minimises wear on this connection.
Eclipse 30lbs and 40lbs wings come labelled as Traveler Pro with camp band slots.
Which wing size? The Halcyon Eclipse wing comes in 20, 30 and 40lbs lift capacity and the amount of lift required by a diver depends on his/her kit configuration. Stretched out flat the Eclipse 30 measures 67cm x 46cm compared to the Eclipse 40 which is 70cm x 50cm.
The 30lbs wing is more suitable for a lighter profile diving rig such as a single 12L steel cylinder whereas the 40lbs is ideal for divers who want that "extra bit" of lift for emergency assistance or to carry heavier cylinder setups like a 15L cylinder.
Lifetime warranty on inner bladder RF welded seams
Available in three lift capacities: 20lbs, 30lbs and 40lbs
Outer shell 1680-denier ballistic nylon / Inner bladder 400-denier Nylon
Carbon Fibre Backplate with Secure Harness
The lightweight Halcyon Carbon Fiber Backplate with Standard Harness comes as fully assembled for you to just fine-tune. Ideal for travelling. Made out of extremely lightweight but durable carbon fiber. Designed to be used with all Halcyon and conventional wings.
Halcyon backplates have been refined to provide the highest-quality finish and materials available. Small details, like the unique bends near the bottom of the plate, create an ergonomic curve, increasing diver comfort. Meanwhile, the precise fabrication process ensures the quality you have come to expect from Halcyon.
The Halcyon Secure Harness fitted to the Halcyon backplate allows for infinite adjustability, providing a perfect fit for all divers.
Men or women diving wet or dry will find the Secure Harness is, without question, the most stable and well-fitted design in the industry. The five-point system ensures a snug fit and eliminates tank roll and drift.
Bent D-rings facilitate one-handed storage of accessories like backup lights or stage bottles. Complete adjustability of D-rings eliminates inappropriate attachment points.
Bare backplate weight: 0.49kg
Carbon Fibre Single Tank Adapter
The lightweight Halcyon Carbon Fibre Single Tank Adapter is an ideal solution travelling diver. the CF Single Tank Adapter brings the wing system closer to the body compared to Halcyon's standard single tank adapter. The secure cam bands come with stainless steel buckles and Octogrip Pads to prevent sliding.
Halcyon ACB Weight System
The integrated Halcyon ACB Weight System pockets are an ideal solution for divers seeking quick-release weight. Each weight pocket can hold up to 5lbs/2.3kg soft or hard weights.
The vertical orientation consumes less space and the side release buckle prevents accidental weight loss but can be quickly released. The removable weight pouch features an easy-carry handle.
A simple tri-glide connection secures the ACB pockets (Active Control Ballast) on the harness waistband and allows the mounting of a primary light behind.
Halcyon MC Storage Pak
The Halcyon backplate pocket is the most efficient means to store any of the various Halcyon inflatable markers with ease. Stowing your favorite lift device in a Halcyon Storage Pak provides a hassle-free storage place without compromising the ability for rapid deployment of a SMB or lift bag.

SHIPPING:
We aim to dispatch all in-stock items within 2 working days but will inform you of approximate delivery times should any item on your order be out of stock or on supplier backorder due to current manufacturing or transport delays caused by global shortages and/or impeded production.
Please refer to our Shipping Policy and Returns & Refunds Policy for detailed information on delivery terms and returns.
Our 2023 shipping rates are as follows:
• UK mainland orders £45 and over: FREE - DPD Delivery
• UK mainland orders under £45: £4.90 Fixed Rate - DPD Delivery
• Channel Islands, Isle of Man, Highlands & Northern Ireland: £14.9 Fixed Rate
• European Union: £13.90 + 5% of order value (maximum £30)
• Rest of the World: £19.50 + 8% of order value (maximum £55)
• BFPO Post Codes: £20
INTERNATIONAL EXCEPTIONS:
For international orders containing weights, cylinders (excluding suit inflation bottles) and Suex scooters please contact us in advance before placing your order.
These products are not included in our global max-capped shipping rates and are only shipped outside of UK mainland after freight cost is calculated based on total weight, dimensions of parcel, location of delivery and the courier service used. We will let you know what this cost will be before processing any order.
All cylinders we ship within and outside of UK mainland are filled and tested on site before being emptied for dispatch. Cylinders shipped outside of the UK will be empty and will also have their valves removed, requiring reassembly after you receive delivery. Twinset manifolds and bands will also be removed and dispatched together with the cylinders for safe global shipping.
RETURNS & REFUNDS
Please contact us before any return with your order number and date details. Receive our Returns Authorisation Form and instructions and enclose them with your return to expedite a refund. Detailed information is available in our Returns & Refunds Policy.
Email us at sales@dirdirect.com or call us on +44(0)1305 824 555
Note that all returned items are shipped at the customer's own risk and remain the customer's property until received by Underwater Explorers, so please ensure they are packaged well and use reliable postal services with tracking facilities. The
goods will be inspected on arrival. 
Return postages are at your own cost and our outbound shipping costs (if items are sold with integrated basic shipping charges) may be deducted from any UK mainland refund unless linked to a fault/defect claim. 

Please contact us with your order number and name before sending any returns to:
Underwater Explorers – Returns
Unit 1, Maritime Business Centre
Mereside, Portland
Dorset, DT5 1FD 
United Kingdom
Please refer to our Shipping Policy and Returns & Refunds Policy for detailed information.